Discover comfort & bonding bliss with Mombo nursing pillow – firm support for mom & baby, cozy for lounging & tummy time, plus soothing vibrations!
This post brought to you by Comfort and Harmony. All opinions are 100% mine.
Welcome to the world of comfort and care with the revolutionary Mombo Infant Nursing Pillow, designed to provide unparalleled support for both mom and baby. Parenthood is a beautiful journey filled with precious moments, but it can also be physically demanding, especially during feeding and bonding times. With the Mombo Nursing Pillow, we strive to enhance these cherished moments by offering a unique and innovative solution that ensures the utmost comfort and convenience for both mother and child.
Crafted with meticulous attention to detail, the Mombo Nursing Pillow is more than just your ordinary feeding aid. It's an all-in-one companion that caters to the needs of both mom and baby, making feeding sessions a truly enjoyable experience. Our pillow's thoughtfully designed shape and premium materials guarantee optimal positioning, promoting better latch for your little one and reducing strain on mom's back, neck, and arms.
As parents ourselves, we understand the importance of a product that not only fulfills its practical purpose but also adds value to the beautiful moments shared between a mother and her baby. Whether you're nursing, bottle-feeding, or simply bonding with your little bundle of joy, the Mombo Nursing Pillow promises to be your reliable ally throughout your motherhood journey.
Join the countless satisfied moms who have already experienced the difference with Mombo. Embrace the joy of nurturing your baby with confidence and comfort, and say hello to delightful bonding moments that will last a lifetime. Discover the magic of the Mombo Infant Nursing Pillow and unlock a new level of closeness and contentment for both mom and baby.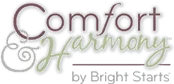 Every mother knows that no matter how adorable their baby may be, feeding time can quickly turn into a physically demanding task. The weight of that little bundle of joy starts to feel like you're handling a sack of cement, leaving both mom and baby yearning for relief and a more enjoyable feeding experience. Thankfully, nursing pillows come to the rescue, offering unparalleled comfort and support during those precious bonding moments.
My sister, a fellow mom, introduced me to the incredible world of nursing pillows with her personal experience using the Mombo Infant Nursing Pillow. What sets this pillow apart is its innovative horseshoe shape and unique two-sided design aptly named Firm2Soft. On one side, it provides sturdy support for both mom and baby, ensuring proper positioning and reducing strain on tired arms and backs. On the other side, it becomes a cozy haven for lounging or tummy time, enveloping your little one in a gentle embrace.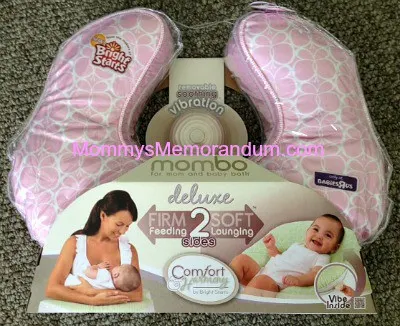 What truly sets the Mombo apart from the competition is its exclusive vibration feature. Yes, you heard it right! This nursing pillow is equipped with a soothing vibration insert that provides the ultimate calming experience during lounging. Whether your baby needs some relaxation time or you want to comfort a gassy tummy, the gentle vibrations work wonders, helping your little one to fall asleep and stay asleep just a little bit longer.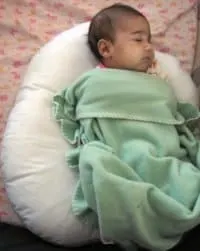 During tummy time, Mombo proves to be a game-changer. Placing your baby on her tummy allows her to strengthen her neck muscles as she picks her head up, all while being protected by the soft and supportive cushion of the Mombo. It becomes a safe haven, offering the perfect spot for your little one to explore her surroundings, look around, and even play with toys.
With Mombo's specially designed opening, your baby can rest comfortably and securely tucked inside, akin to a snug baby armchair. This unique design not only provides support but also gives your baby the freedom to look around and interact with her environment, making every moment engaging and delightful.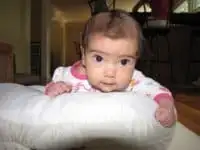 And that's not all – Mombo understands that style is just as important as functionality. With a variety of pillow styles to choose from (Standard, Nude, or Deluxe) and a range of machine-washable slipcover fashions, you can mix and match to create a versatile, fashionable, and chic look that suits your taste and nursery decor perfectly.
Made by Comfort & Harmony, the Mombo Infant Nursing Pillow has proven to be one of the best nursing pillows on the market, ticking all the boxes of comfort, style, and versatility. So, if you're a mom seeking a blissful feeding experience for both you and your baby, look no further than Mombo. You can find this exceptional nursing pillow at Toys R Us and Babies R Us, ready to add a touch of comfort and joy to your motherhood journey. Don't miss out on this fantastic opportunity to enhance those precious moments with your little one!