Even the greatest chocolate fan will find these Butterscotch Brownies drizzled with Caramel hard to resist.
Years ago my BFF, Kellie, gave me a recipe for Butterscotch Brownies.
Two decades later, the recipe is one of our favorites.
We've since added the buttery caramel drizzle, but trust me; this recipe is delicious without it.
May 9th is Butterscotch Brownie Day, and this recipe celebrates it and friendship.
Butterscotch Brownies are also known as "Blondies" or Brookie (brownie + cookie) in the free world.
I can easily eat the entire pan, in front of my family, with a smile on my face and not even care that they are getting none of the delicious, chewy, mouth-watering, brown-sugary goodness we call Butterscotch Brownies!
They are the perfect treat or sweet any time of day.
Eat them as they are or try adding 3/4 cup pre-crushed Heath Bar bits, semisweet chocolate morsels, mini marshmallows, Reeses Pieces, or diced apples.
Let your imagination run wild and reinvent this delectable dessert over and over in your kitchen.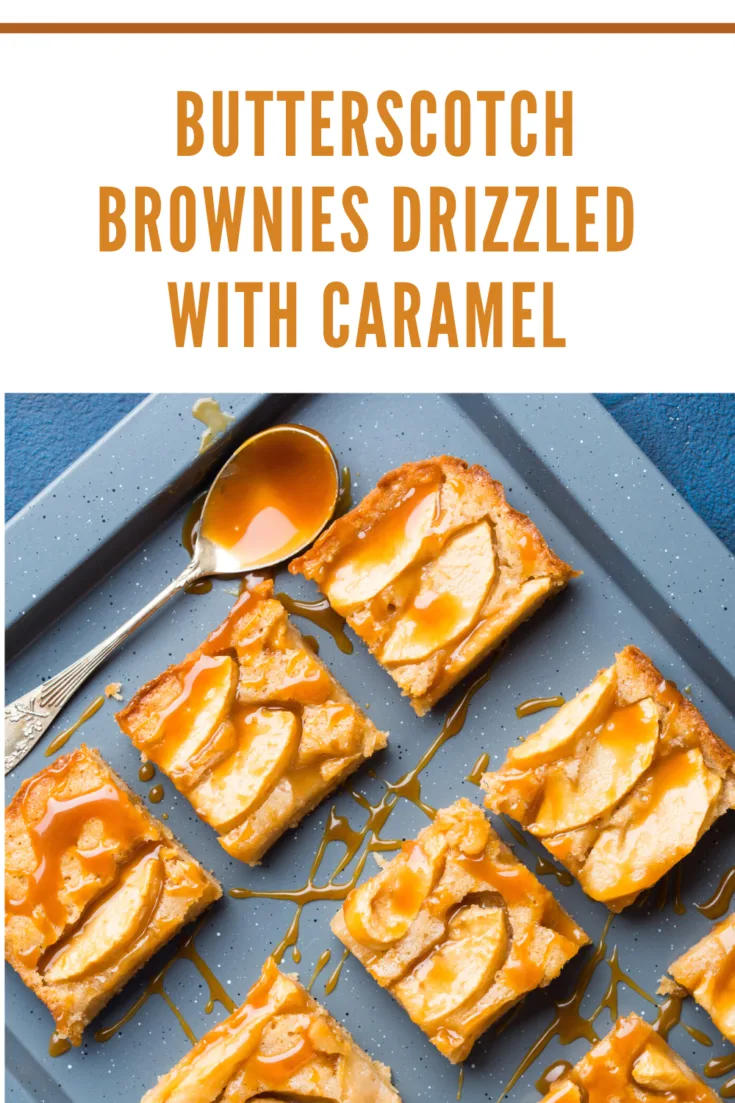 Butterscotch Brownies Recipe Ingredients:
1/2 cup margarine
2 cups Brown Sugar
2 eggs
1-1/2 cups flour
2 tsp. baking powder
1 tsp. vanilla
1 tsp. salt
1 cup nuts
How to Make Butterscotch Brownies:
Cream the margarine and brown sugar until fluffy in a mixing bowl.
Add remaining ingredients and stir.
Place in greased 8×8 pan for thicker brownies or a 13×9 pan for thinner brownies.
Bake at 350 degrees for 20-25 minutes.
For Caramel Drizzle:
Make No-Fail Caramel:
1 cup light brown sugar, packed (this will give it that beautiful amber color)
4 Tablespoons unsalted butter
1 tsp sea salt, optional, but worth it
1/2 cup half and half; or heavy cream
1 Tbsp real vanilla extract
How to make no-fail caramel:
Combine all ingredients in a medium saucepan.
Simmer over low heat while constantly whisking until all the sugar dissolves and the sauce is no longer watery and thickened (about 7 minutes).
This sauce will thicken as it cools, so don't whisk it too thick.
Pour salted caramel sauce into mason jars, glass jar
Serve warm, at room temperature, or chilled with refrigeration.
Store in an airtight container in the refrigerator for up to two weeks.
Warm on the stovetop or in a microwave to make it drizzle.
To Drizzle:
Dip spoon in caramel and drizzle caramel sauce over butterscotch brownies.