Today's Best Recipe is seven easy pork chop recipes your family will love.
We have all been there, the daily struggle of what to make for dinner.
You ask your family, and without fail, they reply, 'I don't care.'
There you are stuck with no ideas, which can be so frustrating daily.
How many pork chop dinner ideas, you know, the other white meat, do you have in your repertoire?
One of these easy pork chop recipes is sure to please them, and having them asking can you make those pork chops with the…
Try one of these delicious recipes.
They are sure to become part of your regular dinner rotation.
You may also want to check out my Pinterest Food board for more great recipes like this easy pork chop recipe!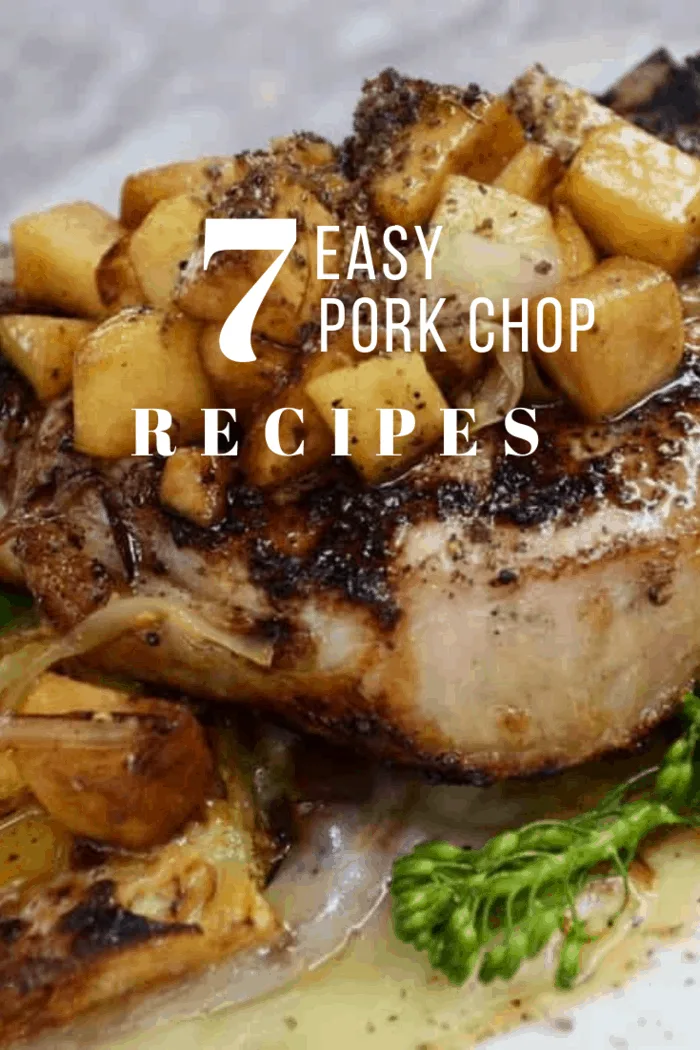 7 Easy Pork Chop Recipes Your Family Will Love
Pork Chops With Whiskey Glaze
These whiskey-glazed pork chops are so delicious are sweet, spicy, and fresh tasting.
Start with six thickly cut pork chops.
They can be in bone-in or a pork fillet.
Generously salt and pepper the chops in a clear glass baking dish.
Splash red wine onto each chop.
Choose a wine you'd be willing to drink yourself.
Cover and let marinate for up to two hours.
Next, make the glaze:
1 – 2 teaspoons oil
1/4 small sweet onion, chopped into bite-size pieces
1 can of sliced peaches or 3-4 fresh peaches, peeled, pitted, sliced
Juice from the canned peaches
2/3 cups whiskey
2 tablespoons brown sugar
2 teaspoons balsamic vinegar
1/2 stick butter
How to Make Whiskey Glazed Pork Chops:
In a small saute pan with the oil, cook the onions until they soften.
Add the peaches, 1/2 cup of peach juice, and saute until they are warm.
Add remaining ingredients and let cook until the sauce starts to thicken.
Remove the chops from the marinade and put them on your favorite grill.
While grilling, brush on the peach whiskey glaze.
Continue to glaze chops while they cook.
Chops should reach an internal temperature of 145 degrees before removing from the heat.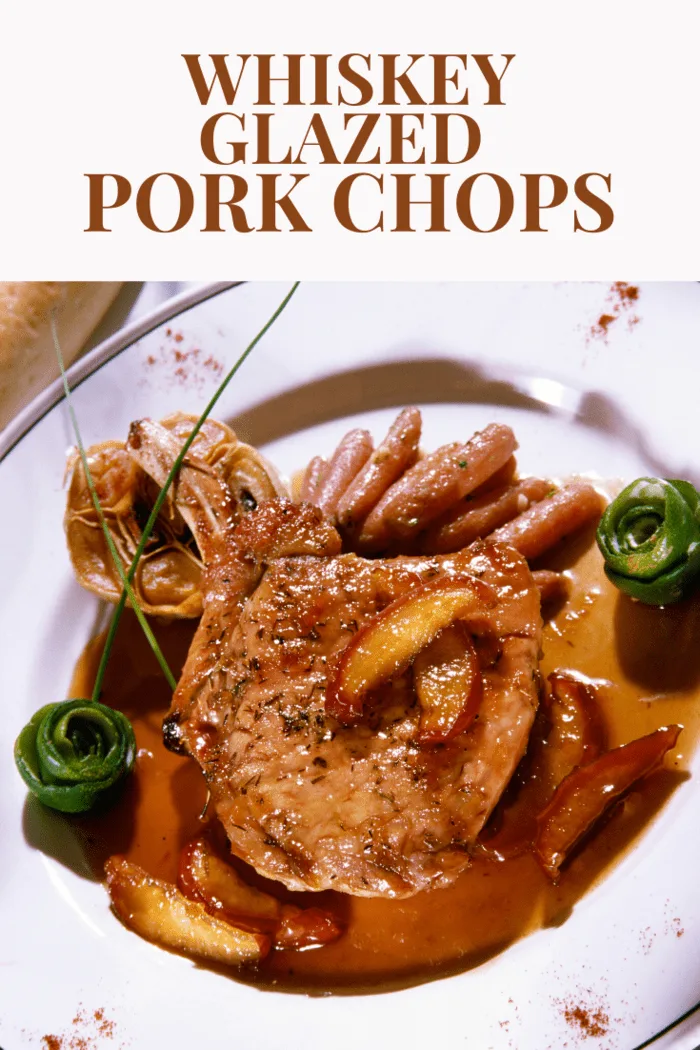 Maple Brined Pork Chops
While this recipe takes a little pre-cooking prep, the result is juicy well-flavored chops that are worth the effort.
While the brine is not obvious, it is the star of this show for its flavor in the meat.
For the brine:
1 cup kosher salt
3/4 cup sugar
1 cup maple syrup
3 tablespoons Dijon mustard
2 teaspoons hot red pepper flakes
2 tablespoons juniper berries
1/2 teaspoon whole cloves
1/4 cup fresh rosemary, chopped
2 tablespoons chopped fresh thyme
12 garlic cloves, smashed
2 tablespoons chopped fresh ginger
8 cups of water
How to Make Maple Brined Pork Chops
In a nonreactive pan, bring all these ingredients to a boil.
Stir to make certain the salt, sugar, and maple syrup dissolves.
Once the brine is cooled, marinate the chops for up to 12 hours.
The longer you allow them to marinate, the better.
Remove from the brine and pat dry but do not rinse them.
Add pepper, but not salt.
The brine has already infused the salt into the chop.
Grill on a hot grill until the internal temperature is 145-150 degrees.
Let the meat rest when it comes off the heat to redistribute all the juices.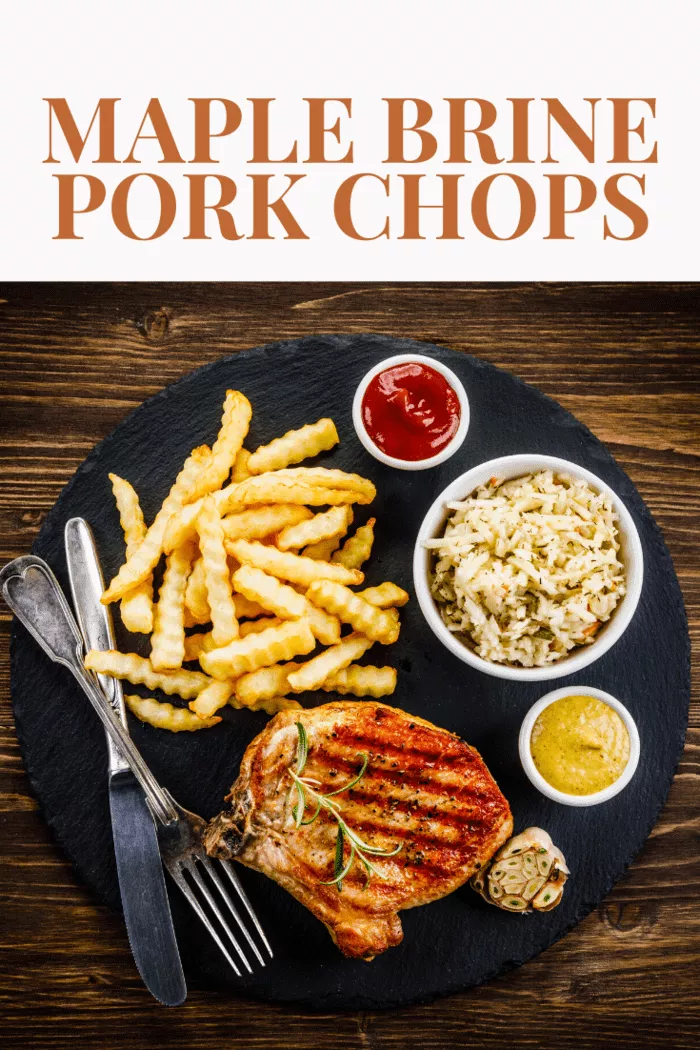 Pork Chop and Asparagus Sheet Pan Dinner
The key to this recipe is the word easy.
Line a sheet pan with foil (think about easy cleanup!), and brush it with oil.
Here's what you need:
1/4 cup olive oil, divided
3 cups diced new potatoes
3 cups cut fresh asparagus (1-inch pieces)
1/4 teaspoon salt
1/4 teaspoon pepper
1 large Gala or Honeycrisp apple, peeled and sliced
2 teaspoons brown sugar
1 teaspoon ground cinnamon
1/4 teaspoon ground ginger
4 boneless pork loin chops (1 inch thick)
2 teaspoons southwest seasoning
How to Make Pork Chop and Asparagus Sheet Pan Dinner
Mix potatoes with a drizzle of olive oil in one bowl and place on the sheet pan.
Repeat the same process as the asparagus. Generously salt and pepper the vegetables.
Mix apples with a little olive oil, brown sugar, cinnamon, and ginger in the same bowl.
Then place on the sheet pan. Add the chops and season with southwest seasoning.
Bake at 425 degrees for 20-25 minutes until the chops reach an internal temp of 145 degrees and the vegetables are tender.
Jamaican Jerk Chops
These Jamaican Pork Chops are super easy, so you'll have a meal in a flash.
Mix a tablespoon of softened butter and a quarter cup of peach preserves.
Melt another tablespoon of butter in a large skillet.
Generously season 4 thin-cut pork loin chops with three teaspoons of Caribbean jerk seasoning.
Brown the chops in the hot pan for 2-3 minutes per side.
Remove from the skillet.
Thinly slice 1/2 of red, orange, and yellow pepper.
Saute in the same pan until they start to soften.
Add the chops and peach preserve butter back to the hot pan until the butter glazes the chops.
Serve the pork chops and peppers over rice.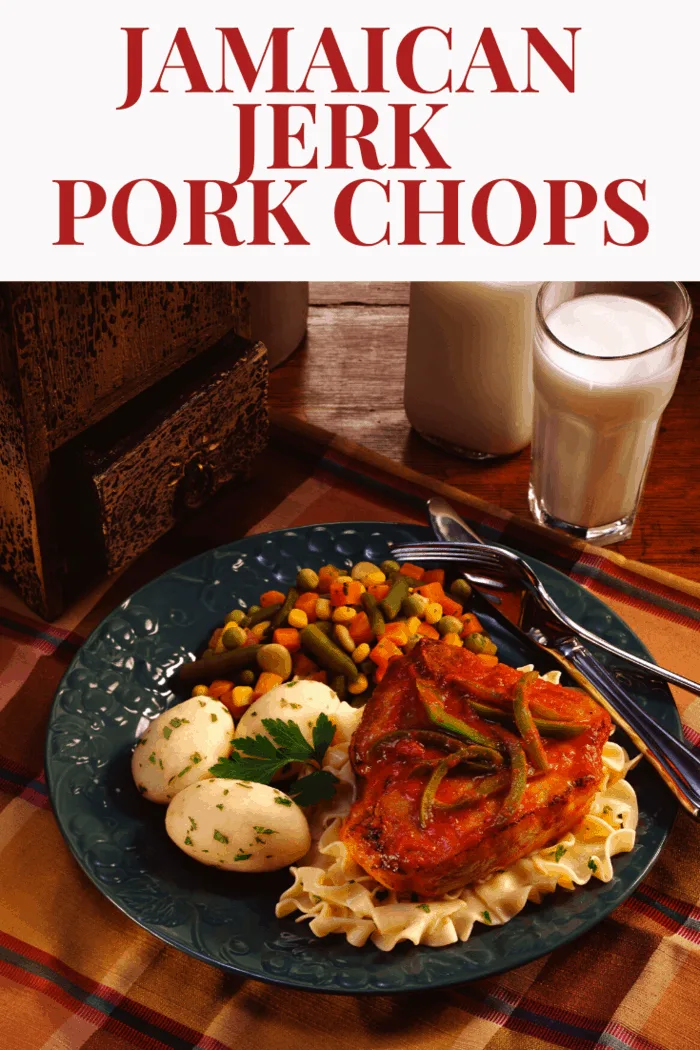 Sweet and Sour Sort of Pork Chops
This is another easy pork chop recipe where dinner can be ready in a snap—heat oil in a skillet, season pork chops with salt and pepper, and then brown.
Mix:
1/2 cup pineapple juice
2 tablespoons brown sugar
2 tablespoons cider vinegar
1/2 teaspoon salt
Thinly slice two medium, sweet onions and saute in a drizzle of oil in the pork chop pan.
When the onions soften, add the juice mixture.
Bring to a boil, reduce heat and cook until it starts to thicken.
Add the pork chops into the sauce until they are covered.
Prepare thick-cut noodles.
Serve the noodles with a pork cop on top, then spoon the glaze over the top.
You garnish with thinly sliced green onions.
Sauteing broccoli to serve on the side is also a nice addition.
6. Cream of Mushroom Pork Chops
Pork chops go with mushroom soup, as peanut butter goes with jelly.
The added mushrooms make this one both easy and delicious.
Here's what you need:
1 tablespoon oil
4 bone-in pork loin chops
1 can (10 3/4 ounces) Cream of Mushroom Soup
2 teaspoons dried minced garlic
1/2 cup milk
2 teaspoons minced onion
1/2 teaspoon black pepper
2 – 4-ounce cans of sliced mushrooms, drained
How to Make
Cream of Mushroom Pork Chops
Heat the oil and brown the pork chops on both sides.
This should take about 3-4 minutes per side.
In a small bowl, mix all remaining ingredients.
Pour the soup mixture over the pork chops and let simmer for about 20 minutes.
Serve with wide noodles or mashed potatoes.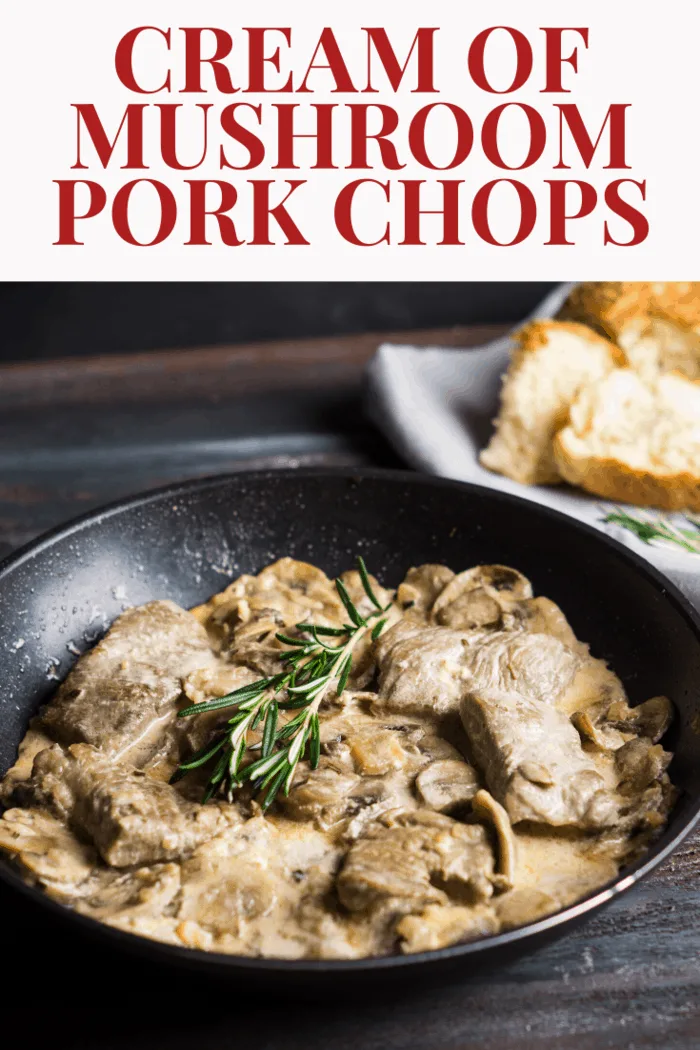 Honey Garlic Pork Chops
Here's another easy pork chop meal idea using your slow cooker. This recipe works best with boneless thick-cut chops. For added flavor, consider browning the salted and peppered chops before putting them in the slow cooker.
Then mix:
2 teaspoons minced garlic
1/2 cup ketchup
1/3 cup low-sodium soy sauce
1/4 cup honey
How to Make Honey Garlic Pork Chops
Pour over the pork chops and cook on low in your slow cooker for four hours. If you like things spicy, consider adding a few squirts of sriracha to the mixture. After four hours, mix two tablespoons of cornstarch and 1/4 cup cold water. Pour into and combine in the slow cooker.
Let it cook for another hour. The sauce will thicken like a glaze. These are lovely served with rice and stir-fried vegetables.
Pork Chop Recipes For the Win
They all sound so good, and it'll be hard to decide which one to make first. That's a much easier problem to have than no ideas at all. These pork chops recipes are sure to become one of your specialties in no time. Which one are you making first?
Don't forget dessert.
We suggest this easy peach cobbler.
You might also like this recipe for spicy pork skewers.