Do you want to choose the right design for your mini-kitchen? It is crucial to choose a design that complements your overall theme. Rather than going for a range of styles, you need to adopt a simple design for your small kitchen.
You can look for compact appliances; pick the premium models that provide you with the optimal internal space.
If you own small space, a U-shaped kitchen can fit well and is worth considering.
So you can install luxurious material in your mini kitchen with a limited amount of doors and drawers.
It will make your kitchen area look small and excellent.
This post will explore mini-kitchen ideas that are suitable for your small apartment.
How to Decorate Mini-Kitchen?
Decorating a small kitchen may be a bit similar to a larger kitchen.
You can opt for decorative elements that complement and harmonize with your overall kitchen look.
But it is essential to consider that whatever you choose for your small kitchen should enhance the theme and decor.
Picking a sharp paint color, bold tiles, or heavily designed wallpaper for your kitchen walls will make your kitchen look vivid and dominating.
So, it is better to limit your choice in terms of decorative layers and keep them specific and light.
Best Color for Mini-Kitchen
The ideal choice for a mini-kitchen is a light and bright color.
Bright colors are usually high in gloss like blue, lime green, pink or lilac, etc.
It's a great deal to give your kitchen a modern look if you do not have plentiful space to use.
Moreover, incorporate attractive areas through winding curves units or add a chandelier or designer bar stool.
The dynamic space will give an up-to-date look.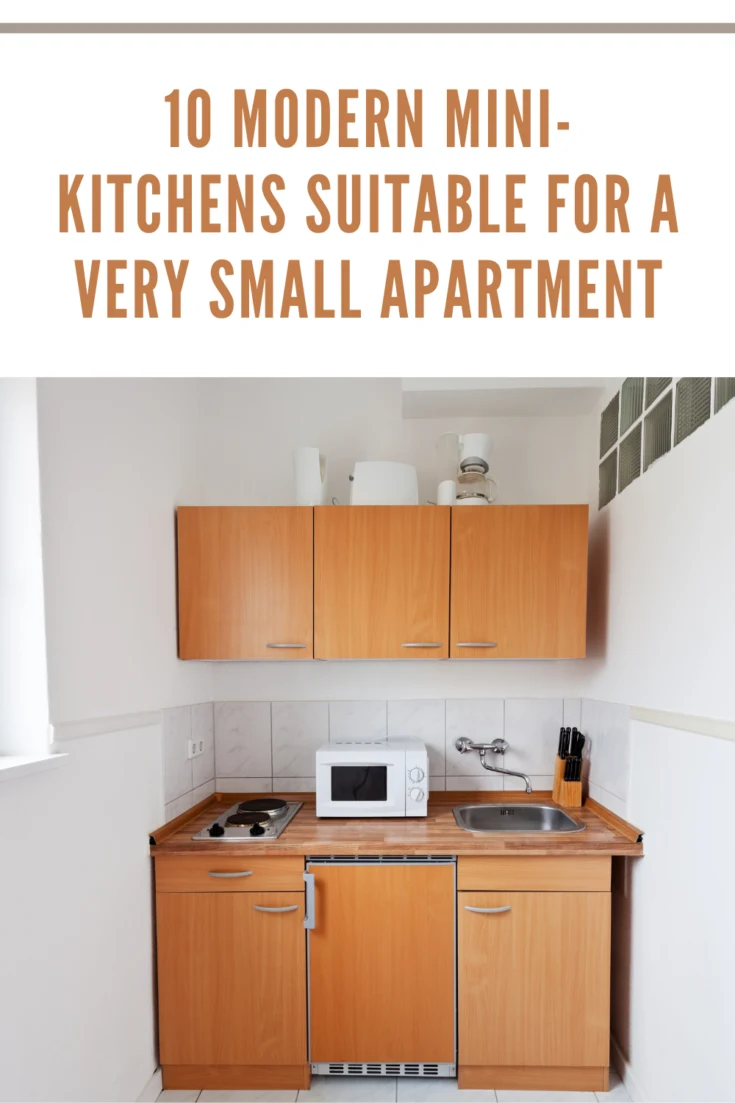 10 Modern Mini-Kitchen Ideas
1. Extend Cabinets to the Ceiling
You can utilize the place above your cabinets too.
You may find it challenging to manage while dusting and cleaning them.
However, you can save a great space in this case.
You can ask your designer to extend cabinetry to the ceiling and add extra cupboards to store additional items.
So, your tiny kitchen will incorporate all of the things easily.
2. Go for an Open Design
An open kitchen design is perfect for a small space.
Select a single wall or L-shaped kitchen design layout to save maximum length if you have tiny space.
Besides, a galley format is the best choice for a small kitchen layout.
Galley kitchen comes with linear simplicity and gets a timeless touch.
Open kitchens have been popular and in trend, so use this attractive solution to create a stylish look.
3. Choose Handless Cabinetry Design
Want a simple, sophisticated design with handless cabinetry?
You can get various styles that can be hi-gloss white to textured woods and ceramic.
The style looks beautiful in modern mini kitchens.
Besides, a handless scheme can appear more beautiful in white color.
Still, you can add natural materials to make it look softer.
Adding stones or wood floor can also enhance the layered and textured effect on your mini-kitchen yet make it modern at the same time.
Moreover, you can include colorful patterned tile backsplash or wooden worktops.
4. Brighten up your Kitchen Area with the Right Lights
Eye-catching details are possible to add in mini-kitchens too.
Decorative accessories and colorful furnishes can add a trendy look to your mini kitchen.
More options include lamps, artwork, shades, and countertop storage.
Bright colors also enhance the appearance and make the space look brighter and more spacious.
You can incorporate the best combination of bright colors to create a stunning mini-kitchen.
5. Pick Sleek Design Cabinets
You can pick cabinets with a sleek design and reduced depth if you have a little floor space in your kitchen.
These cabinets will allow you to store goods that are smaller in size.
For big pans and other pots, you may need to choose an alternative option like creating open shelves.
These cabinets usually cover one wall of your mini-kitchen.
This means it will also be a great choice to save some space.
6. Choose a Single Sink Option
Although a double sink makes dishwashing easy, you need to pick up a single sink to make your kitchen look spacious if you want to design a mini-kitchen.
No doubt, a single sink is stylish and gives you enough counter space to carry on your work flexibly.
7. Create Streamlined, Modern, and Smooth Cabinets
For a modern mini-kitchen idea, getting the right size of cabinets is crucial to occupy less space.
You can replace heavy handles and knobs with slim finger pulls and sleek designs.
Moreover, you can choose tiny knobs or magnetic strips to create a minimal, modern look.
This way will make your kitchen appear more prominent.
8. Integrate shiny and reflective materials
You can create an illusion of space with some tricks.
There is nothing better than glass and mirrors to create high reflection.
The large glass doors put a highly reflective impact.
Moreover, you can incorporate glass in wooden cabinetry or pick a metallic finish to create a modern look.
Additionally, install a backsplash by utilizing reflective tiles or glass.
9. Go for a White Small kitchen design.
Going for a small white kitchen design will be a good idea by incorporating different shades and textures of colors.
You can pick glossy, matte, woody surfaces by encompassing shades like off-white, cream, ivory, eggshell, and grey.
White color reflects light, so it makes your kitchen look smaller and open.
Check out white cabinetry options at Walcraft Cabinetry with multiple styles and order as per your mini-kitchen size.
10. Wooden Cabinets to capitalize on Storage
Wood cabinets give a classic feature and are also available in modern designs.
Interestingly, wood cabinets can combine with any decorative style and provide a natural look.
So it can be a popular cabinetry choice for your mini-kitchen.
You can pick the best from a wide variety of wooden kitchen cabinets.
Some wood cabinets for the kitchen include red oak wood cabinets, stained wood cabinets, cool-toned cabinets, etc.
Before you choose any design for your mini-kitchen, make sure to consider the space, theme, and decor of your space.
Sources
https://www.urbancompany.com/blog/interiors/small-kitchen-design-ideas/
https://www.elledecor.com/design-decorate/room-ideas/g2429/small-kitchen-roundup/
https://www.homesandgardens.com/spaces/decorating/small-kitchen-ideas-208328