The era of computers is expected to continue for a long time. The population's need for these technologies has become even more apparent in the "new normal," with virtually more transactions and processes to limit physical contact.
Even students now take their classes online. Add that to the ever-increasing screen time they get, and you'll probably want to look for more ways to protect their eyes.
Fortunately, protecting your child's eyes is easier now more than ever. Eyeglasses aren't just for correcting issues with children's eyesight; eyeglasses can also help prevent them.
Here, you'll find the top answers to the most pressing questions parents are asking about computer glasses for kids.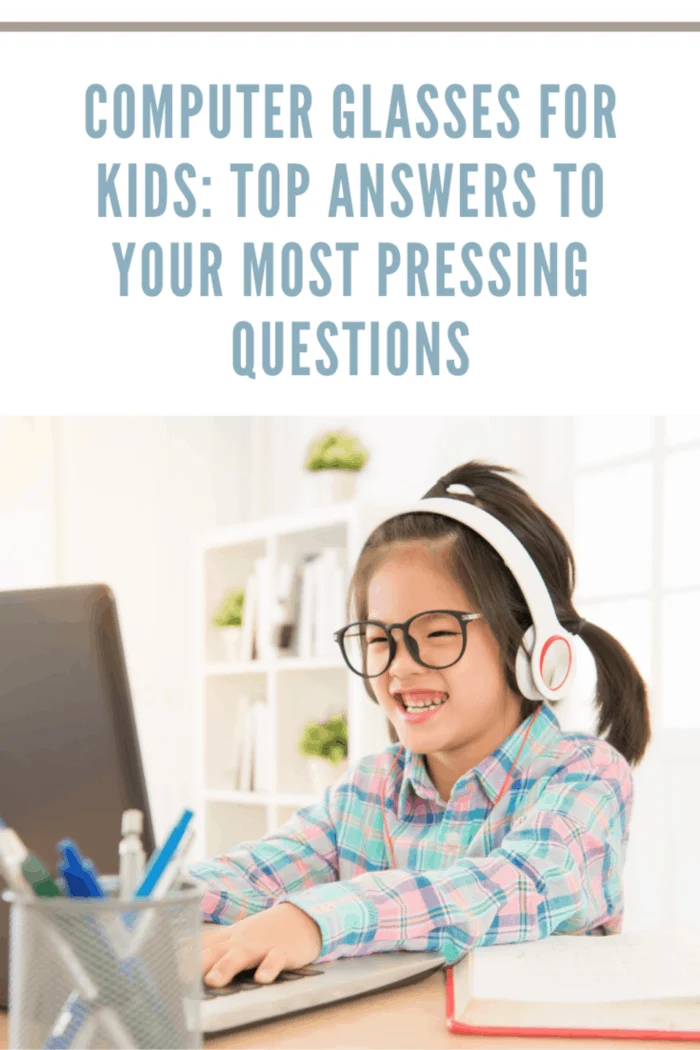 1. Do computer glasses help?
Despite the popularity of this type of eyewear, many parents remain skeptical about the benefits of wearing computer glasses. Although some glasses are just plain accessories, many provide blue light protection for children's eyes.
But what exactly is blue light? Below is a quick summary of how blue light affects the eyes and when it can be harmful to your child's eyesight.
What is blue light?
Light isn't just categorized between natural sunlight and artificial indoor lights. There are all kinds of light out there, some differentiated by their color.
Blue light is one of those you'll find within the color spectrum of light that exists. This light comes from two primary sources: the sun and LED or LCD screens (i.e., smartphones, tablets, and computer displays).
Is blue light harmful?
Blue light isn't inherently harmful to the eyes. It can be suitable for your child in small doses as it serves as a biological marker.
The amount of blue light from the sun is enough to "perk up" people. It signals to the body that it is time to wake up, serving as a built-in reminder that the day is also beginning. In short, it keeps people awake, active, and alert.
While you want that during the day, you don't need a perked-up child in the evening, incredibly close to bedtime. That's when blue light exposure can become a problem.
The primary issue is not whether your child gets exposed to blue light but rather the level and frequency of their exposure.
Those minutes or hours your child spent browsing social media platforms or watching their favorite cartoon on the TV at night aren't doing their health much good. While they know that it's time to sleep, they tend to feel too entranced by the screens they are looking at, making it difficult to look away.
And when children get too much screen time, they get too much blue light.
Remember: The blue light emitted by device screens is more than capable of keeping people awake, much like the sun. But unlike the sun, digital screens don't usually go away in the evening.
Do children need computer glasses?
If your child gets too much blue light too frequently, then the answer is a resounding "yes."
Though children don't necessarily go blind just by watching the TV, a few instances warrant the use of blue light-protection glasses:
Your child already struggles to fall asleep.
They show symptoms of or have been diagnosed with Computer Vision Syndrome (CVS), a type of eye strain caused by excessive and long-term exposure to digital screens.
Most of their time is spent looking at any screen.
2. Which glasses are best for computer use for kids?
You can have eyeglasses explicitly made for the needs of the person who will wear them, even computer glasses. Some blue light glasses can also be made with a person's prescription.
Of course, you still need to tell the eye doctor what you need in your child's computer glasses to make sure they fit and work perfectly.
Not sure how to do that? Here are some tips to help you get started:
Consider the near-to-immediate range of vision for prescription glasses.
To make sure you select the right kind of prescription glasses with blue light protection, you need to consider where your child will be using them.
If the eyeglasses are also worn in a virtual classroom setup, you might need to consider the layout of the desk your child will be working from to determine the average range of vision.
The standard face-to-screen distance for laptop and desktop computers ranges between 20 and 26 inches. For mobile devices, it's probably less.
Give all of this information to the eye doctor.
Choose between metal and plastic frames.
Plastic is the most picked frame material for kids' glasses because they are safer and more durable. However, this doesn't necessarily mean that metal is out of the picture. In many cases, metal frames can be designed even for small children.
Of course, the choice of frame material still depends on the wearer's specific needs. Just remember to consider the pros and cons of the materials before deciding.
Go flexible.
Although most flexible frames come in brightly colored and funky shaped plastic, eyeglass makers can customize metals to be a good fit for kids as well. Flexible titanium with spring hinges, for example, works as a more mature-looking alternative for older kids.
Consider the nose bridge.
Avoid choosing a frame with nose pads that pinch your child's nose bridge too much. This will prevent the glasses from working their magic because they sit too close to their eyes.
Don't choose those too wide either, as the eyeglasses may not stay in place, especially for highly active kids.
To ascertain whether the frame is suitable for your child, check whether there's very little space between the cheek and the glasses' lower rims.
3. Is a prescription necessary for computer glasses?
If your child doesn't usually wear glasses or has no prescription for one, you can purchase "computer glasses" even without an eye doctor's prescription. You don't have to wait for CVS signs to buy a pair.
However, if the child does have a prescription for astigmatism, nearsightedness, or farsightedness, you can request that the prescription glasses be made with a blue light filter. This may slightly increase the eyeglasses' price, but the benefits are worth it.
Shield Your Child's Eyes
No parent would ever want harm to come to their kids, even if that comes in the form of eye strain. Research your options and consult an eye doctor to shield your child's eyes from too much blue light.
–
Resources: