It is always a challenge to make the most out of your small space, especially your kitchen because we are sure that you spend a lot of time there. A tiny kitchen means you can only have essentials that fit perfectly into the space without appearing to be congested. So, it can be a bit overwhelming to determine what to include and what not to include in your kitchen. Many tiny house owners love the liberty of convenient mobility, but it also has cons. So, when building your tiny house, it is critical that you are aware of your space limitations. Therefore, you will be forced to get creative. To save you some time, we have created this post to discuss the must-haves for tiny kitchens.
Let's get started.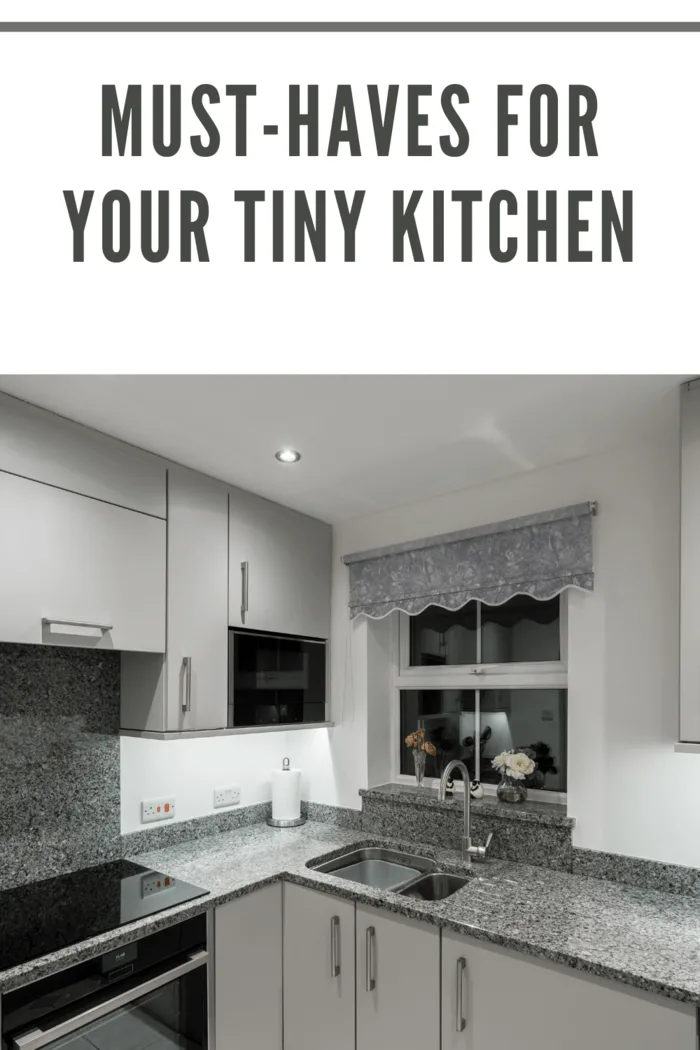 Must-Haves for Your Tiny Kitchen
Cast Iron Skillet
First, cooking is not easy when you lack space because there may be no room for an over-the-range microwave oven.
Well, you can invest in a convection microwave oven or a solo microwave that can sit on a tabletop.
However, only microwaving your food is not a good idea.
This is why you need a cast-iron skillet.
It not only saves a ton of space but can be used for varied cooking needs as well.
Having a skillet like an enameled cast iron dutch oven will make it easy for your tiny kitchen too.
Not only are iron skillets naturally non-stick, but they are easy to clean and beneficial for your health as well because it fortifies your food with iron.
And the best part is that they are nearly indestructible and provide you with even cooking temperatures.
All these features make it an essential appliance for your tiny kitchen.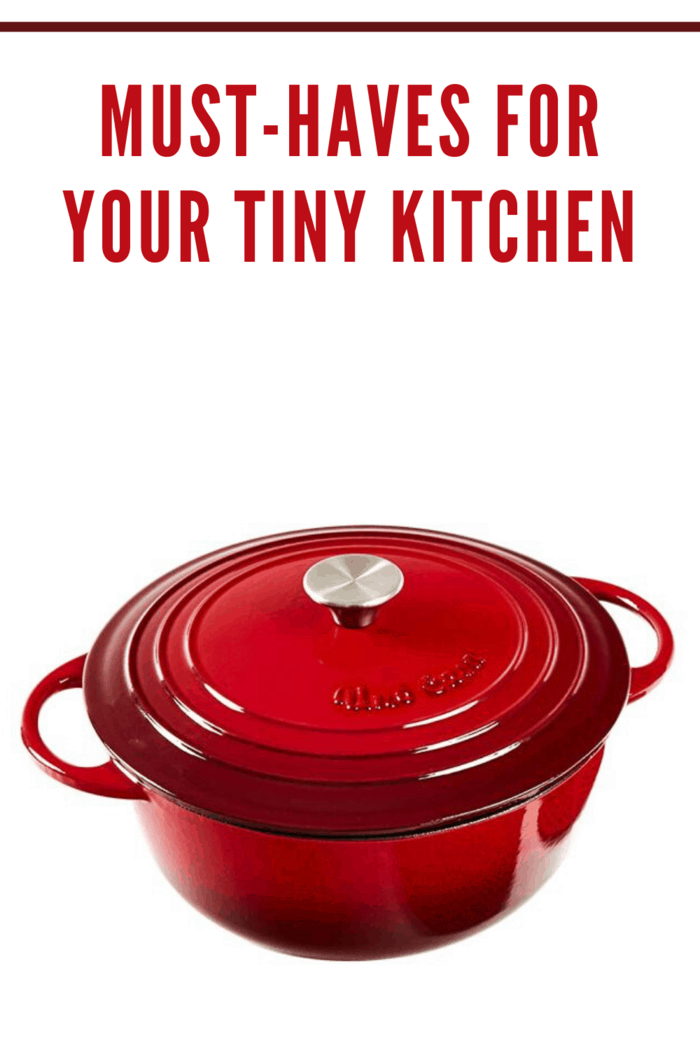 Slide-Out Recycling and Trash Bins
No matter how small your kitchen is, it will still generate a ton of garbage.
Therefore, you will need space for trash.
You have to take full advantage of whatever space you have.
If you have full-depth countertops, you can choose to install slide-out recycling and trash bins.
It saves space, and you don't have to put a garbage bin out in display in your tiny kitchen.
It will help you in maximizing your space.
The best thing is that you can also include slide-out storage cabinets for items like spices, utensils, cookware, and other essentials.
Hanging Dish Rack
Since the space is low in surface area, you will have to think about vertical storage themes.
Vertical storage design is appropriate for a small kitchen organization.
There are countless numbers of hanging dish racks available in the market, or you can custom-make one based on your kitchen requirements.
A hanging rack will help you in keeping your dishes from away from your countertop, offering more space.
The best part is that you can use this hanging rack not only for drying dishes but also as a storage space for your cookware, like plates, pans, bowls, spoons, and even knives.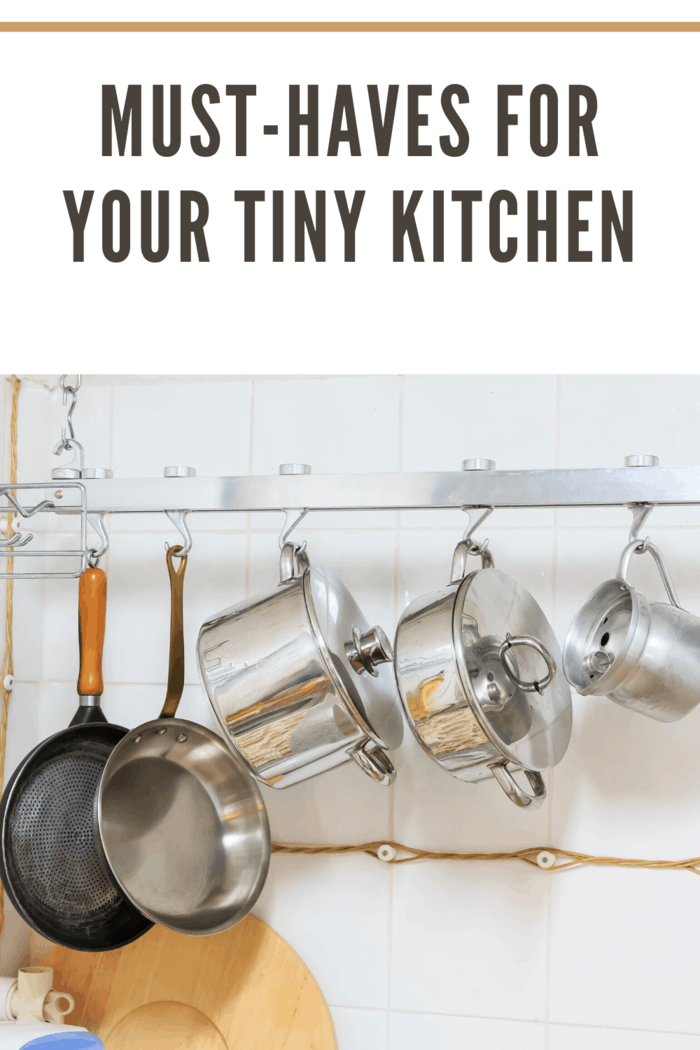 Hanging Rail for Utensils
As discussed earlier, you need to introduce a vertical storage design to keep stuff away from your kitchen countertop.
These crocks can take up valuable space on the countertop, making it difficult for you to operate efficiently.
So, the best idea would be to hang your utensils with S-hooks.
You can install a rail system in your kitchen that will help you in storing essentials like spoons, spatulas, measuring cups, cutting boards.
This will save a lot of space and give you more options.
Over-the-Sink Cutting Board
Installing an over-the-sink cutting board is one of the best space-saving ideas for a tiny kitchen.
This is perfect for those moments when you need extra room to work.
There are so many cutting board designs for sinks, and they also come with a strainer.
It will not only extend your counter space but will be efficient for you to prepare meals, especially if guests come over.
It works so that you only have to remove the cutting block when doing the dishes.
Square-shaped Storage Containers
Always invest in square-shaped storage containers for your tiny kitchen.
Oddly shaped containers will only take up extra space.
The best thing about square storage containers is that they are easy to align, and you can rack them one over another, saving a lot of space.
Collapsible Spoons and Measuring Cups
The best thing about collapsible cups and spoons is that they can be stored in even the most congested spaces.
No matter how you use them, they won't break or become less efficient.
They are easy to wash, as well.
Final Words
It is totally your creativity that will result in a space-saving tiny kitchen idea.
If you already have a tiny kitchen, look for ways to reduce traffic.
And if you are considering building a tiny kitchen, take notes of everything ahead.