A weekend project and a review of Behr Premium Solid Color Weatherproofing Wood Stain.
Unveiling the Beauty of Wood: Behr Premium Solid Color Weatherproofing Wood Stain
Discover the secret to enhancing the natural allure of wood with Behr Premium Solid Color Weatherproofing Wood Stain. Transform your outdoor spaces into captivating havens of color and protection. Dive into the world of premium wood staining that not only adds vibrancy but also shields your cherished wooden surfaces from the elements. Let's embark on a journey to unlock the magic of this exceptional wood stain and unveil the history, benefits, and expert insights that come with it.
Behr Premium Solid Color Weatherproofing Wood Stain Review
This weekend the weather finally cooperated and I was able to start staining the fence. This has been a summer-long project and since the fence had never been treated the project was a much larger undertaking than I had originally imagined. Behr's Exterior Wood Care Center at The Home Depot made the project manageable by simplifying each step from preparation, color selection and staining the fence.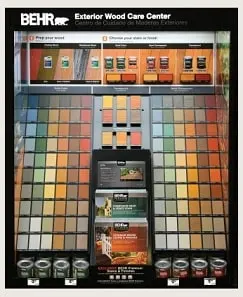 Behr's Exterior Wood Care Center offers:
Interactive, Touch Screen Interface: Application Videos & Detailed product information
Optimized Color Selection: Streamlined Color Palette with 60 custom wood stain colors
Visualization Tools: Digital images to bring your vision to life
Easily Accessible Samples: Eight Ounce Samples available to test products
Enhanced Brochures: Color Cards with before and after imagery.
I started by pressure washing the fence. This in itself took me several weeks, and although it was not easy the pressure washer provided instant gratification and turned my dull weathered wood into a beautiful honey brown. If you do not have access to a pressure washer, there are other ways to help you prepare your wood for stain. Behr has enhanced their line of exterior wood care products to help simplify wood preparation. They offer a Premium All-In-One Wood Cleaner that can clean, brighten and remove mildew stains in a single step, it helps to restore woods natural color and conditions the wood in preparation for new stain.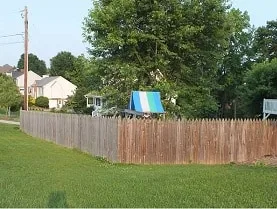 With Behr's Exterior Wood Care Center I was able to "sample" different colors of stain using the visualization tool. This feature allows you to digitally color pre-set images of decks, fences, and furniture with any of Behr's stains or finishes. And with over 60 custom wood stain colors to choose from, my choices were practically limitless. Because the fence has seen better days, I wanted a solid color wood stain, which allows the wood's texture to show, but hides blemishes, imperfections, and signs of aging wood. After reviewing all of my choices, I chose BEHR Premium Solid Color Weatherproofing Wood Stain in the color Dolphin Fin, which is a very light shade of gray that matches our house perfectly. It is suitable for all kinds of wood and ideal for use with a paint sprayer for cabinets.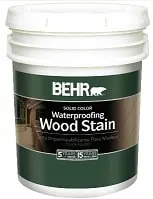 BEHR Premium Solid Color Weatherproofing Wood Stain features:
Advanced 100% Acrylic formula with enhanced UV protection
Mildew-resistant finish
Easy water clean-up
Weatherproofs against all the elements for complete protection
Available in Transparent, Semi-Transparent and Solid Colors
Limited Warranty:
Premium Solid Color Weatherproofing Wood Stain – 10 years horizontal / 25 years vertical

Behr's Premium Solid Color Weatherproofing Wood Stain provided great coverage. The fence is old and had never been treated so it will definitely need two coats of stain, but the first coat looks great. The solid color stain lived up to my expectations; it covered the blemishes but the wood's texture is still visible. I have a lot more painting to do before I am finished, but this project is going to be well worth the work. My neighbors have all commented on how great it looks and have asked when I can start working on their fences. I'm headed back to Home Depot to pick up more stain, stay tuned for the final reveal of the Big Backyard Makeover.
—-
Natalie is a mother of two energetic boys ages 5 and 7. She spends her weekends working outside in the yard and loves DIY home improvement projects. She enjoys playing sports with her children and dreams of becoming a professional photographer.
Disclosure of Material Connection: I received one or more of the products or services mentioned above for free in the hope that I would mention it on my blog. Regardless, I only recommend products or services I use personally and believe will be good for my readers. I am disclosing this in accordance with the Federal Trade Commission's 16 CFR, Part 255: "Guides Concerning the Use of Endorsements and Testimonials in Advertising."