Dealing with thin hair can be pretty challenging, as it may often look flat and lifeless. A person's hair is considered one of the most versatile assets someone can have, so constant backcombing just won't do. If you feel frustrated because of thin hair, don't. Take a look at Keira Knightley, she faked it and you can too.
Several helpful tricks can help your hair look fabulous. From blowdrying and using thickening products to well-chosen cuts – in this article, you'll find them all. Remember that thin hair is not a life sentence; you can make it look perfect with proper care. Read on, and learn how to do that.
Go for a Professional Haircut
It's easier than you think to get a haircut that enhances the features of your face. This way, you'll look younger and thinner. If your face is big, opt for long-layered cuts or choppy styles. If your face is small, go for medium layers. It's important to note that a blunt cut is a way to go if your hair is super thin. If you don't have time to go to the salon, you can easily do it at home. All you need is a good tutorial and a set of good hair shears. We recommend grabbing hair shears from scissortech.co.uk; they are some of the best on the market and will make your job a lot easier.
Don't Wash Your Hair Too Often
Overwashing hair can cause it to become dry and brittle. The more often you wash your hair, the quicker it grows, but it will be thinner. So make sure to keep your hair clean, but wash it as little as possible.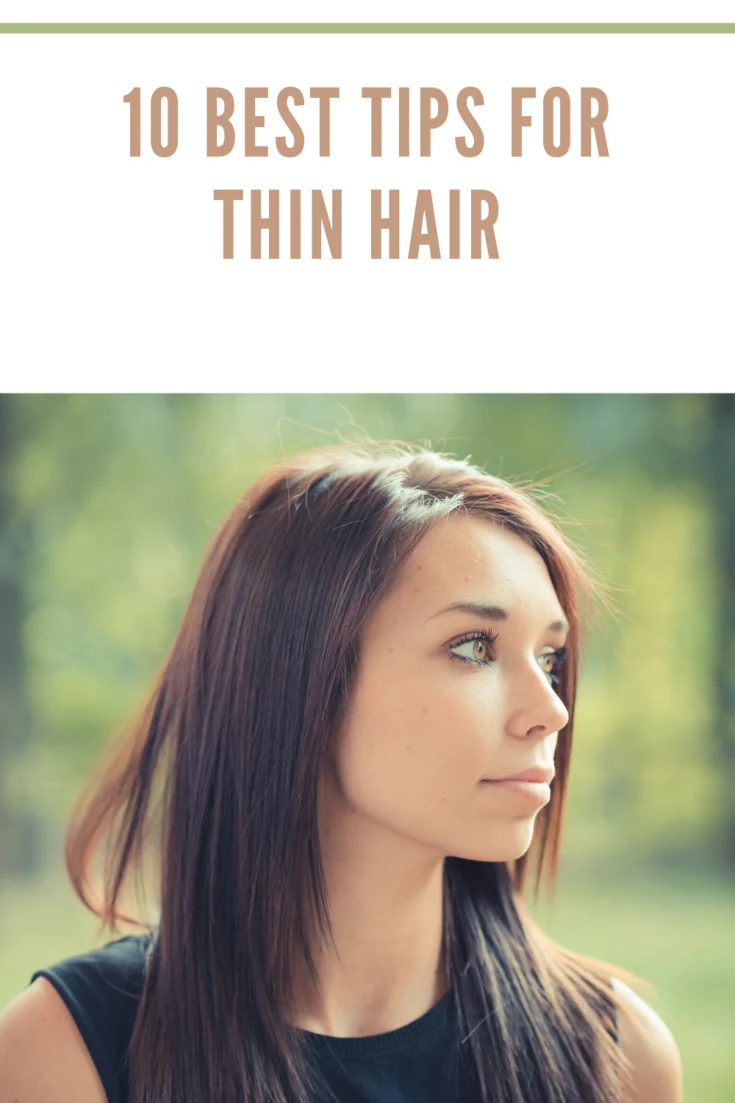 Use Thickening Products
Thickening products might seem like a good idea in the beginning, but they can do more damage than good if not used properly. Choose styling products with natural ingredients that add volume without damaging your hair. Byrdie.com suggests using thickening products regularly can help to give your hair a fuller appearance. It should be applied sparingly from roots to mid-shaft and then blowdried. If you have fine hair, then use only a small amount of thickening product because using too much won't make your hair look thicker but rather greasy.
Use a Good Shampoo & Conditioner
Try to avoid shampoos and conditioners that are too heavy for your hair texture or that contain alcohol or silicones. Make sure to choose products that are specially formulated for thin and fine hair. They will help nourish the scalp and add body and volume to your hair. Some shampoos contain natural ingredients that help thicken and strengthen each strand of hair. The daily use of these products will result in healthier hair that is easier to style and maintain.
Blow Dry Your Hair at the Right Temperatures
The way you blowdry your hair can make a big difference in how it looks after it dries naturally. The best way is to blow dry it at cooler temperatures because high heat can make your hair frizzy and brittle, making it break and making it thinner over time.
Use a Good Brush or Wide-Toothed Comb
Regular brushing can help distribute the scalp's natural oils throughout the length of the hair strands. Brushing will also stimulate blood flow to the scalp, promoting healthy hair growth. A wide-toothed comb would be better than a brush with metal pins because they are gentler on your hair.
Use a Good Heat Protectant Spray Before Styling Your Hair
Heat protectant sprays are very popular among people with thin hair because they really work. The heat protectants contain ingredients that shield the hair from any kind of styling tool and prevent excessive heat from damaging your hair's structure and cuticle layer. Harpers Bazaar recommends consumers shop around and find a product that contains both heat and UV protectants. Make sure to spray it on damp hair; otherwise, the heat protectant won't work so well.
Use a Styling Tool
If you want to create more body for your hair, try using a curling iron or straightener instead of a brush or comb when you style your hair. Just remember to use a heat protectant before you do this. Another good idea is to use a texturizing spray before styling your hair. It works great for creating loose waves or curls without drying out or damaging your hair too much. After 30 minutes, brush out the curls with a wide-toothed comb. Then use a large round brush for smoothing out the flyaways and making your hair shiny and smooth again.
Wear Your Hair Down More Often Than Up
Thin hair tends to look better down than up, as updos tend to make thin hair look even thinner than it already is. Another reason why updos don't work so well is that they expose thin areas while hiding thick ones, which can make thin areas look even worse than they already are. Try wearing your hair down more often than up; half-up styles are good options for fine hair too.
Remember That Unwashed Hair Is Not Always Bad Hair
If you have thin hair, you might be afraid of going out in public because your hair looks greasy and dirty by the end of the day. The best thing to do is to just go out without washing your hair. That way, you won't have to wash it so often, and you will save a lot of money on shampoo and conditioner!
Summary
You might feel embarrassed about your thin hair, but there is no need to be! There are so many people that have thin hair, so don't worry, you are definitely not alone. It can sometimes be hard to know what to do but, hopefully, after reading this article, you feel more confident about knowing what to do with your hair. You may feel embarrassed about wearing your hair down, you may feel that it's super obvious that your hair is thin, but you shouldn't feel that way at all. By getting the right haircut, using the right products, and styling it in a way that makes your hair appear thicker will make you feel more confident and beautiful. If you are not sure where to start, you can start by incorporating one of each of these tips into your daily routine. Once you do, I guarantee you will feel more beautiful than ever!