Hairfree Brush Review
I have a lot of hair!
I refer to myself as "Mufasa" when it comes to doing anything with my thick, long hair.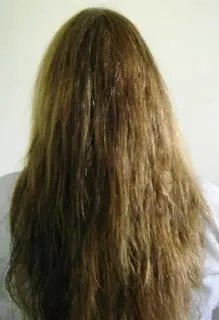 It's a pain. It's in the way and I shed.
I shed a lot!
To the point that I've seriously asked folks "do you think this is normal?"
I like the look of sleek hair–the kind you get from using a flat iron.
It takes hours for me to do my hair, so it's not often.
Combing my hair is a chore and when I add a blow-dryer, it's a lot more work than I'm willing to commit to in any one sitting.
When the opportunity came that I could review Hairfreé™ brushes, I was excited.
These brushes are unlike other brushes on the market and I was excited because I've seen so much about them.
They are versatile for thick or thin hair and can be used as either a regular styling brush or as a vent brush.
One of the unique features I like on the Hairfreé™ brushes is the ceramic coated plates.
They are flush with the brush body and heat when used with a blow dryer.
There is a switch that can raise the ceramic plate to make it a vent type brush.
This creates a "vent" allowing hair to dry more quickly.
The adjustment of the plate helps define whether you want a large curl or some added body.
The ceramic plates and coated bristles the Hairfreé brush heat up with just a blow dryer and can be used to straighten or curl your hair.
This Hairfreé™ brush uses some great drying technology with the ceramic plates.
These features include:
Creating a smooth and polished effect with an added natural shine.
Aids against static build-up.
Equal distribution of the head for fast and effective styling.
Hair straightening or curling.
To me, nothing is grosser than strands of hair–and trust me I'm a shedder, I know.
Hairfreé'™ brush is a very hygienic free hairbrush!
The brushes are EASY to clean.
You can move the switch on the back to make the ceramic plate rise up the length of the bristol and then remove the hair.
Clever!
These brushes are also easy to clean with warm soapy water and stand the brush on its end for easy drying.
Hairfreé™ will never rust and I don't have to worry about gross hair in my brush.
That drives me bonkers!
My hair is very thick and initially, the bristols were too stiff and tugged, but once I used the blow-dryer on the brush, the bristols softened and I was very impressed with this brush.
My sixteen-year-old came in the bathroom when he heard the blow dryer and asked if I was going to use the "flat iron".
He knows this takes me forever!
When he saw my hair after saying it he said, "Oh. It looks like you already did!"
I told him I hadn't, I just used the Hairfreé™ brush he was impressed.
It truly was a time-saver and my hair looked great.
I read an article on the damage a flat-iron does to hair and was appalled that one of my favorite traits about me, I was destroying for pure vanity!
Shame on me!
Currently these brushes are only available through the Hairfreé™website.
These brushes are impressive and have been part of the Sundance Film Festival and Miss America Beauty Pageant Gift Bags as well as included in the gift bag event for The Bachelor and most recently the Oscars.
You Don't have to be a Celebrity to Own the Hairfree Round and Flat Brush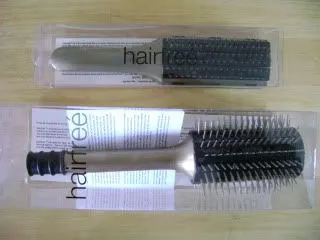 Disclosure: No monetary compensation was offered or accepted for this post. I received the item mentioned in this post from the sponsor for review purposes. The opinions above are my own and were not in any way influenced by the sponsor. Other's experiences may vary.
We appreciate your subscription to Mommy's Memorandum