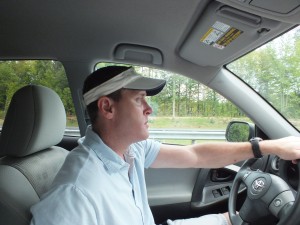 Growing up my father always said that getting there is half the fun, but as a mother of two young boys I dread any road trip that is longer than forty five minutes, which is about how long my boys can sit still before they start beating on one another other.   This year I was determined to make our family vacation the best trip ever, including the time spent in the car.  Our designated family car has several problems which poses a challenge all of its own; the heat and air has not worked for the past couple of years, the rear passenger door no longer opens, the driver's window won't roll down, and best of all due to an earlier accident this year the car is in need of some body work.
Because of the obstacles I faced with the family car I decided to look into the cost of renting a car for our trip.  Renting a car has many benefits and can be surprisingly cost efficient compared to driving your family car; car rentals may get better fuel economy, be more spacious offering passengers a little extra wiggle room, and if you are concerned about expensive car repairs a rental can offer you peace of mind for your trip which can be priceless. The more I considered renting a car, the better the idea sounded.  Imagine a road trip where everyone was comfortable, the air conditioner blowing cool air in our faces, lots of room for the boys to stretch out their legs, and plenty of space to pack the all of the extra "necessities" we might need at the beach.
I reserved the car through Hertz Car Rentals. They offered the best selection of cars, competitive rates and were conveniently located just a few miles from our home.  The nearest location opened at 9 AM on Saturday so on the morning of our trip, we packed our bags and stacked them by the door so they would be ready to load as soon as we picked up the car.  The pick-up was hassle-free, we completed a quick check of the car for any damages, signed the paperwork and we were on our way within a matter of minutes.  Hertz had reserved for us a Toyota Rav-4 for our trip. The car was super clean, smelled great, and appeared to be fairly new.  Hertz had even thrown in a complimentary Navigation System for our trip, which turned out to be one of our favorite features in the car.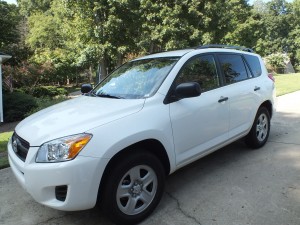 The car exceeded all of my expectations, and our four-hour journey was a pleasure to say the least. They boys were thrilled to ride in a new car, they stayed occupied for the majority of our trip and I only heard, "Are we there yet?" one or two times.  My husband and I both drive older model cars so it was truly a luxury to have the opportunity to drive a car with less than 10,000 miles. Do I even need to mention how nice it was to have air conditioning? I set the air on a cool 72 degrees and even when we started to get chilly, instead of turning off the air conditioning, we cracked the windows. It was nice being able to feel the oppressive heat knowing that it was temporary and the air conditioner was working perfectly.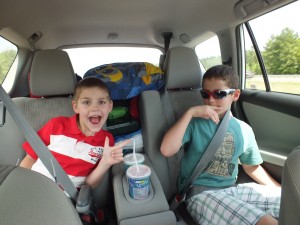 There are many things to consider when choosing  the type of car to rent; How many people will you be traveling with? How much luggage will you need to pack? What kind of fuel economy does each car get and how many miles do you plan on traveling?  After researching types of cars I decided that a small SUV would be for our trip because it holds 4-5 passengers, has plenty of room for luggage, and averages 22-24 miles per gallon.
When comparing car rental companies, in addition to comparing rates, be sure to look at the nearest pick-up and drop-off location, the hours of operation, and the types of cars each location has available for your travel dates. Ideally I wanted to pick up the car early Saturday morning and return the car after 5 PM the following Saturday.  Most companies had limited hours of operation on the weekends either closing at noon on Saturday or were not open at all, the exception being the car rental companies there were located at the nearest airport.  The airport would have been about an hour's drive out of the way, I compared the prices of keeping the rental a few extra days compared to the expense and inconvenience of driving to the airport.  As it turns out, the price of the rental is slightly more if you rent from an airport location as opposed to other locations so the difference in renting the car for two extra days was minimal.
Comparing the rates of each company can be misleading if you don't do your homework.  Some car rental companies advertise rentals as little as $9.00 per day, but this rate may be limited to a weekend rental, or the offer may only be valid for compact cars. Be sure to read the fine print. If you are a frequent traveler be sure to look for companies that offer discounts to repeat customers. Before booking your car rental check with your employer, credit union or any other association you may be affiliated with such as AAA, to see if they offer car rental discounts.  Ask the sales associate if they are running any special promotions during your travel dates, you may be pleasantly surprised.  Some car rental companies offer free upgrades throughout the year meaning you may get to drive that luxury sedan for the same price as the compact car.
The car rental served an unexpected purpose during our trip. It allowed us the opportunity to spend quality time in a car that we are now considering for purchase, we call it the ultimate test drive.  We were able to test the car on the highway, in bumper to bumper traffic, in pouring down rain, and along country back roads.  We were able to get real MPG information using our own driving habits, and experience all the nuances of the blind spots and the ease of changing the radio station without having a sales person distracting us from experiencing the car on our own time.  No, this wasn't the reason we rented the car, but I would highly recommend taking the ultimate test drive before purchasing your next vehicle.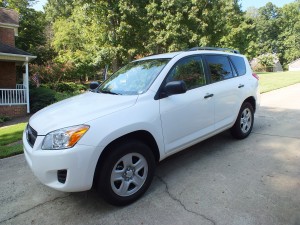 =-
"Natalie is a mother of two energetic boys ages 6 and 8. She spends her weekends working outside in the yard and loves DIY home improvement projects. She enjoys playing sports with her children and dreams of becoming a professional photographer..
Disclosure of Material Connection: I received one or more of the products or services mentioned above for free in the hope that I would mention it on my blog. Regardless, I only recommend products or services I use personally and believe will be good for my readers. I am disclosing this in accordance with the Federal Trade Commission's 16 CFR, Part 255: "Guides Concerning the Use of Endorsements and Testimonials in Advertising."