A bottle of wine to savor with friends and wine corks to make whimsical crafts long after the bottle is gone. This Wine Cork Wreath Tutorial for the Boozy Crafter or Anyone is fun to make and a great gift!
Last Christmas, my baby sister, gave me this wine cork trivet she made by upcycling a photo frame and using wine corks.
It's one of my favorite things in my kitchen.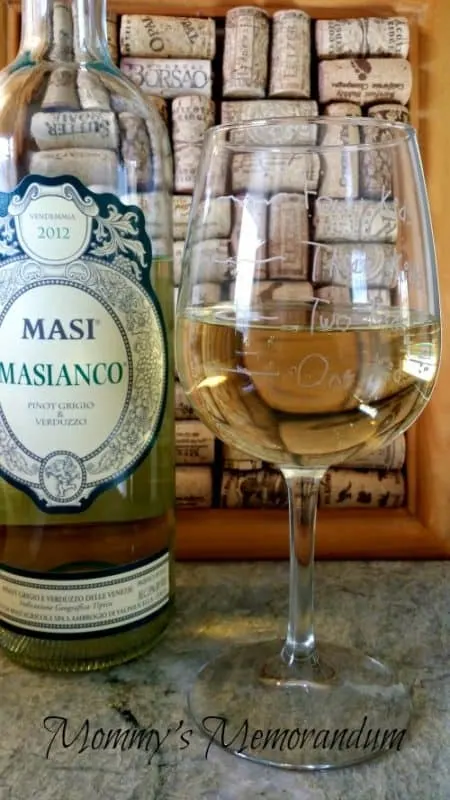 Melissa Averinos may not be more creative than my baby sister, but she has written an excellent book, DIY Wine Corks. Beautiful projects for the boozy crafter or anyone who has a little time and a stash of wine corks!
Wine cork crafts are all over Pinterest and seem to be taking crafting by storm. Simple projects with stunning results as seen on HGTV and WineEnthusiast.com.
Proving that wreaths aren't just for Christmas, Averinos book includes this Festive Wine Cork Wreath.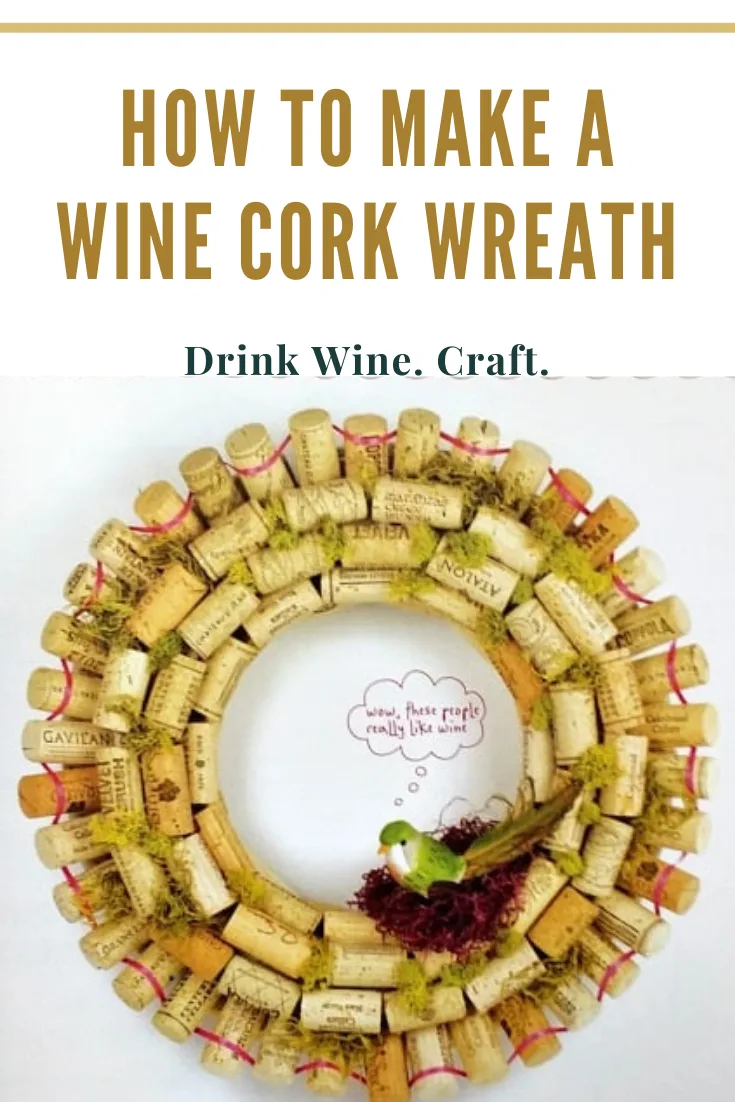 Wine Cork Wreath Supplies Needed:
6 (1.5″ x 12″ strips of muslin)
12″ Styrofoam wreath base
Hot glue gun
About 120 Wine corks
Variety of decorative mosses (found in craft stores)
Feather bird decoration (found in craft stores)
1/8″ wide ribbon (2 yards)
2 (8mm) screw eyes
Picture hanging wire
Wine Cork Wreath Directions:
Wrap muslin around the wreath and use hot glue to secure it. (the muslin has a better surface for the corks to adhere to.)
Place the wreath base on a table and glue corks in a row along the inside at the bottom of the base–the smallest circle shown. (the back of this wreath will be flat) Repeat for the outside bottom of the base (the second-to-largest circle)
For the outermost row, glue corks perpendicular to the base.
For the rest of the wreath, return to gluing rows of corks lengthwise until you have covered the wreath. You may need to adjust the spacing to make sure there are no significant gaps.
Form a little nest with moss and glue into place. Glue the bird to the center of the nest.
Make little clusters of mosses and glue them into place around the wreath. If you did end up with some holes, this is a good time to cover your mistakes
Weave the 1/8″ ribbon around the outward-facing corks; tie in the back and trim. Glue in place on the back if desired.
Screw-in screw eyes to the 10:00 and 2:00 positions on the wreath back. Secure the picture wire between the screw eyes.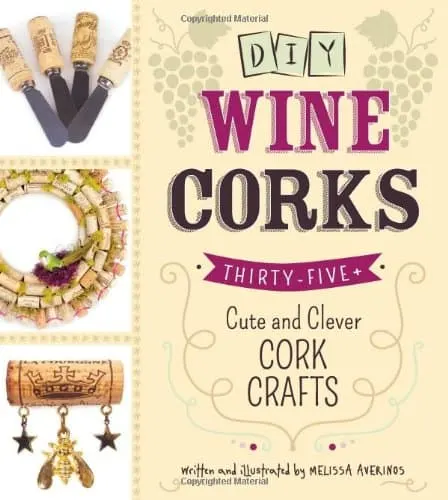 If you enjoyed this project, you're sure to enjoy Melissa Averinos' DIY Wine Corks. This book features 35 must-make wine cork crafts including:
Chalkboard Menu
Retro Sunburst Mirror
Vintage Cork Necklace
Owl Zipper Pull
Gift Tags
The book offers full-color photographs and creative wine cork crafts for any level of crafter! You may also enjoy Averinos' other book DIY Mason Jars