I was once a Girl Scout. I sold over 700 boxes of Girl Scout Cookies. These days, I'm first in line to buy the little devils. My favorite–Samoa! I think it trumps Thin Mint.
I love them so much I have a copycat Girl Scout Samoa Cookie Recipe for when there are NO more to be found.
In Debbie Adler's book, Sweet Debbie's Organic Treats, she points out that my favorite Girl Scout Cookies are filled with allergens, hydrogenated fats and sugar.
Adler is a magician. She takes my favorite cookie and re-creates it with the perfect combination of vanilla cake and toasted coconut. Then there's the caramel–all drizzled with dark chocolate sauce as its side-kick. Suddenly this deliciousness I remember as a cookie is now transformed by Adler into a delectable brownie.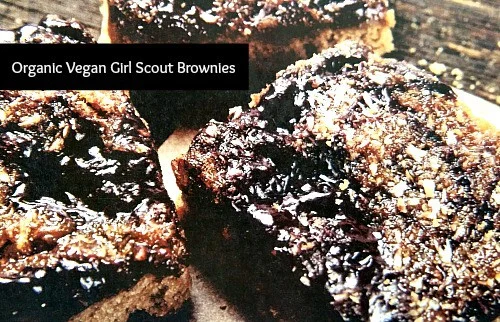 Organic Vegan Girl Scout Brownies Recipe Ingredients:
Topping:
3 Tbsp. Unsweetened, shredded coconut
Caramel Sauce:
1/2 cup coconut nectar
1/4 cup sunflower seed butter
1/4 tsp fine sea salt
Chocolate Sauce:
1 Tbsp Coconut Oil
1 Tbsp Coconut Nectar
2 Tbsp cacao powder
1/8 tsp stevia powder
1/8 tsp fine sea salt
Brownies:
coconut oil for greasing the pan
1-3/4 cups all-purpose gluten-free flour
3/4 tsp sodium-free baking powder
3/8 tsp guar gum
1/4 tsp baking soda
1/4 tsp fine sea salt
1/4 cup coconut nectar
1/2 cup unsweetened coconut milk
1/4 cup warm water
2 tsp vanilla extract
1/4 tsp stevia powder
Organic Vegan Girl Scout Brownies Directions:
To make the topping: spread the shredded coconut in a small frying pan and toast for about 10 minutes over medium heat. Stir the coconut halfway through to ensure even toasting.
To make the caramel sauce, mix the coconut nectar, sunflower seed butter, and salt in a small bowl until well combined.
To make the chocolate sauce: microwave the coconut oil and coconut nectar in a small microwave-safe bowl for 20 seconds. Add the cacao powder, stevia and salt and stir until smooth and well combined.
Preheat oven to 325 degrees. Grease an 8×8 inch square baking pan with coconut oil.
To make the brownies: whisk together the flour, baking powder, guar gum, baking soda, and salt in a large bowl. Make a well in the middle.
Microwave the coconut oil and nectar in a measuring cup for 20 seconds. Add the coconut milk, warm water, vanilla, and stevia and stir to combine. Pour into the flour mixture and stir until the liquid is absorbed and the batter is smooth.
Spoon the batter into the prepared pan and smooth down with a baking spatula or the back of a wet spoon.
Spread the caramel sauce evenly over the batter and top with the toasted coconut. Drizzle the chocolate sauce over the caramel and coconut.
Bake the brownies for 15 to 17 minutes, or until the batter starts to pull away from the sides of the pan and a toothpick inserted int he center comes out with just a few crumbs attached. Rotate the pan halfway through baking.
Transfer the pan from the oven to a wire rack and let sit for about 15 minutes before cutting the brownies into 16 squares.
Keep in an airtight container for up to 3 days, or wrap and freeze for up to 3 months.
Nutrition information:
1 brownie
200 calories, 14 g total fat, 0.0 mg cholesterol, 21 g carbohydrates, 77 mg sodium, 1 g fiber, 2 g protein, 9 g sugars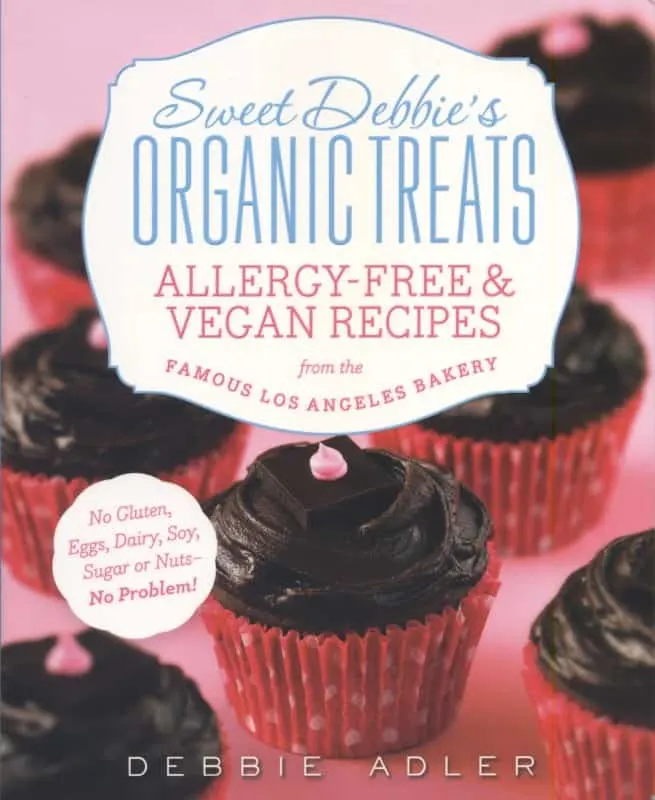 If you enjoy this recipe, you'll love Sweet Debbie's Organic Treats: Allergy-Free and Vegan Recipes from the Famous Los Angeles Bakery. Whether it's allergies that keep you from your favorite foods or you want a healthier diet, this book is awesome.
It's written by the owner of Sweet Debbie's Bakery, which has Hollywood's A-list celebrities lining up for delicious, nutritious muffins, brownies, cookies, cupcakes, donut holes and breads.
Nestled inside the pages, you'll discover recipes for:
Irresistible Red Velvet Cupcakes (NO RED DYE)
Salted Caramel Apple Muffins
Cosmic Chocolate Chip Cookies
Gourmet Dark Chocolate Mesquite Brownies
Blueberry Streusel Donut Holes
and more!
This is the cookbook for anyone who is vegan, diabetic, has celiac disease, food allergies/intolerance or wants to get back to baking.
Learn more about Debbie Adler at Sweet Debbie's Organic Cupcakes.