As another school year draws to a close, it's time to start looking forward to summer break. If you're like me, summer break has you thinking about the fun family vacations you'll get to take with your loved ones. Or, maybe you're hoping to get away with just your significant other to reconnect on a romantic getaway. Whatever the reason you're traveling for, you'll want to end up somewhere unforgettable. If you're traveling soon, here are some of my favorite destinations for a vacation.
San Francisco, California
Long-time readers of my blog know that my family and I love San Francisco. I feel like we discover something new to enjoy every time we visit. If you're an aspiring travel blogger, you'll love SF, or "The City" as locals call it, because it's truly one of the most insta-worthy cities in the country.
True crime fans, be sure to take a trip out to Alcatraz Island, where the brave can tour the creepy historical remnants of a prison camp. Also, for my wine-loving moms, the heart of California wine country is just a short drive away. While you're here, book a wine tasting tour for yourself and some friends to try some of the best wines produced in the US; recommend California Wine Tours.
Las Vegas, Nevada
If you're a parent looking to blow off a little steam, this is a perfect place to do it. It's the gaming and gambling capital of the US, and there's so much to do each night you might have trouble choosing! Not a big card fan? Check out one of the incredible shows, or eat your fill at any one of the amazing buffets. The best part is that you can always find cheap airfare to Vegas, meaning you can live it up without breaking the bank.
Orlando, Florida
If you want to take your kids on an unforgettable vacation, look no further than Orlando, Florida. This one city is home to many of the country's major theme parks, including Universal Studios Florida and Disney World. If the heat starts to get to you, head to a water park like Discovery Cove and relax as your little ones cool off and have fun at the same time. You could spend two weeks in Orlando and never run out of exciting activities for you and your family.
Santa Barbara, California
California is so gorgeous, and I couldn't pick just one city for this list! All you need is to see one picture of Santa Barbara to understand why. If you're hoping for a trip that balances beauty and relaxation, this little city on the coast of California is the destination for you. Take in the perfect weather with a jaunt on a local hiking trail or do some shopping (and eating) on State Street downtown. Or enjoy fun in the sun by spending the entire day on the beach. Just make sure to stay safe and pack lots of sunscreens!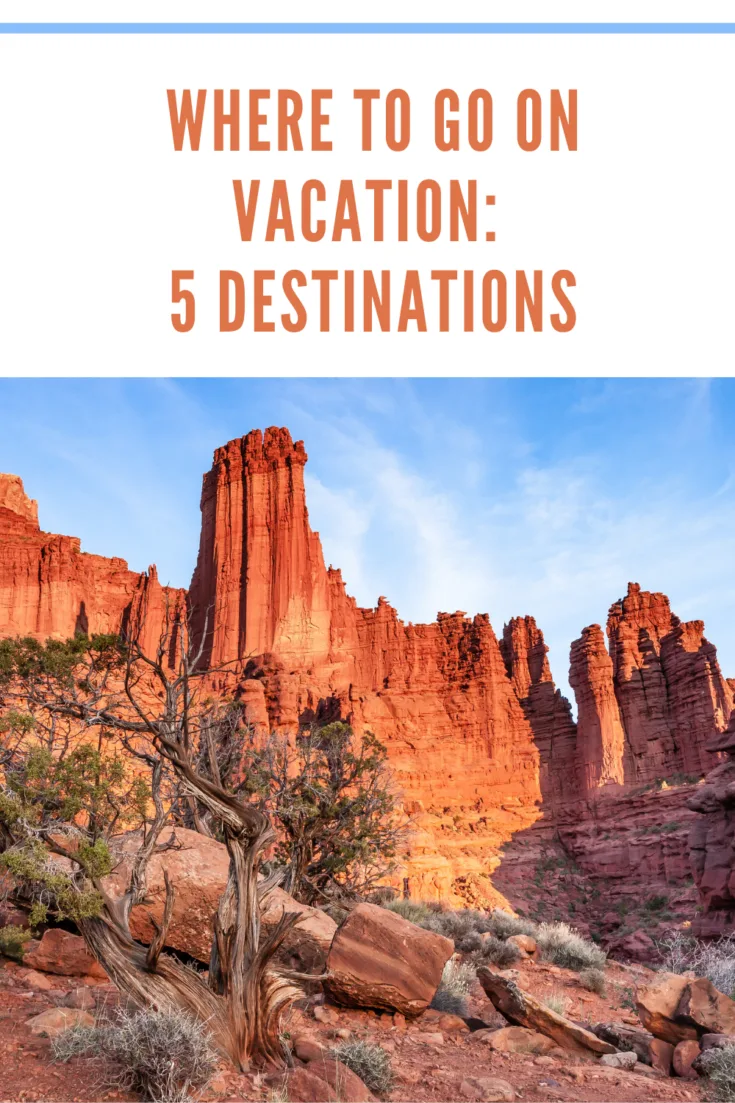 Moab, Utah
Moab, Utah, is a must-visit destination for fans of the great outdoors. Just a few minutes from Arches National Park, Moab is your gateway to some of the country's most gorgeous red rock formations. If you're looking for an active adventure, rent an ATV or mountain bike and head off to explore the park, suggests Moab Tour Company. Or, if you want to be even more connected with nature, reserve a spot in any of the many surrounding campgrounds and sleep under the stars. No matter how you explore Moab, it's sure to be a trip you won't forget.
A vacation is a great way to connect with your family or reconnect with yourself. There are so many stunning and exciting spots to visit in the US, but these are some of my favorites. Now, plan your trip and have a great time!