From the 1848 gold rush to the hippie movement of the 1960s, San Francisco has witnessed a number of changes throughout its history. As a result, it is one of America's most intriguing and alluring cities to visit.
This is also thanks to an open-minded attitude, culturally diverse population, beautiful natural landscape, world-class restaurants, and a plethora of captivating attractions.
What's more, nearly all of San Francisco's sights and sounds can be enjoyed and experienced on a single visit, as it is one of the USA's great walking cities, which also boasts an iconic yet practical public transport system.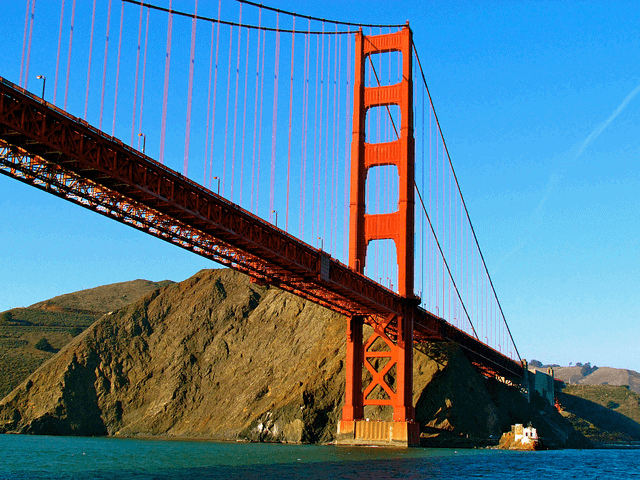 Image by Jeff Gunn, shared under a Creative Commons License
Golden Gate Bridge
Bound to be near the top of your to-do list, the Golden Gate Bridge is an acclaimed symbol of the city, which connects San Francisco to Marin County. The wire used for its two pivotal cables could wrap around the equator three times, demonstrating that this was no mean feat to construct.
For the best views, head to Fort Point in the Presidio and Vista Point. But if you want to walk across it, which will take around half an hour, remember to wrap up warm, as the wind can be quite ferocious.
If walking isn't your thing, SF Bike Tours provide a great and faster way to all the sights.
The sea life of the Bay
Pier 39 is arguably the city's biggest attraction, as it's home to numerous sea lions sunbathing on the pontoons. But for a more up close and personal experience with some stunning seafaring creatures, head to the Aquarium of the Bay.
Make your way through 300 feet of crystal tunnels to discover over 20,000 marine animals that come from San Francisco Bay and its surrounding waters. There are also touch pools filled with sharks, rays, and sea stars, which are bound to amaze and astonish in equal measure.
Alcatraz
From 1934 to 1963, this island in San Francisco Bay was home to the country's most iconic federal prison and it remains a formidable sight today. Famous former inmates, such as Al Capone, stood no chance of escaping the facility that was nicknamed "The Rock."
Visitors to Alcatraz can learn about the prison's incredible story with trail walks and audio tours narrated by former inmates and guards. However, it is recommended you book early to avoid disappointment.
Know before you go
Buy a Muni ticket – San Francisco's system of trains, buses, and streetcars are great for getting around, so purchase a seven-day Muni ticket for unlimited travel.
Think twice about going in summer – The months of June, July, and August might seem like prime visiting time, but it can actually be quite chilly and misty during summer. Instead, go in September or October when the temperature will be much more pleasant.
Don't forget to visit the neighborhoods – For an authentic insight into what everyday life is like for San Francisco's locals, be sure to visit the neighborhoods. From the affluent Nob Hill to mouth-watering Chinatown and the bohemian Haight Ashbury, there is a lot to uncover.