What are sewing clips? How are sewing clips used? Learn more about these helpful products to assist with sewing projects.
If you want to sew the perfect finished piece, everything needs to stay in the right place. Even if one piece of fabric moves just a pinch, it could ruin the overall design. For many decades people have been using pins to keep things in place. This has some downfalls because pins leave hole marks, which can be dangerous if the sewer isn't careful.
Sewing clips are relatively new to the world of sewing, but many sewers who have given them a shot refuse to go back to using pins, say the experts at Love Sew. These clips can make any sewing job ten times easier, and the finished product will likely look more professionally done. Anyone with a sewing machine who wants an easy upgrade to their work should invest in sewing clips.
What Are Sewing Clips?
Sewing clips are small plastic clips with a flat base and a rounded-out top.
They can be used to hold different layers of fabric in place for sewing projects.
These clips are amazing to use if you want multiple layers of fabrics on one piece, such as a quilt or layered skirt.
They are much safer than pins because there are no sharp edges to hurt anyone.
They hold the fabric in place with their tight grasp.
Many sewers prefer this because there are no pinholes left in their finished project.
Overall, it looks a lot more professional, like something they would find in a store.
The great thing about clips is that they can be kept on while sewing, so nothing goes out of place.
Since they have a flat back, they can easily fit under the machine, so the clips don't need to be removed.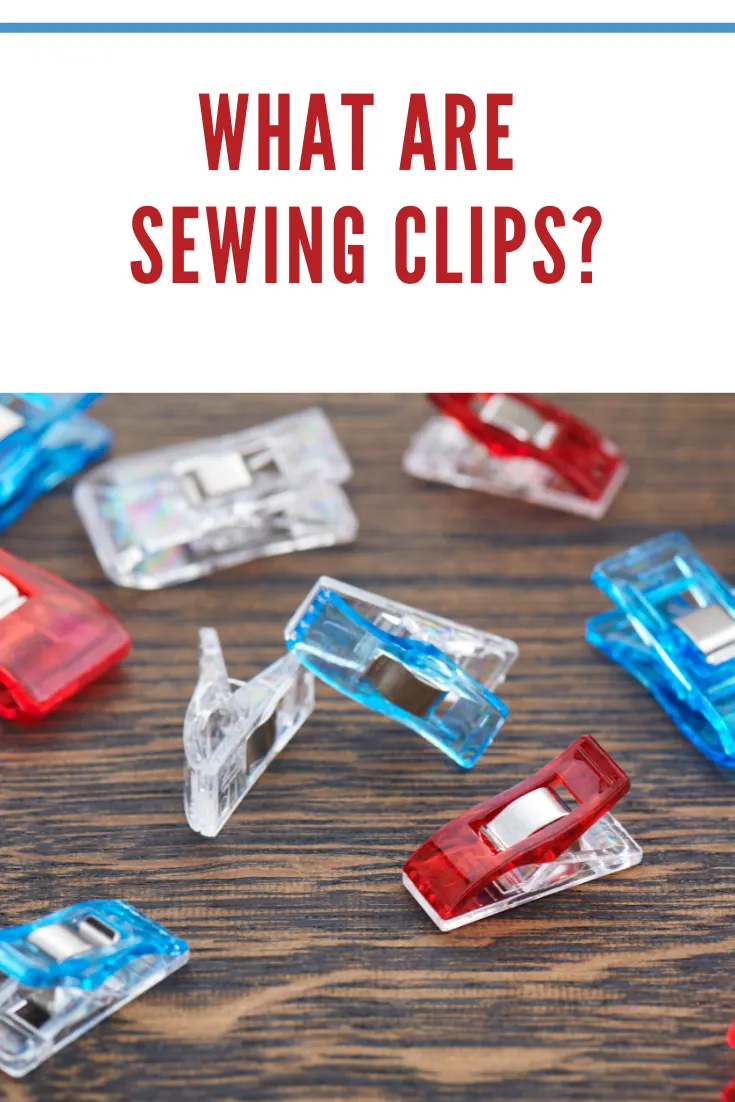 What Are Sewing Clips Used For?
Sewing clips are used as an extra pair of hands to keep the fabric in place while you sew.
When you have a vision in mind, these clips keep everything in place while you work.
If you need to fold a section of fabric or a hem, they will help keep everything in place evenly to make the job easier for you.
Unlike standard pins, these clips can hold multiple layers of fabric and even heavier materials like fleece and denim.
When you're working with delicate fabrics, such as satin or silk, they won't leave any marks behind.
It's easy to see why so many people use these clips in their craft room.
Why Choose Sewing Clips?
Not only are sewing clips a fantastic help for your sewing projects, but they are also a much safer choice.
They should always be used when teaching kids how to sew fabrics instead of pins.
Kids are less likely to get hurt when they use the clips, and they are much easier for the young ones to manage.
Pins can be dangerous, especially when dropped on a carpet or a mat.
They blend into their surroundings all too well, and people often don't realize it until it's too late.
Nobody gets hurt from the clips on their projects.
Final Thoughts:
Sewing clips are one of the most helpful products you can get to assist you with your sewing projects.
They can be used to hold everything in place accurately, so every project looks professionally made.
Once you use these, you'll see why so many other sewers are constantly talking about them.
After one use, it's easy to see the difference sewing clips can make.