We all want to spend more time with our children in the summer, and getting them off their screens can be an uphill task. Sometimes, all it takes to capture their interest is to set up a fun craft, and few can be more fun than sewing. Whether you are sewing with the family or not, certain projects are great for when the sun comes out, so let's take a look at some of the most fun family sewing projects for summer.
Pool Bag
So you're going to spend a lot of time at the local pool, hopefully, it is outdoor. These bags are tied with a tie string, are super easy to make, and easy for a child to carry. What's better, is that they are easy to make and can be personalized to have a character face in the front, or a child name embroidered.
Stroller Cell Phone Carrier
This is both practical and fun and doesn't take long to make. Ideal for when you are taking that reusable coffee cup to the park, armed with a tonne of baby supplies. When you need to hear your phone but what to wear a floaty dress or skirt, this removes the necessity of a pocket and allows mama to have her phone to hand.
Sunglasses Case
Another practical yet useful sewing project, they don't take long to make and can be made out of scrap supplies. The good thing is your sunglasses will last longer and will be easier to find if you always have somewhere to put them.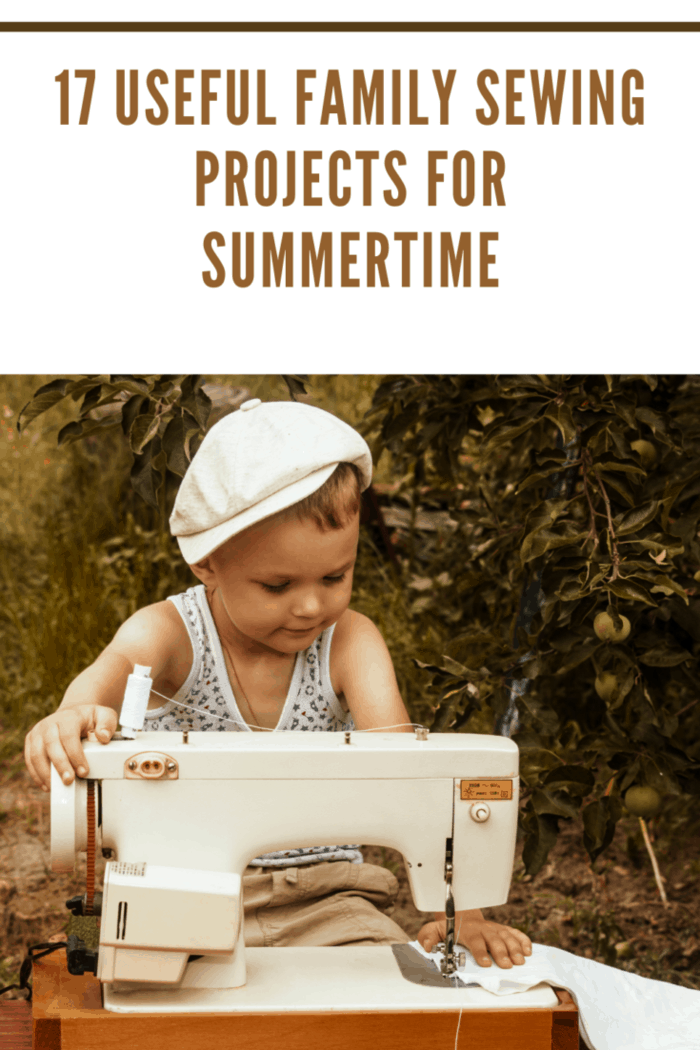 Hat
Everyone needs protection when the sun is out for longer, so to keep the family cool, why not craft a hat or two. There is an extensive list of the best sewing patterns for hats to make this easier over on Love Sewing.
Summer Tote
A classic that everyone needs, this is ideal for taking to the beach, or a trip to the park. They are one of the simpler sewing projects for families as they are made by sewing in straight lines and can be made in different sizes meaning the kids can have one too.
Picnic Tote
With an internal cooling material, this can keep drinks cool for longer, and those essential picnic foods fresh. To prevent food from spoiling is one thing, but they are also easy to carry and can be made with minimal fuss after a trip to the craft store to pick up some supplies.
Repurposed Shorts
Again, this is another essential item for the summer, but using old garments is ideal. You can make pajama shorts to keep the nights cooler, or just something loose for the day to keep the air circulating during those sticky summer months.
Water Bottle Holder
The whole family is going to need to take on more water in the summer, and sometimes it can be difficult to remember to take a bottle with you. A bottle holder fixes that and ensures it is always kept close. They are simple and can strap to a stroller or onto a bag. Check Melly Sews for a free sewing pattern.
Summer Dress
Who doesn't want more dresses in the summer? They need to be floaty, made from a relatively lightweight material, and ideally, can be made with minimal fuss. There are lots of options but this is also a good chance to make mama and baby girl matching outfits ready for that garden party.
Summer Time Table Runner
Perhaps you are hosting a BBQ or just want to brighten up the outdoor furniture, ready for summer. A table runner is a quick and easy option. They can be made from a variety of fabrics and don't take long to make. Ideally, you want to use cotton or a similar fabric that can be washed for easy cleaning.
Beach Blanket
This can be in some boho pattern or something a little more bright and colorful but a beach blanket is a near essential item for taking on a day to the coast. They are relatively easy to make and can double up as a picnic blanket when going to the park.
Snack Bags
If you are planning multiple day trips then these are going to come in handy. Not only is a snack bag eco-friendly because they are reusable, but they are one of the simpler projects to make.
Beach Cover Up
Everyone needs something to throw on when the sun is getting a little strong and you need a break from those rays you have been lapping up. A beach cover-up can be made from sheer fabric and is a good project for a beginner sewer with a machine to hand.
Kid's Drawstring Backpack
Another project that the kids can get involved in, and one where personalization is unlimited is a drawstring bag. They can be simple and made with fabric with their favorite character motif. Let them store their pocket money or a handful of favorite toys to take on your next trip out.
Summer Inspired Makeup Bag
Because not every project needs to be something you can take to the beach, a makeup bag with the right fabric can ensure you start your day with a little bit of summer fun. Bright fabrics or something with lemons and oranges for that color pop can be a good choice.
Vinyl Wet Bag
Although the pool and beach can be fun, they can also be messy. To protect your car on the way home, why not make some vinyl wet bags. They can be made in different sizes but when you require somewhere to store those wet shoes and other items, they zip shut to stop the wet from ruining the car or your bag.
BBQ Apron
Another great project and one that anyone who hogs the BBQ is going to be grateful for. With a variety of designs available, they can be made into a basic design, or one with pockets and compartments to store the tools and keep those essentials to hand. Crafting Chicks created a sewing pattern for an easy-to-make BBQ apron.
Conclusion
With so many great sewing projects for summer, the next family trip can be made a lot easier by picking a few of the above. We hope you get to make the most of the sun and don't forget that sunscreen!