By day, we rode roller coasters and visited Kings Dominion's Great Pumpkin Fest, by night, we screamed and laughed our way through the Haunt.
It was our first Haunt with Kings Dominion.
We had no idea what to expect really, and I was the one most terrified by the unknown.
The entry to Kings Dominion gave a fun preview with larger-than-life Jack-O-Lanterns.
It settled my fear a little.
Then I saw this poster.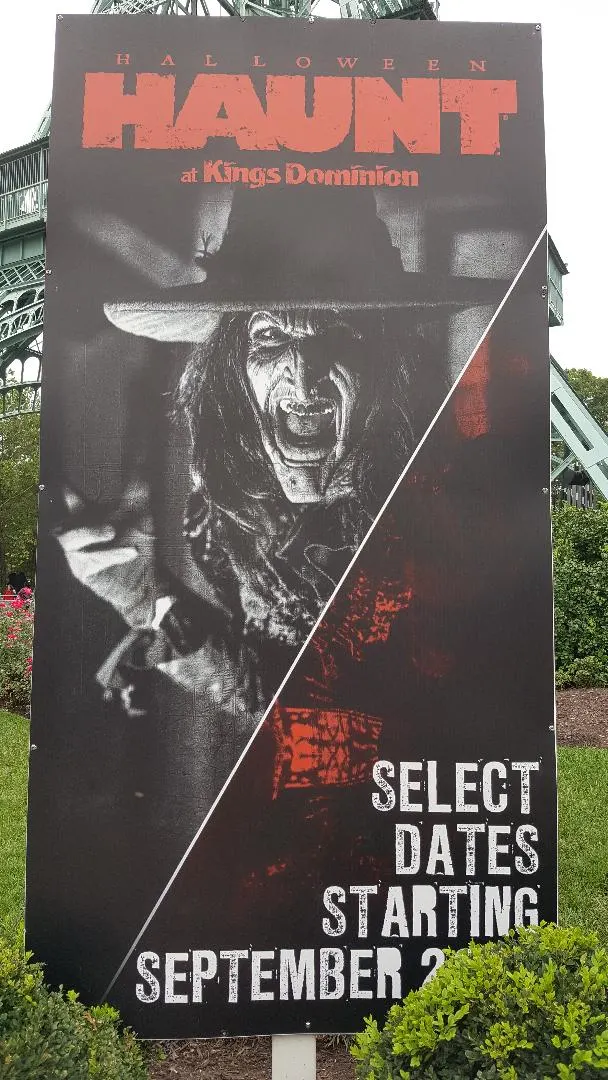 We stayed in the area in front of the Eiffel Tower as dusk set in.
There was plenty to see here.
The grounds are decorated for Halloween.
I loved that they paid tribute to past rides by putting the ride name and dates it ran on tombstones.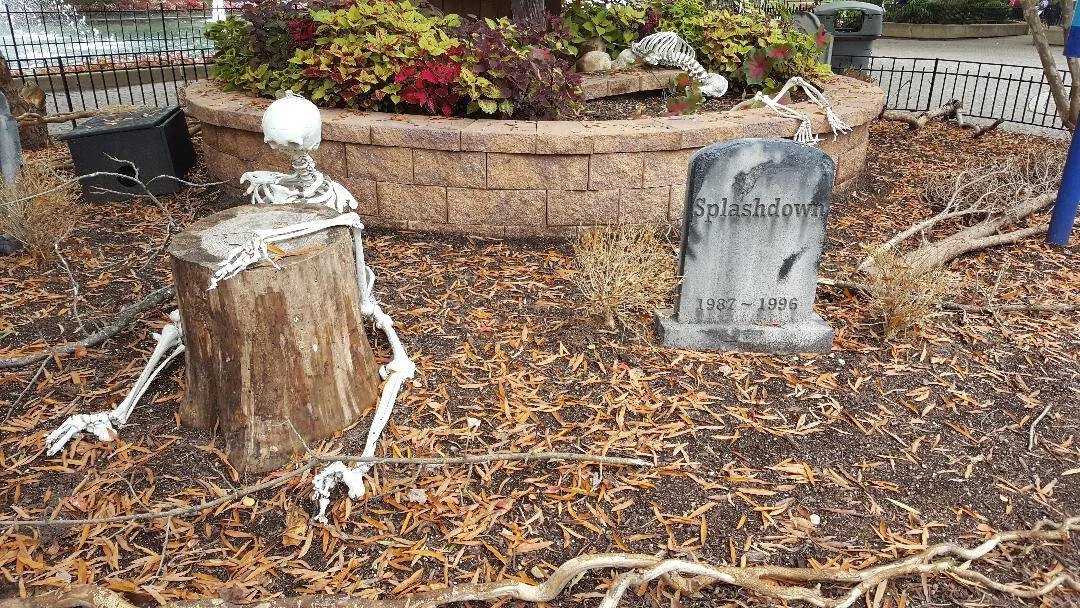 The dinosaurs that are here year-round even played into the theme.
MacKenzie wasted no time flaunting her Halloween spirit by posing with some of the statues.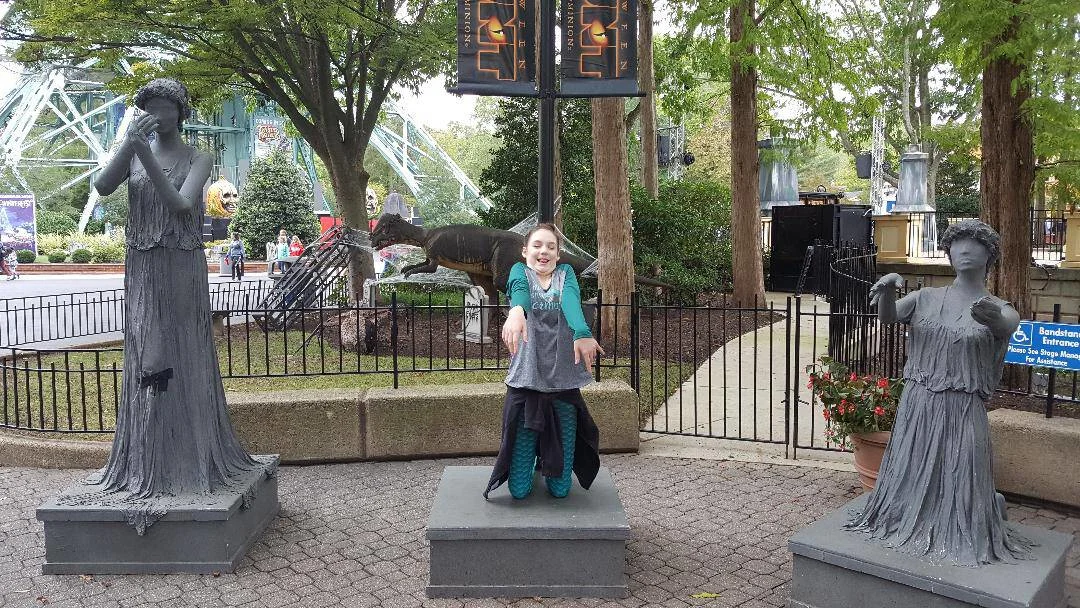 We didn't want to miss the opening ceremony where the Overlord sets the monsters free to roam the park, so we took a seat at the base of the Eiffel Tower.
By dusk, red demon eyes kept watching over the area.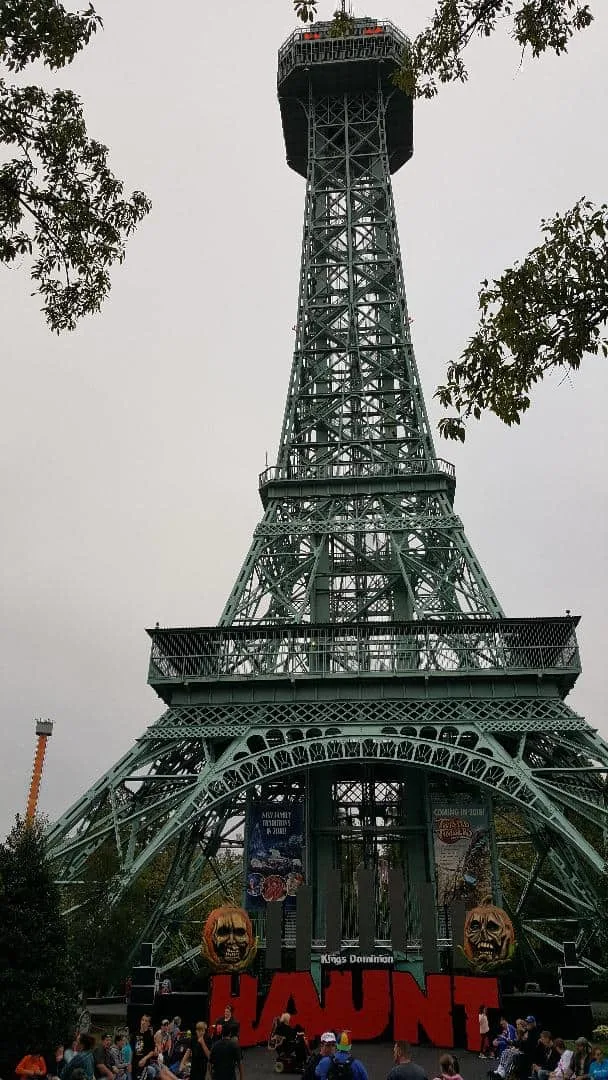 Then, as darkness began to cloak the crowd, an eery fog began to roll in.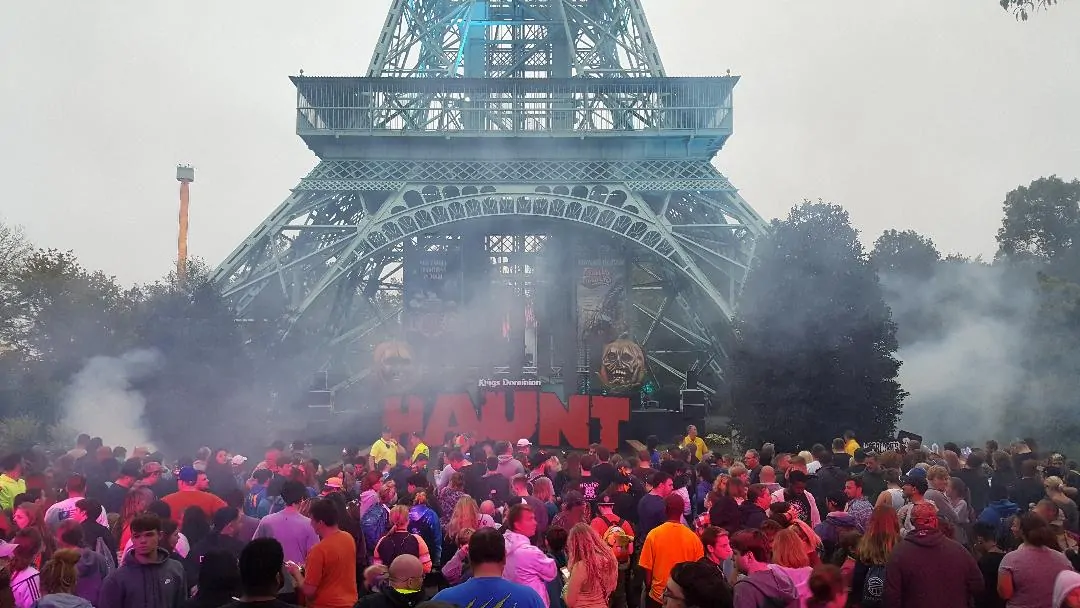 It was worth the wait because as the shift between day and night transitioned, the Overlord arrived and so did all the monsters as well as a witches coven. You can see the entire opening ceremony in this Facebook Live Video.
It was now time for us to face our fears.
I tried to take the option where you buy a light-up Frankenstein Necklace, and that makes you off-limits. The little girl who sat next to me during the opening ceremony told me about this feature. "It makes you invisible to the monsters," she told me.
My family wouldn't let me.
So? We headed to Iron Works. It's just past the Moon Tree.
This creature welcomed us.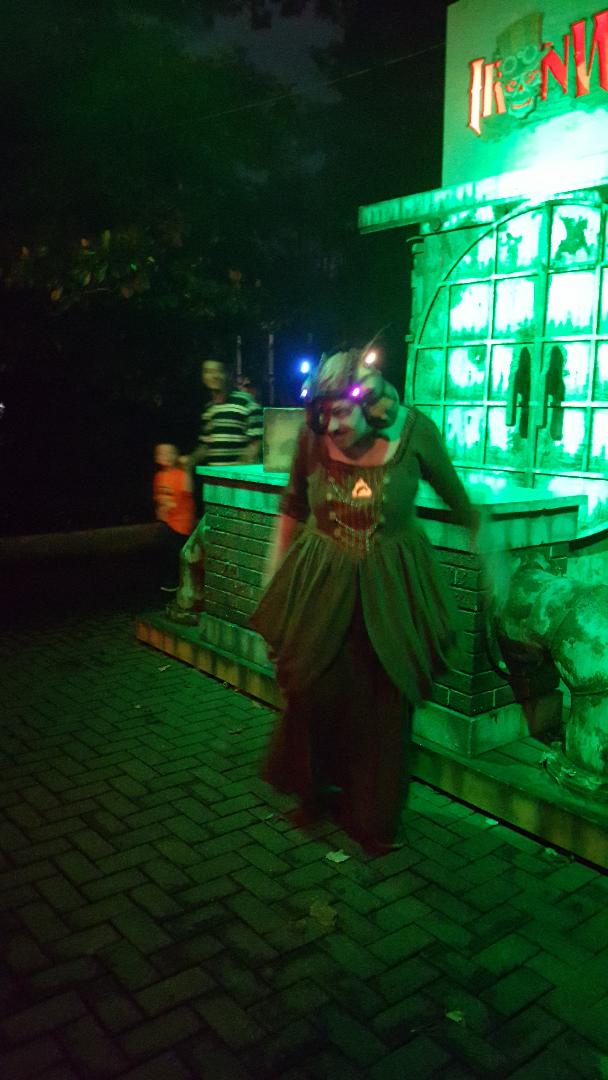 It was a crazy walk.
It was semi-dark.
There was fog rolling.
Statues and gates.
You couldn't tell who was in the park visiting like you, and who was a creature of the night ready to spook you.
My kiddos LOVED it.
They screamed.
They made fun of the other being terrified only to be the next one spooked.
By the time we reached the end we were laughing and ready for more.
We were given Fright Passes which enabled us to go to Skeleton Key Rooms.
These are like miniature escape rooms.
Your group goes in together, and you have to solve a riddle.
In our first one, we didn't do well.
Only some of us listened.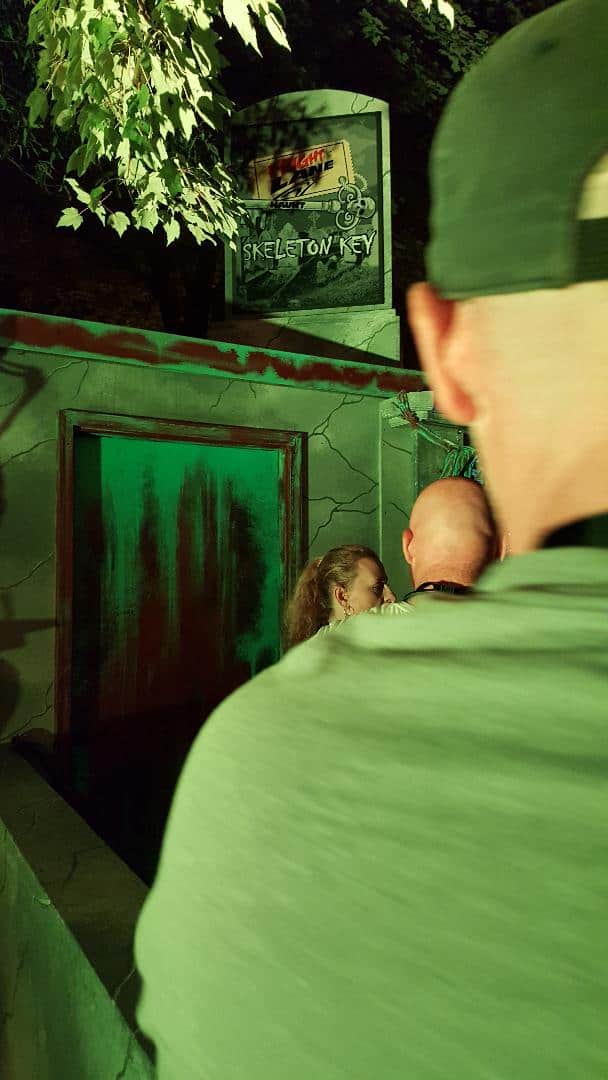 We did all the venues of the Haunt.
All of us had fun at Cleavers Carnival.
Lights are strung giving the impression of a circus big top.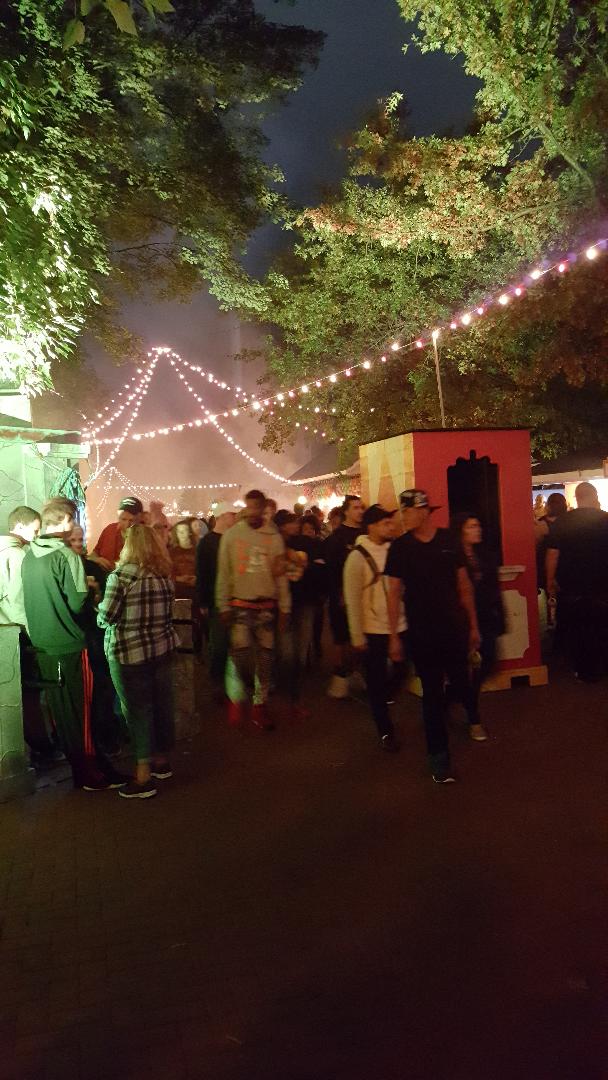 There are great characters here.
A lot of clowns.
We were mesmerized by the clowns on stilts.
They were quiet and seemed to glide through the night.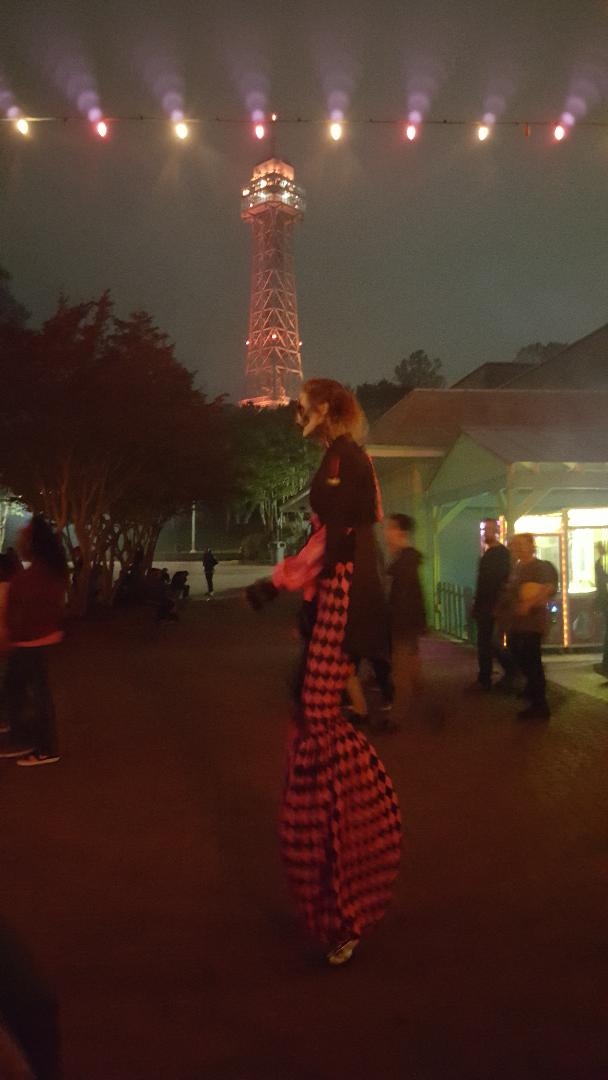 There are rides open during the Haunt.
However, it's the Haunts you'll want to do.
Throughout the park, there are miniature haunted houses that each have a theme.
We did them all.
Our least favorite was Black Out.
It is a maze in absolute darkness.
There are creatures lurking.
It moves quickly.
We all felt the room was incredibly hot and it just didn't pack the fright.
The Blood on the Bayou was the best decorated.
It really carried out the theme and had some elements of surprise for each of us.
We all agreed the Corn Stalkers haunt was our favorite.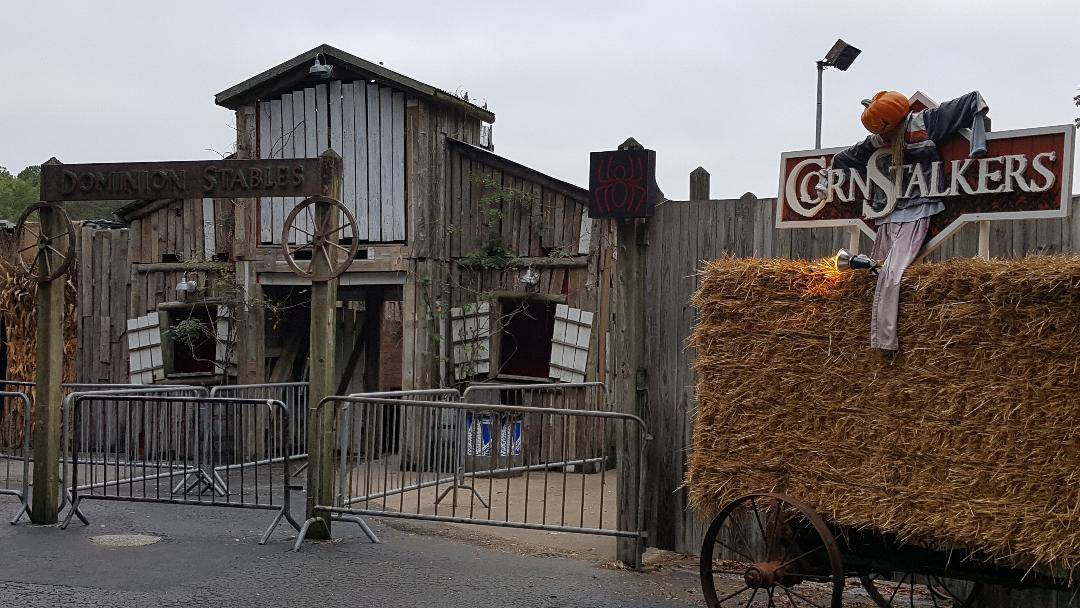 It had tight turns and the characters blended in with the corn stalks.
It was hard to predict what was in a corner.
I also loved the Corn Stalkers best because the characters took it behind a "boo!".
My husband led, then William, MacKenzie and I was the caboose.
We came through part of the maze and William happened to say, "MacKenzie!"
There was a creature standing in the corner, who slid in between MacKenzie and Me and started saying, "MacKenzie."
She would ask MacKenzie why she was in her cornfield.
Each time, addressing MacKenzie by name.
She followed MacKenzie through several corners, which really made it fun and personal.
We all thought it was awesome.
The Skeleton Key rooms were really fun and challenged our family to work together.
Some of them were difficult–the one is Feary Town specifically.
It took us a few minutes to learn the key to get out, but once we slowed down and thought about what we were seeing, what we were told, and worked together, we wasted no time in getting out.
Overall, the Haunt was incredibly fun.
Some haunts had more jumps and screams than others.
It was a good mix.
Kings Dominion's Haunt can be as frightening as you want to make it.
There are plenty of opportunities to be spooked…and there are also plenty of opportunities to just have fun.
I like the idea of the Frankenstein Glow in the Dark necklace to keep it fun for smaller children.
The park is dark, there is fog, and there are creatures roaming.
Parental discretion is advised.
The Overlord arrives at 7 pm.
It's a great show and worth seeing, but get there early for the best seating–it's standing room only.
Kings Dominion's Haunt offers the best admission pricing online. Buy your tickets in advance, or at the gate, and be prepared for a Haunt that will make your Halloween season complete!
—
We received Fright Passes in exchange for this post. All opinions and our love for scary things remain our own.