I will receive MLB Swag in exchange for this post. My opinion and my son's time with Grandpa and Baseball remain our own.
We live in a house that doesn't eat. drink. breathe. sports. But when it comes to the MLB season, William is ready to "slam" it out of the park.
It's not that William is athletic. He isn't. It's that baseball is his thing with Grandpa. Long before William came into this world, Grandpa loved Baseball. Loved it.
A few years after William was born, I remember Grandpa coming to visit and I had found cases of old baseball cards–the kind with the gum inside. They were unopened–something I had taken pride in having. I knew the Grandpa would appreciate these cards far more than the cardboard box in my garage, so I gave it to him.
Imagine my shock when I came back into the room and Grandpa was opening the packs like a child at Christmas. He pointed out he wouldn't know if there were any good cards without opening them.
Then, we all migrated to the East Coast. Grandpa in Pittsburgh, us in Virginia. Every summer William and MacKenzie go to Camp Grandma and Grandpa. It's a right of passage and where Grandpa shares his love of baseball with William.
Every year, the two of them go to a Pittsburgh Pirates game.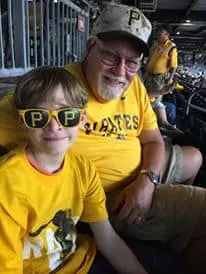 William absolutely loves this time with Grandpa and wears his Pittsburgh Pirates gear with pride.
Baseball is an activity to be shared. It's hotdogs in the bleachers. Wearing team colors. Cheering loud. Watching the marquee. It's some of my son's most treasured memories with his grandpa. I think the same can be said for Grandpa.
I'm so excited to share Grandpa and William's love of baseball in a fun way.
Take me out to the ballgame and let the memories begin!
And sometimes, while you're at the ball game with Gramps, your sister and Grandma find unique and unusual things in the city.
Things like Furry gatherings and sightings! Pittsburgh hosts the 14th Annual Anthrocon with walking, talking animals exhibiting human qualities.
Anthrocon is Pittsburgh's Premier Furry Convention
Anthrocon is an annual convention every summer in Pittsburgh to celebrate anthropomorphics, which are human-like animal characters, such as have fascinated mankind since the dawn of human imagination. It hosts a collection of artists,
animators, writers, costumers, puppeteers
… and just everyday fans who enjoy cartoon animals and their kin.
It's held at the David L. Lawrence Convention Center, located in Downtown Pittsburgh.