There are simple and quick ways you can follow to bring the restaurant-esque experience right at home. To everyone's delight, turning family dining into a great restaurant experience.
Of course, your favorite restaurant, the one where you bring the whole family with you to dine, might not be available. Good if these brick-and-mortar go-to eating places are just temporarily closed due to coronavirus restrictions. Some, however, have already signed off for good, lost in the chaos that the virus brought it and never to reopen ever. Yelp data shows over 57,000 restaurants listed on their site had closed permanently reports USA Today. Worse, restaurants report the highest number of business closures. More than any industry.
But, don't fret. Even with all these dire consequences, it doesn't mean restaurant dining is a dying breed. No, sir. It's not even close. For one, you don't need a restaurant to get a great restaurant dining experience. Why not bring the experience home? You can always recreate your family dining indoors into one unforgettable moment.
Best of all, it need not be a tall order. You need not bend over backward just to make it happen.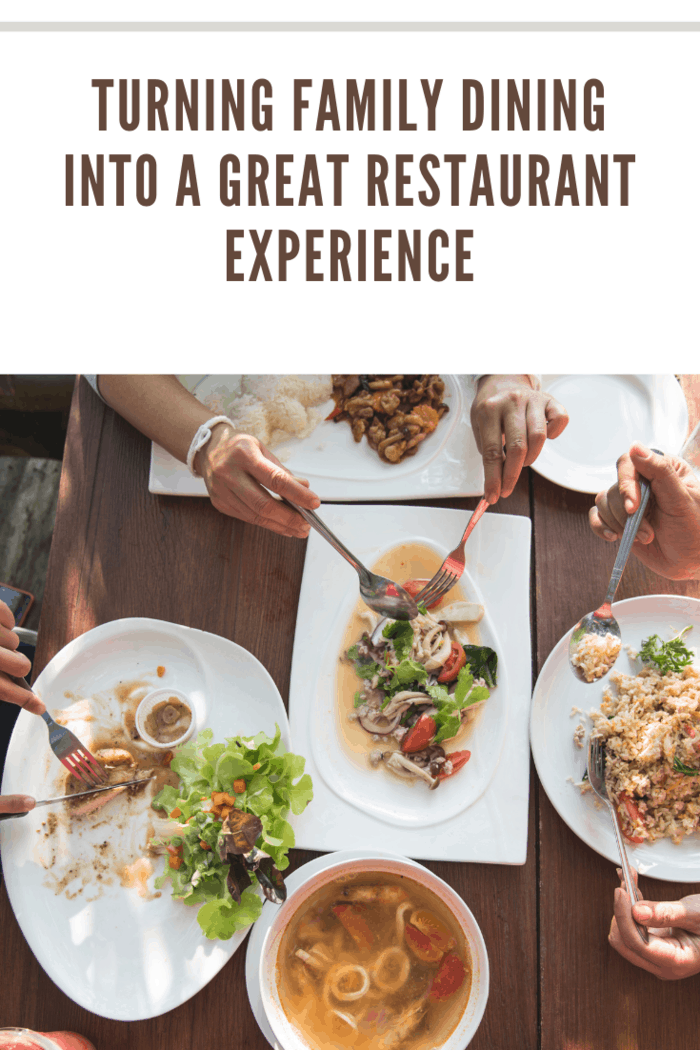 Menu, Please!
In our fave resto, the dining experience can be magical. It's really like unpacking a gift. You book the place. And right from the get-go, one awesome experience unpeels before your very eyes from the moment they open the door for you. Once the host/hostess confirms you've arrived, you're whisked to your table with three magical words: right this way. And the experience slowly captures your senses.
But the most heart-thumping and mouth-watering part is, of course, the menu. Restaurants make you choose your delight.
So to make the home dining experience really count, you need to choose a cuisine that you normally don't cook at home. It's but logical. To do that, do your due diligence and decide ahead of time. Here's a good start, 25 fancy foods you can whip right at home shares Taste of Home.
Ambiance Matters
There's always a slew of fine touches that boost the dining experience to restaurant levels. To boot, get flowers. Fresh ones always complement great food. Having them on the table can really be magical. Then, there are the candles. Nothing is as romantic as a candle-lit dinner while your fave music is humming softly in the background, not too loud just enough to get the conversation going. Of course, TV is out of the question. It's one distraction you won't need.
While you're at it, make sure the AC is working just fine, with the thermostat set to a good number. Now, if you want to relive the restaurant experience, getting a timely window treatment should be top of your list. After all, restaurant windows not only provide comfort but also maximizes the street view.
In this sense, custom commercial window blinds and shades should do the trick suggests Custom Drapery and Shades.. By letting window treatment experts in, you can put your home's restaurant-Esque feel a notch higher than usual. Not to mention raise the aesthetics of your precious abode.
Mind the Cutlery
Moreover, mind the cutlery. Letting those finely-crafted metals and china out can spell a huge difference in creating that fine dining experience. Real cutlery can elevate the dining experience like no other. Let those serving elegant serving bowls or platters out. And if you want something that's pleasing to the eye, nix the plastic containers for now.
Set the Table
How the table looks can go a long way in boosting that dining experience. It's the foundation of mouth-watering dining that your family will love. Seeing the table set so well is a signal for every one of the gastronomical delight that awaits. It invites the senses.
To that end, use a table cloth. Also, make the most of the place settings: cloth napkins, cutlery, and dishes. And like any restaurant worth dining, have those plated meals set on the table.
Enjoy a Distraction-Free Dining
Now that you've done your best to make it all happen, enjoy. Make sure everyone in the family enjoys every bit of the experience. Thus, everyone should be unplugged, just focused on spending quality time together. And that means no smartphones or tablets on the table. It's just one family having dinner.
When someone is on his phone, it takes focus away from the dining experience. It also encourages others to do the same. Just imagine what will happen if everyone does that. A great conversation would be an uphill climb.
And that means taking away things that can distract the dining experience. We're talking about TV, smartphones, tablets, and earplugs. Take note that not only is distraction-free eating guarantees a better dining experience, but it's also bound to minimize your risk of getting overweight says Weight Watchers.
And yes, don't forget, you're still at home. So, you need not finish your meal quickly. You can take all the time in the world to be with the people that matter most. Your family.