As the name suggests, a bunk Bed is a design wherein beds are stacked one over the other. There are multiple such beds in the furniture showroom, which are an excellent choice for kids' rooms and even teenagers. All bunk beds differ in make, size, and material used to design them. They all give similar kinds of benefits to their users. However, one must choose an excellent mattress for these beds to offer a comfortable sleep, says Newsweek. While they offer convenience, it is essential to review the top reasons why bunk bed safety is important to keep children safe.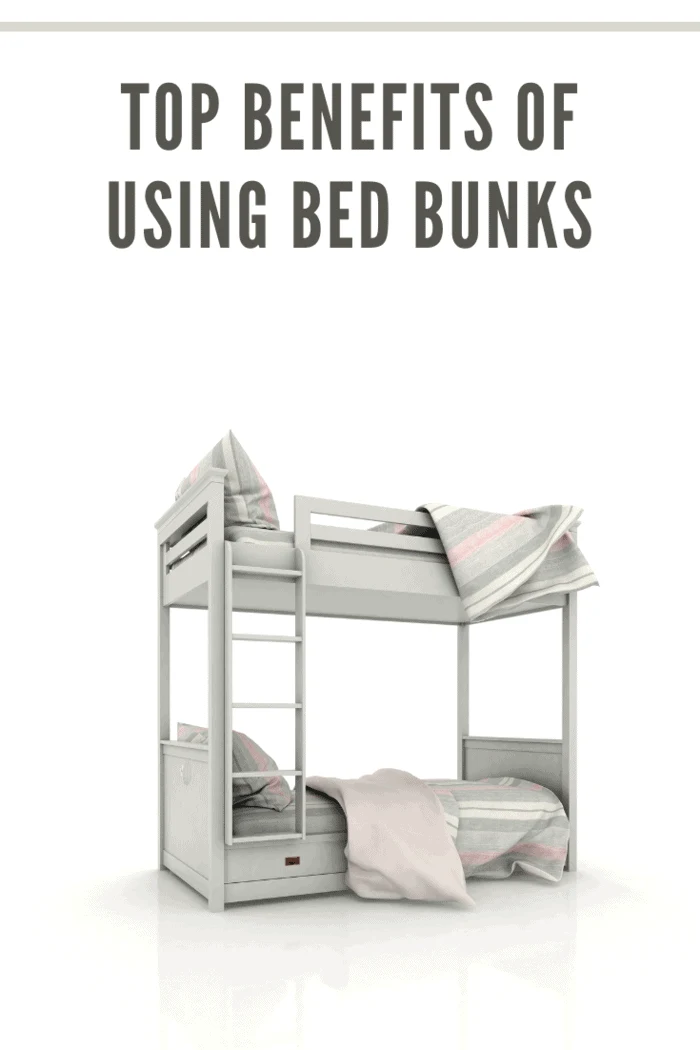 Top benefits of using bed bunks:
It is the best solution for a room that is not very large. It leaves more space for the kids to play and move. It proves to be the best resting place for dormitories, vacation cottages, and even small log cabins. Even in a small space, you can accommodate guests. These beds are quite comfortable, and you won't feel uncomfortable or feel cramped as it has space similar to a single bed.
It is flexible – This type of bed can be separated or placed over the other as per your preference. Earlier, the beds were fixed, but now it is designed so that you can easily separate them and place them side by side as twin beds if required. Modern, versatile designs allow one bed to be used as a sofa or loft bed. Some even have drawers to be used for storage purposes.
Saves money – They are simply designed and don't have headboards or box springs. So, no carving or exclusive design costs you a lot of money. You can have them made in the cheapest material like iron castings.
Enjoyment – It is great fun for kids to use the bed. Some have small ladders to reach the upper bunk with ease. Thus, it is safe to use for playing with kids. Many bunk beds have small spaces like shelves for kids to keep their things.
Today bunk beds are designed in many kinds. These variants in the bed style help shoppers save money opt for the best suitable bed for their use and can have it match the decor of the home.
The popular variants of Bunk beds:
Material based variants:
Wood: It is one of the most popular materials used to make furniture. Thus, people prefer to use it to make a bunk bed as well because it gives a loft bed appearance. It is sturdy and can be designed to match the rest of the room decor.
Metal: Metal frames are best for bunk beds used by adults and places like dormitories. They are easily maintained, exceptionally reliable, and are not very expensive. They are lighter in build and thus can be easily shifted as per your preference. They can be separated and assembled again, easily transferable to any place.
Based on the design
Standard bunk bed: This concept is the original design where one bed is placed over another. Usually, this twin bed model is available in full size or suitable for a small kid's room.
Futon: This twin bunk bed comes in varied designs. It is well supported and can change the lower bed into a sofa—best suitable for teenage kids and guest bedrooms.
Trundle: Usually known as twin over double bunk as one more bed is hidden under the lower twin bed. Mainly bought in homes where there are many kids.
L- Shaped bunk bed: This is one of the modern pieces of bedroom furniture where the lower bed is placed right angle to the upper one. It may take more space than the traditional one; however, you can set up a study area with a kids' table and shelves in the remaining corner space.
Study bunk bed: As the term indicates, the bed-like loft bed is designed in the upper portion. Under the loft bed study table, the child is designed along with a ladder or steps to climb up. Quite suitable for a kids' room in urban houses.
Contemporary or modern bunk bed: In this kind, the kid's study table is at one side corner, the bed in the middle, and the wardrobe is at the other corner. The sitting place to watch television or to play is in the form of an upper bunk. Some metal framed loft beds can be placed beside the sidewall, which can join a study table or wardrobe.
It is a known fact that usually, bunk beds or loft beds are used by kids primarily. Thus, there are often chances of kids getting injured while resting or playing on the bed. Most of the children getting hurt are under the age of 10.
While opting for placing bunk beds for your kids, it will be helpful to have information about the safety methods to apply.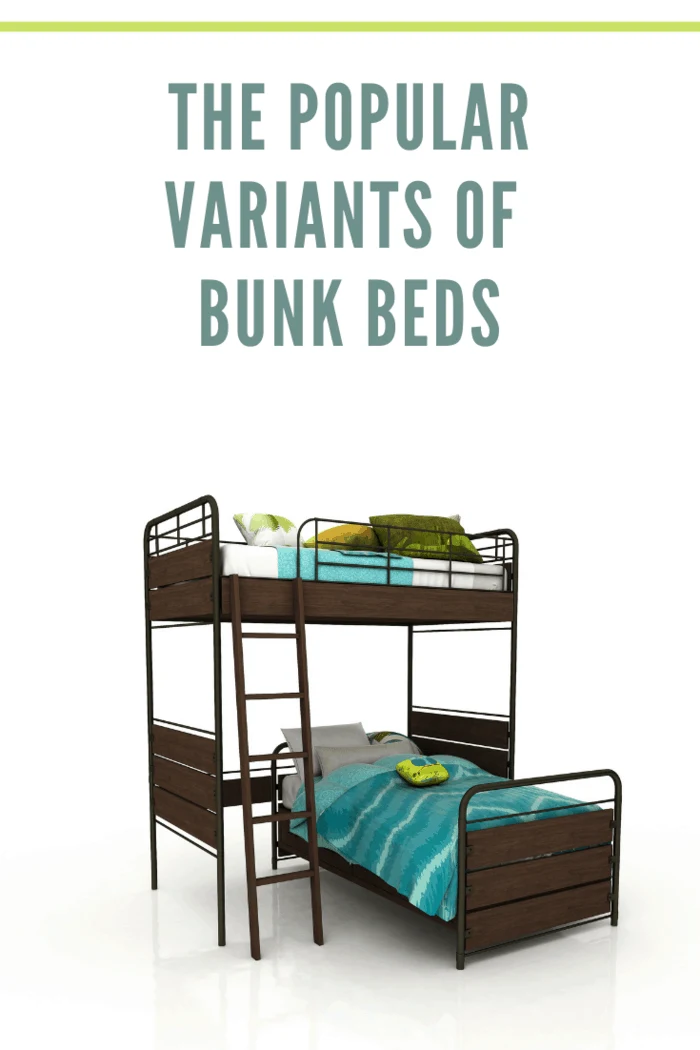 Here are a few tips for safety while using bunk beds:
Never place the bed in the middle of the room. It is best to place it near a side wall; thus, there will be the support of a wall even if kids jump on the bed.
Guardrails should be placed on all sides of the upper bunk. There shouldn't be much space for them to put their leg or hand through the openings. It will be best to install a plank on all sides. It should be at least 5 inches above the mattress level, says Health.NY.Gov. It may look like a cage; however, the child sleeping in the upper bank will be safe when they turn while they are asleep. Even extra slats should be attached to the upper bunk so that the mattress does not move.
Instead of a ladder, place a small staircase with support on both sides as there are chances of feet slipping while climbing the ladder. Moreover, many kids are afraid to climb the small straight ladder.
Children often find it quite enjoyable to climb onto the upper bunk using other furniture instead of the ladder attached to it. They should be warned against climbing the bunk so that there are ample chances to fall down.
Even though the bed is well designed and sturdy, there are chances of the ladder joints becoming loose. This happens due to the unmannerly way kids climb on it. It will be helpful to check the ladder twice a week.
In the kid's room, remove all the sharp end furniture near the bunk bed as often kids like to jump from the above bed. Kids often injure their hands, legs, or head while jumping from such a height. If there is a sharp object nearby, there are chances of severe injury.
Kids often go to the bathroom at night or prefer to climb down when they aren't sleepy. In order to prevent slipping in the dark, place a small lamp with a switch near the ladder.
The mattress shouldn't be high or poking outside. Thus, customize the mattress per the bed.
There are many questions arising in parents' minds, who are first considering bunk beds for their kids.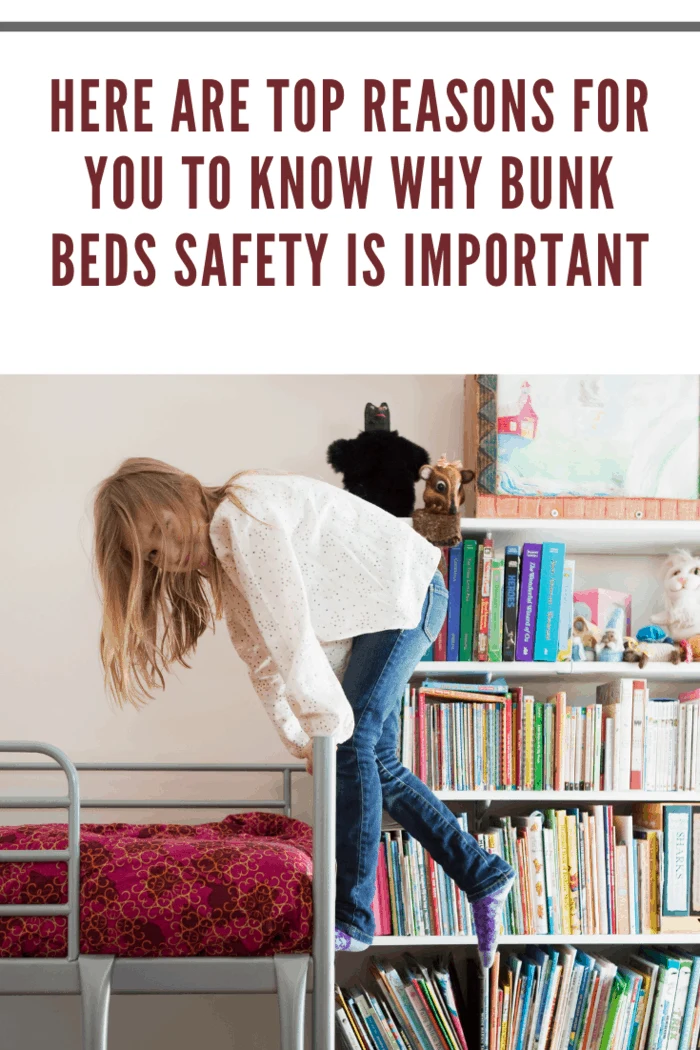 Here are a few queries and their answers usually given by furniture makers:
At what age can kids sleep on this kind of bed?
It isn't suitable for children under the age of 6 (source: NationwideChildrens.org).
Best for toddlers to have a big baby cot.
How should bunk rails be made?
It should be sturdy without having ample space in between the railings.
The height of the rails should be above 5 inches measured from the upper surface of the mattress.
What type of mattress should be used?
The mattress should be made of sturdy material, not quite soft, and hold firmly at the bottom. Most importantly, it should be the exact size of the bed.
What kind of material should be used to make the bunk bed?
You can use any reliable material strong enough to hold the kids' weight. The material used should be well polished and smooth to touch. Use the material which doesn't wear off quickly and needs less maintenance.
Instruct your kids not to think of bunk bed frames as an alternative to trees to climb or jump on as they wish.
Make sure they follow all the safety rules and your instructions on using a bunk bed.
This will help them to remain safe.