After the engagement, the first question that will come to your mind is where to get married? The wedding venue is the base of all your wedding plans, and you have every right to plan your big day just the way you want.
If you consult with others, each one will come up with a different idea, and either you will be confused or spoilt for choice.
The first thing you should keep in mind is that you should feel delighted with the venue and if it goes with your wedding idea and your budget.
The United States of America is a vast country, and you need not worry about finding a good location for the ceremonies out of so many here.
We list you the best of the lot below!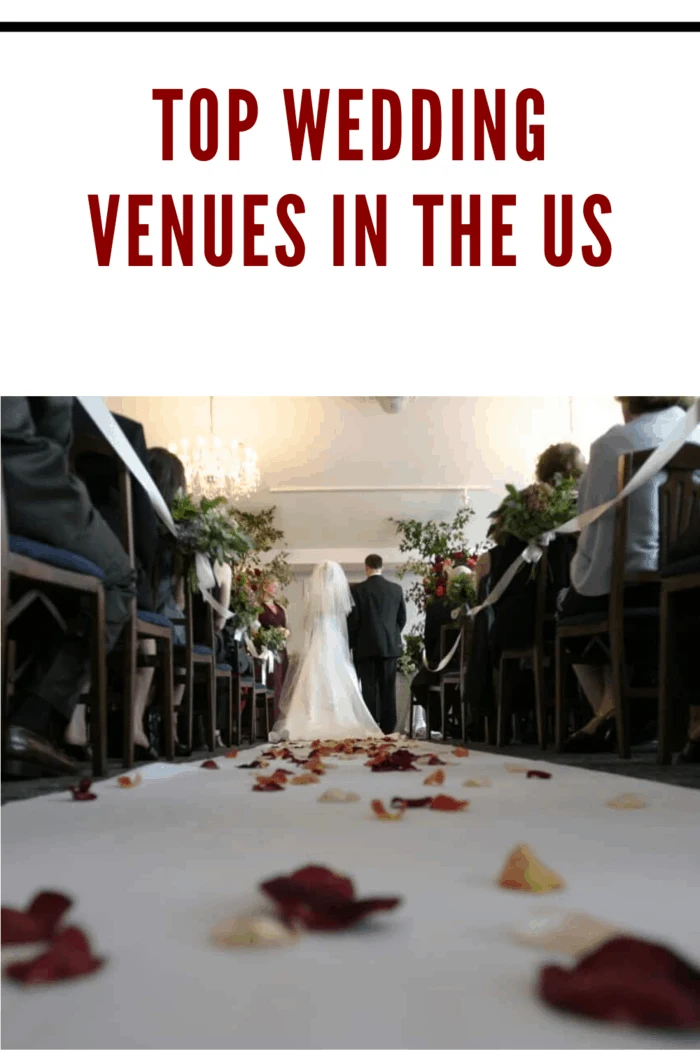 Best Wedding Venues in the US
Here goes a list of some of the best wedding venues in the US:
Haiku Mill in Maui, Hawaii
Who doesn't want to run away into the picturesque views of Hawaii?
This location doesn't have regular sandy beaches that are usually chosen for weddings in Hawaii.
This is a beautiful sugar plantation with a fantastic old-world charm to it.
The location features ornate and hand-picked decorations from all over the world and is surrounded by layers of jasmine and gardenia plants.
As you enter the inside gate of the plantation, you will be welcomed by the beautiful Hawaiian sky.
You will be able to feel romantic immediately, while the owner Sylvia Hamilton-Kerr will make the whole experience even better for you.
She will tell you the history of the plantation and also tell you about her plans and experiences of collecting the decorations for the place.
The whole experience will be magical!
St. John's bridge in Portland, Oregon
You can put your creative brains at work and plan for a wedding that can be different from all others.
It is always exciting to experience something completely out of the box.
This is one such location in the USA.
Portland is an old city and is famous for its age-old architecture, and some of the most attractive examples are its bridges.
St. John's bridge is one of the best places in history and grandeur of the city.
How exciting will it be to get married under such a masterpiece?
The décor can be set at the base of the stairs, and the stage can be placed on the raised platform at the bottom of the bridge.
Surrounded by the high pillars, the pictures will be absolutely perfect.
You must get in touch with The Venue at Friendship Springs right away for more such ideas! They have the best wedding suggestions and venue options.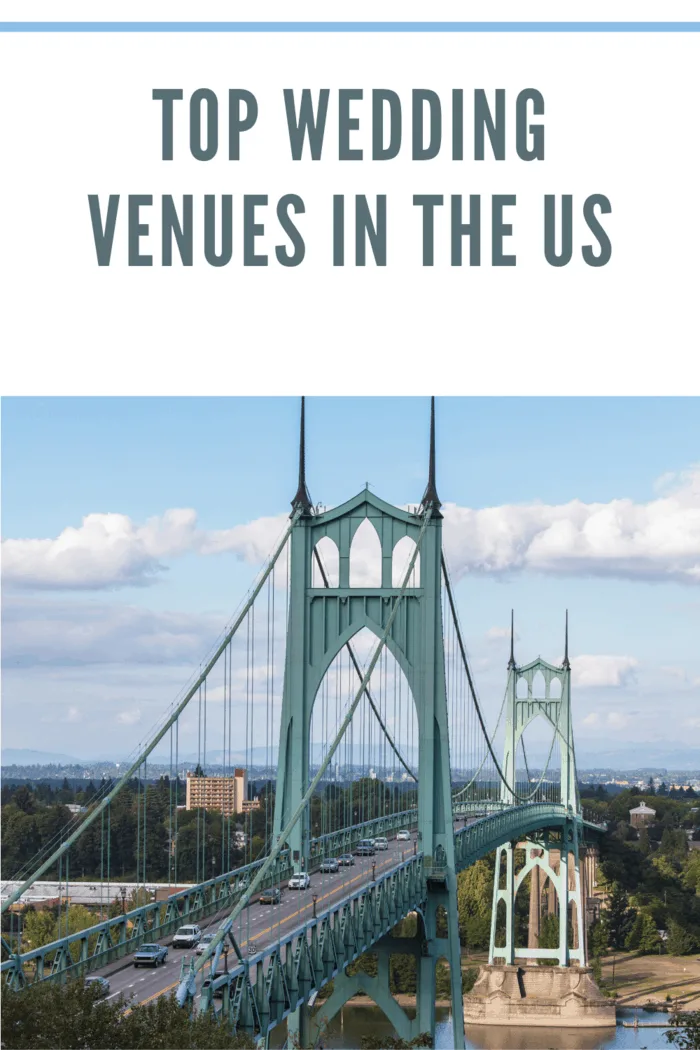 Sunstone Villa in Santa Ynez, California
The Sunstone Villa in California is an age-old castle of Coastal- Mediterranean style of architecture.
The most attractive part about this majestic building is its beautiful winery, which covers around 55-acres.
This castle is a shining example of old-world, classic architecture.
The limestone used to build this castle is said to have been imported from France years ago.
The wood beams and roof were brought down from an even older lavender factory in the early 19th century.
The background of the old walls of the castle will be a striking contrast to the whole wedding decoration.
The mixture of white and brown on the walls covered by branches of beautiful flower-bearing trees makes the entire venue look like a fairy-tale.
The Carlsbad Flower Fields, California
If you want everything colorful for your wedding, this is the perfect venue.
Can you imagine yourself getting married in a flower field full of colorful ranunculus flowers?
You will, however, have to adjust your schedule as per the blooming season to enjoy the utmost beauty of this place.
Firstly, the wedding photos will be an absolute visual treat, and the other advantage is that you will get a space overlooking the flower fields for your reception here.
This space can hold up to 200 people, and you will not even have to burn your energy to look for another convenient location for the response.
Big Daddy's Antiques in San Francisco and Los Angeles, California
This place is different from any other conventional wedding venue around.
It sure looks like a pretty, decorated house just out of a storybook but is a one-of-a-kind antique store in San Francisco and Los Angeles.
This outlet is very well decorated and spread over a vast area. It is a top-rated tourist attraction, especially ideal for day tours.
Apart from selling antiques and putting them up on display for tourists, this pretty place has space to hold special events such as intimate wedding ceremonies.
Why not try to think about wacky locations and settle with this one?
Valentine in Los Angeles, California
This is a famous venue for wedding ceremonies and other special events and gatherings in California.
The history of this location is exciting enough to trigger your interest.
It was once a hotel, then a brothel, and then a fish and oyster company.
Next, it turned to become a glass-blowing factory and even more.
There is a bright blue façade here which was once a dramatic greenhouse roof.
The efficiency of this place is just as vast as its history.
The specialty of this place is the natural shift in its dimensions.
You must know that Valentine can host a cozy wedding with about 100 people and not look dull.
It can also host a grand ceremony with 500 guests and still not get crammed up.
Vibiana in Los Angeles, California
Vibiana is a trendy and aristocratic wedding, events, and performing arts venue located in the older part of Downtown Los Angeles.
It is owned and managed by renowned restauranteurs Chef Neal Fraser, Amy Knoll Fraser, and their partners together.
This is the city's first Archdiocese Catholic Cathedral.
The location is completely white and looks classic and peaceful.
Also, the operators are versatile enough to set up a customized backdrop matching your wedding theme.
Vibiana has an ample ceremony space with the main hall and a garden courtyard.
The food will be impressive, given the fact that the owners are renowned chefs themselves.
The Ice-house in Phoenix, Arizona
This is one of the coolest places in the country to arrange a wedding ceremony.
This place was an ice house for factories and industries in the early 20th century.
The situation became functional during the year 1920 and later was renovated to become a ceremony space for weddings especially.
The restored Ice House walls look like the perfect background for wedding pictures, and the area is ideal for the other wedding setups.
Spain Ranch in Tulsa, Oklahoma
Black is the season's trend, and this matte black barn looks spectacular in Spain Ranch, Tulsa.
The black barn stands in contrast with a milk-white barn and looks like a heavenly combination for a theme wedding.
The Emerson in Dallas, Texas
If you want a classic yet modern wedding ceremony, choose this place without a second thought.
This is a modern chapel where everything is white and makes enough room for bold and colorful décor.
This location is simple yet chic and can hold up to 200 guests at one time.
These are some of the best wedding venues you can consider for your precious day.
It is time you get started with planning and organizing your big day!
---
Resources:
https://www.thesaticoyclub.com/weddings-events/weddings