Whether you work from home, have an office in your home, or live in a cubicle-filled office, there are a few things you can do to make your workstation feel a bit more comfortable than the one you're working in now. And if you're stuck on where to start, here are a few things that can help kick-start the process.
Infrared Electric Fireplace
Nothing makes a room feel like home more than a fireplace. Adding a fireplace to your office will give it a more intimate feel. Not only can it help you warm up the room a bit by increasing your body temperature, but it can also help you feel more relaxed at your desk.
This Electric Home suggests an infrared electric fireplace as an excellent option for working out of a home office because it's safer than a traditional fireplace. Also, infrared heating systems won't limit your options, so you can use the fireplace when you want, and the system can help you save energy when you're not using it.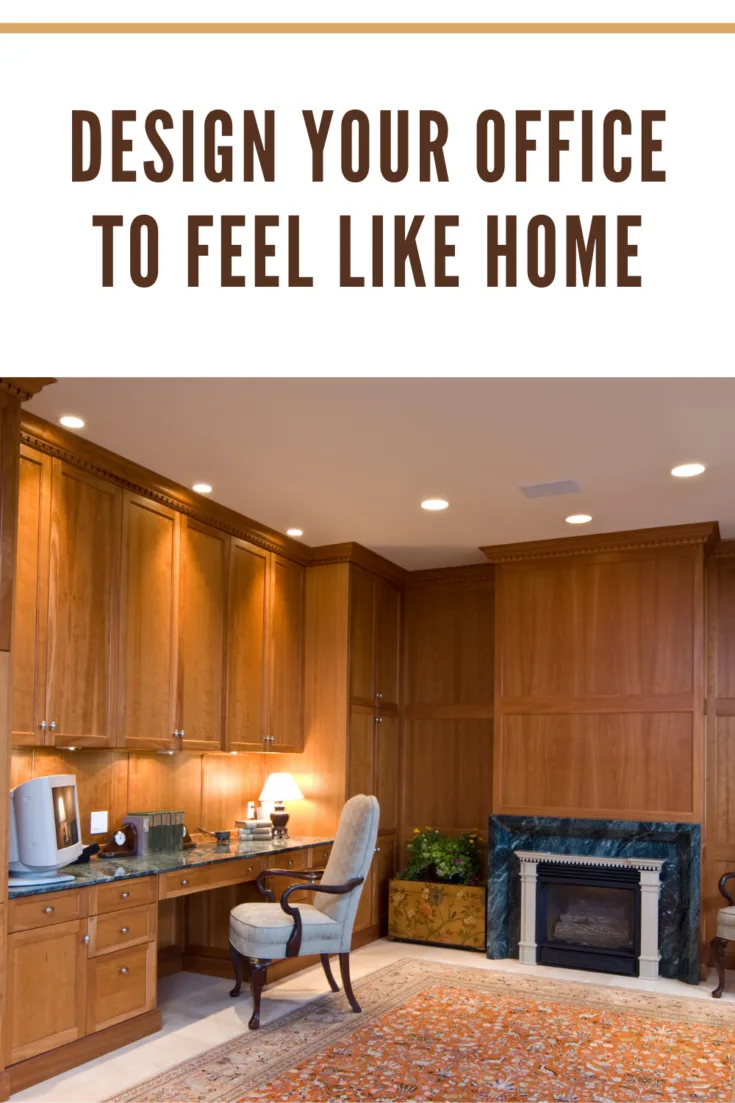 Lighting
Lighting is a big part of making your space feel comfortable. If you have windows in your office, open them up at the start of your day, and the room will feel fresh and bright. A good quality desk lamp is a must-have. You can also throw in a couple of pendant lights under the desk, and you'll have a warm, welcoming spot to sit and work in.
Additionally, if the light isn't bright enough or you're working at a desk in a room with poor lighting, try some LED bulbs. They might be a bit more expensive at first, but the savings in energy usage, which lowers your electric bill, can make them worth it.
Wardrobe
No matter where you work, the one place you'll spend more time than anywhere else is at your desk. A wardrobe can help you create a more personal space and make the desk feel like home. This goes especially true when you have a bookcase in your home office. Adding a few things on top of the books makes it feel like a den more than a place to work.
A good old-fashioned hanger can also work wonders. Hang a few jeans, a couple of button-downs, a couple of pairs of slacks, and a couple of casual shirts, and you'll have the perfect wardrobe to make your workstation feel like home.
Storage
Although there's never a shortage of storage in the office, having the appropriate types of storage in your office can make a huge difference. Not only does storage simplify things and make it easier to find items, but it also makes your office feel more organized and put together. A workstation with several drawers like old metal ones can help keep things in order, as can a file cabinet with cubbies.
A filing cabinet can help you find files in seconds, and a good one can be an excellent investment. A new file cabinet will make your desk feel more like home, but if you're on a tight budget, you can still find some great options that will work well for your needs.
Office Furniture
If you work in an office, you know how important it is to have the right furniture. Not only will it allow you to work efficiently, but it can also allow you to work in comfort. Furniture that is comfortable, spacious, and durable helps you relax and perform better.
A good office chair is a must-have. It should be well-padded and adjustable, so you can adjust the height and width to help you work in comfort. A footrest can help you take pressure off your knees and can provide comfort while you're working. A suitable desk is also essential. It's something you'll spend hours at. So, it needs to be spacious, durable, and allow you to work comfortably.
Customize
While customization is a good thing, making your office feel a bit more like home doesn't have to cost you a ton. An old toy box is a fun and easy way to add some character to your office. Add old toys, picture frames, fabric, and butterflies, and you're good to go. A few hanging plants can also help make your workspace feel like home. Good quality plants, such as Phillipsia or Pothos, will make a massive difference in the way your space feels.
Create a Relaxing Music Playlist
Creating a playlist of relaxing music can help you have a more enjoyable workday. Whether you work from home or in an office, a playlist of nature sounds, yoga tunes, or tracks from your favorite musician can help you zone out and enjoy the workday. If you're working from a home office, you can go so far as to add a portable stereo to the office and add some tunes.
Another option is using white noise machines. They help block out the noise of your office and give you a sense of calm. While not all office machines are created equally, a good white noise machine can help you feel at ease and get more work done.
Other Options
There are a few other small things you can do to help make your office feel a bit more like home. For example, if you have a coffee table, you can place your laptop on it. This will put the computer where you want it and make it feel like part of your home office. Another thing you can do is put a vase of flowers on your desk. This will make your workstation feel more inviting and can help you feel more refreshed during the day.
No matter where you work, your office can be more comfortable and welcome-feeling if you make an effort to start on the right foot. If you're stuck or want to add a few elements to your office, consider asking for help. Chances are, you're not the only one who needs a little help to get it together. Start a conversation with your buddies about which elements they'd like added to their office, and you'll be surprised at the things you might be able to bring home with you.