I received Cured CBD Infused Spices through my partnership with HelloMD in exchange for this post. My opinions remain all my own.
We've talked about CBD and this post is about how I introduced CBD to my dad and it turned out better than I thought, maybe better than giving CBD treats to our dog, Jeb–and that is pretty epic.
As many of you know, my dad was diagnosed with Leukemia. From there, life sort of went down a rabbit hole. He moved across the country, and we began the demolition and remodeling of his home. While the news of this had me heaped over and crying, my dad took it with stride.
A few days into the demolition is when it hit him. My husband can tell you the exact moment. They were ripping out cabinets from the kitchen. My dad's arms above his head, and then just a slump of defeated exhaustion. As the weeks went on, his joints swelled, to the point he couldn't walk. He'd be good for two days and then need three days to rest.
I spoke to my dad often, as life had me four hours away working and caring for children. I kept researching and telling him he needed to get an MRI and get his blood count so we could track the beast. He assured me he would.
I followed up, and he'd tell me the loops. "They want me to drive to Charleston for this test."
"Dad, you can't do that. Charleston is 7 hours from you, and that's just the drive time. Are they putting you up in a hotel? How long does the test take?" I wanted to know where his advocate was and told him to demand someone to help him. Explain to them that he is 73 years old and wiped out from cancer and need someone to take him seriously.
Three days later he called to tell me he was starting chemotherapy.
I know. I thought the same thing, "That escalated quickly."
He had finally gotten someone to pay attention to what he was saying, found a doctor close to home, and had his blood count checked. It was outrageous!! The first doctor said his age was a factor and sort of brushed him off, but the second doctor thought his health was good enough that he could do it.
I cried a river.
He's my daddy, and we have always been close. I was so afraid of chemo, but I was more afraid of cancer. Then my nerves became a ball of tight knots wondering if the chemo would destroy that cancer before it destroyed my dad.
That first round was hell.
The first and last day were as if the Grimm Reaper were knocking on his door.
A few weeks after the first round, I took him to a NASCAR race. It was on his bucket list, and I happen to live in a town known for its NASCAR track. The walk-in was hard on him. Then I told him we had to stand in line to get the headphones. Then another line to get through the gate. Then hike to our seats. Then up the steps. By the time we were in our seats, he was exhausted.
His joints were hurting–especially his knees.
We used the Basic Jane CBD Relieve, and within an hour he said they were feeling much better. You can find CBD Cream tips here.
Topical CBD has amazing and proven benefits and becoming more recognized. Many people have a fear of the unknown, so I want to set the record straight; CBD will not get you "high." The ingredient that causes the psychoactive effect is called THC (tetrahydrocannabinol). CBD products made from hemp do not contain THC.
The products I share on my blog are CBD from Hemp Products. You can learn more about how CBD works.
I care deeply about my family, and in doing research, I know that Hemp Oil is filled with essential fatty acids. These fatty acids are essential to our health's well-being. Hemp oil contains Omega-3 and Omega-6 as well as Omega-9.
In addition to the fatty acids, hemp oil also contains calcium, magnesium, potassium, copper, vitamin A, Vitamins B1, B3, B5, and B9 as well as Vitamin D.
Ladies, Hemp Oil as a beauty product, rejuvenates skin, gives a youthful glow, provides long-lasting moisture without clogging pores and work as an anti-inflammatory.
I have been using Elixinol and found that it was doing wonder for my creaking joints.
So? When my dad said the CBD topical cream was working, I suggested we try CBD by adding it to our meals. He was open to this.
We started adding Cured Nutrition CBD Spices to our morning coffee. We tried the Cinnamon and Honey.
The Infused Spices are a fun and simple way to introduce CBD in a non-threatening way.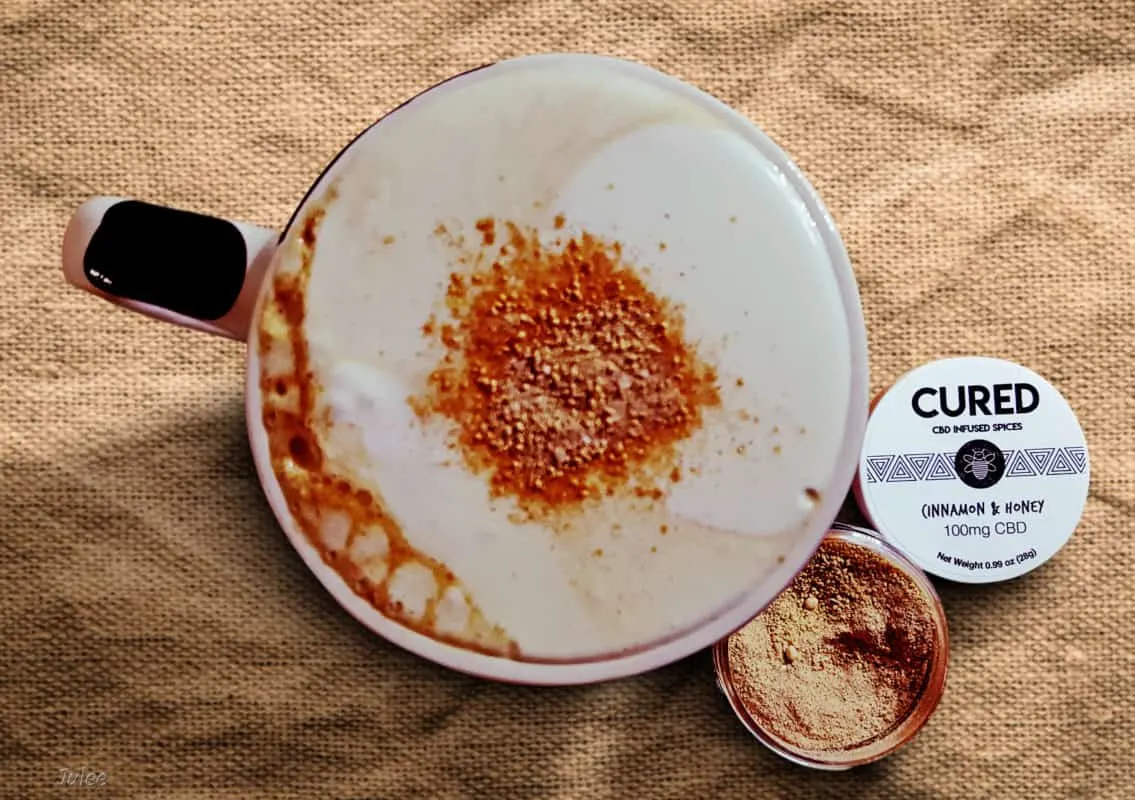 CBD Nutrition is a company whose main goal is to bring CBD to the public to easily benefit from their hemp-infused products. They are of high quality and simple products with great taste.
Each jar of Cured Nutrition CBD Infused Spices contains 7-servings per 2-ounce jar. Each serving offers 15 micrograms of CBD per teaspoon.
It's a simple addition to coffee, tea, ice cream, cereal, and more. It is made up of honey powder, cinnamon, beet sugar, Salt, and CBD Isolate.
These are completely cured spices and have zero psychoactive effects. Besides cinnamon and honey, they offer Peanut Butter Chocolate, Blackening, Smokey BBQ, and Pumpkin Spice. There are no artificial sweeteners.
The CBD Infused Spices are also available in batch packages rather than in single batches.
The taste is salty followed by notes of honey and sweetness. There is a bit of a crunch, which both my dad and I found to be a great addition.
We used the Cure Infused Spices in our morning cup of coffee and evening cup of tea. We found it to be a great addition and it paired well with my dad using the CBD Vaping Pen for Aches and the drops of Elixinol under his tongue in the evening.
By the third round of chemotherapy, my dad was feeling better. He was able to move more, and I noticed he wasn't using the Basic Jane CBD Pain Relief Cream as much. His nausea was minimal, and he was looking forward to his fourth and final round of chemotherapy as an optimist.
The fourth round of chemotherapy was probably the worst. He was violently ill. He had no injury. It seemed time stood still as we waited for him to "bounce back."
I just spent the weekend with him. His leukemia is in remission. His skin color looks more human. The twinkle in his eye is back. He seems more present in the conversation, and his mobility is incredible.
The advancement in medicine is amazing!
I would also like to note that CBD is also a powerful tool. Do your research and see how hemp can benefit your health and improve people's lives when used daily.
I promise CBD has no psychoactive substances in it. Choosing a reliable source such as HelloMD where all products are reputable and from companies that share the same goal and are environmentally conscious is a great start.
The products are available by subscription as well and are meant to be used daily for maximum health results. You can easily incorporate them into your daily life and benefit from several different health benefits.
You don't have to have leukemia to benefit. CBD oil also helps individuals decompress and relieve the stress of daily life.
I've found relief for my arthritis.
Probably the greatest benefit for me is that I developed incredible stomach ulcers from the stress of worrying and caring for my dad. Using CBD products gave me relief and allowed me to continue supporting and caring for my dad when he needed me the most.
It allowed both my dad and me in reducing stress, aid with sleep, and other benefits CBD offers.
CBD Oil is one of the best alternative medicines there is.
Do your research and take a look at HelloMD for CBD products that fit into your lifestyle.
● Products available at HelloMD
● Access to doctor consultations
● Community Q&A on cannabis
● Informational and educational content
Save $20 on your first purchase by using the referral code: 62482