The SideTrak Solo Portable Monitor is about to change college life.
I remember long, hand-written essays and numerous books to research. The computer came along and changed this.
I remember a single work monitor for work.
These days we need two or three monitors.
The one thing that hasn't changed is college space.
It's limited. In a small dorm shared with others and limited space-you may wonder if a second monitor is feasible?
Maybe you're a gamer, or you need a better TV screen than the small one your device offers.
Maybe you manage a team and need an extra monitor without the bulk.
Perhaps you travel and need dual screens but only have a laptop?
The great news is that technology has gifted us compact monitors made for these very purposes!
Meet the SideTrack portable monitor!
It's a portable display powered by USB with connectivity support for devices and consoles.
It's a game-changer.

Meet the SideTrak Solo Portable Monitor
15.8″ Full HD anti-glare LED display
16:9 aspect ratio
It weighs 1.22 lbs. and is only 0.37-inches thick
Ports: Mini HDMI, USB-A and USB-C
Works with Mac, PC, gaming consoles, etc.
Powered by the primary device
Built-in, folding stand
$299.99 at Amazon
It's made to be portable.
It works well with laptops and on small desk spaces.
I love that its size and weight make it barely noticeable when I slide it into my laptop bag.
A Closer Look at the SideTrak Specifications
50/60 Hz Refresh Rate
262K Colors Display
30ms Response Time
LCD Panel
16:9 Aspect Ratio
1920 x 1080 Resolution
800:1 Contrast Raito
220 cd/m2 Brightness
8W power consumption
Glare (AF) Panel Surface
The SideTrack monitor arrives well protected.
It's impressive for its size.
Discreet Side Controls.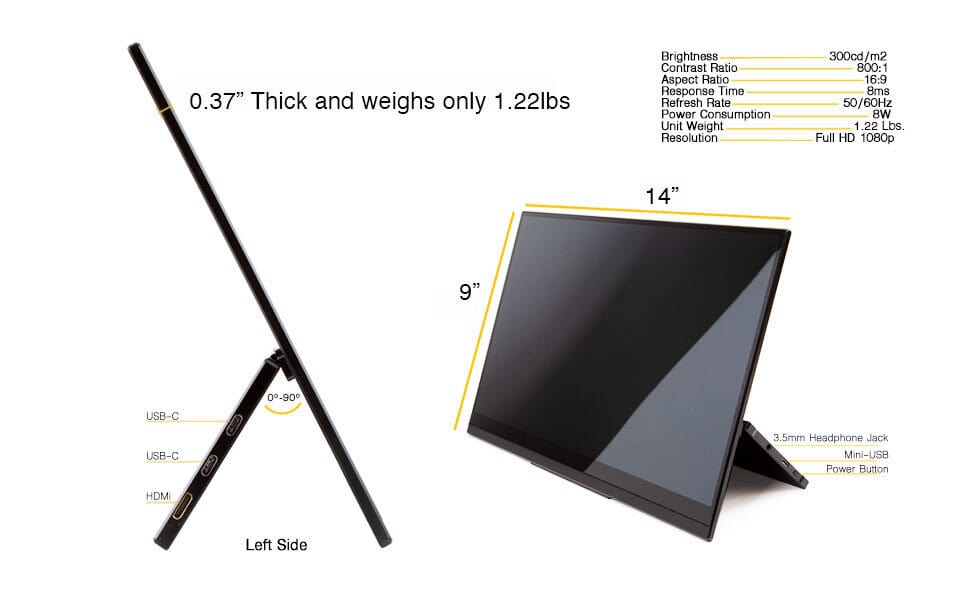 Includes three cable types:
USB 2.0 to USB-C
USB-C to USB-c
Mini-HDMI to full HDMI
The HDMI cables are used for power.
The cables are short, so if used in your home office, the SideTrak monitor will need to be set up close to your PC.
I appreciate that it's simple as there aren't a lot of components.
We found it worked well with Xbox One and PC by simply connecting the HDMI cable to the system.
It requires minimal power to turn on the display.
There is absolutely no initial setup, no driver or software updates.
It's plug-and-play.
Dynamite Comes in Small Packages
The thinness of the monitor is shocking (think iPad or Windows Surface Pro in size).
It slides right into my laptop bag (you may want to add additional protection), and at 1.8 pounds, it's barely noticeable.
Once on, the 15.6 inches of the screen offers incredible visuals.
The SideTrak displays 1080P resolution with a 60hz refresh rate.
Okay, as my husband points out, it's not the latest, but it is still amazing.
The image quality is sharp.
The pixel density is incredibly clear, and the refresh rate is smooth.
Minimal latency means game-play at 60fps or less is "game-on."
The color of the SideTrak images is vibrant and bold.
t has HDR support, but the images are wow even without it!
There are display options, including a portrait mode.
This option is not my favorite as the display ports are on the side and cables face upwards.
It works; it's just not my aesthetic.
SideTrack allows the user to connect a streaming device to the monitor using the included HDMI to mini HDMI cable—for example, Roku's media players.
An HDMI adaptor (not included) is needed to use a streaming stick, such as a Fire TV, to connect it to the mini HDMI port on the monitor.
A Worthwhile Companion
The convenience and ease of the SideTrak make this a worthwhile companion whether you're working in a home office, traveling, or a gamer.
There aren't many alternatives on the market, and I love the ease of packing it with my laptop without adding bulk or weight.
It's sleek in design and delivers incredibly sharp, stunning images.
Pros:
Beautiful coloring and HDR support.
The size is perfect to fit with your laptop in an electronic bag.
Easy to set up, USB powering
Low Latency and smooth 60hz refresh rate
The general quality is excellent.
Cons:
Portrait mode is awkward due to display inputs and power location
The push-button volume sometimes requires multiple pushes.
Price: At $269, it may deter buyers, but I feel it's worth it for all it offers and the ease of use.
Where to buy it?
Solo HD 15.8″
The SideTrak SOLO Portable Monitor is available at an MSRP of $299.99.
I didn't know a portable monitor offered so much convenience.
It has made me far more productive.
SideTrak has other options, including a 4K version.
---
I received a Sidetrak Solo portable monitor in order to facilitate an honest review. All opinions remain 100-percent my own.