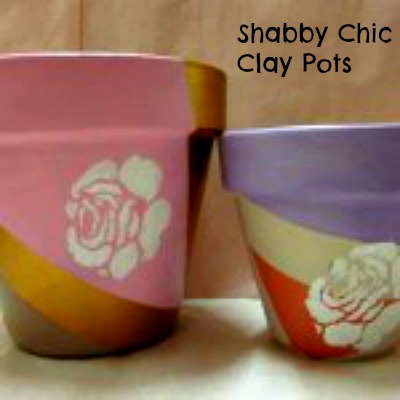 Materials:
1 – clean, dry clay pot (any size)
1 – roll of ¾" 3M Scotch Blue Painter's Tape #2090 Original Multi-Surface
3 – jars of paint (any colors)
1 – jar of glaze (any color)
Paint brushes for each color
1 – roll of paper towels
1 –  flower stencils
Wipe your clay pot with a damp sponge or paper towel. This will prep the pot by making sure all debris and dirt are removed. Let the pot dry fully.
Choose a color palette that fits your taste and décor. We recommend using three colors. A three color palette is chic, and provides enough freedom so that you are able to mix and match colors a variety of colors.
Choose which color you want to use for the shapes and stripes, and which color you want to use for the base:  a neutral color provides a delicate finished product, while a bright color will make the stripes pop. In this example, we chose to use the bronze as the base of our pot, knowing that most of it would get covered up by the tan and light pink paint. The metallic color will provide for a chic vintage vibe.
On the dry pot, use a sponge or a paintbrush to cover the entire pot with the base color. Using a sponge will give the pot a rustic base, while a paintbrush will provide a smoother look and feel. Let this paint dry overnight. It may only take a few hours for the pot to dry depending on the paint you use, but it's better to play it safe.
After the pot is completely dry, use ScotchBlue Painter's Tape to mark off diagonal lines in any design and pattern you desire. Make sure the tape is pressed firmly so it contours to the pot. This will ensure clean, sharp lines when the tape is removed.
Decide what area you want to designate to the remaining two colors. Once you have decided where each color should go, you are ready to paint.
Use a paintbrush and apply an even layer of paint in each color designated area you have created. If you would like more coverage, wait until the paint has dried a bit, then apply another coat of paint. Continue to paint your pot until each shape is filled in.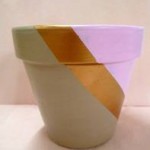 8. Allow the pot to dry overnight.
9. The following day, slowly remove the ScotchBlue Painter's Tape at an angle. This will ensure clean, sharp paint lines.
10. Either purchase or create a flower stencil.
11. Use ScotchBlue Painter's Tape to tape the stencil to the outside of the painted pot.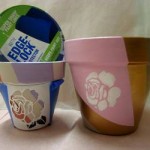 12. Use a brush or sponge to fill in the stencil. Slowly remove the stencil and allow the paint to dry.
13. Finish your painted pot with a clear glaze. This will protect the paint from chipping or dulling in the future.