The Confidence and Know-How to Sew like a Pro
As a child, I have fond memories of sitting with my mom while she sat at her sewing machine. The intention was probably to pay attention, but instead, I focused on the conversation. Then I became a mom. I can tell you when the urge to sew stunned me—a Halloween Carnival. I had NO children. I was nineteen. I watched as these tiny little people were parading in their costumes. Many were store-bought, the home-made costumes stood out…I was in awe at the creativity, the colors, and how big those kiddos smiles were!

It was then, and there that I vowed, "I will make my children's costumes."

Enter children. Life doesn't always go as planned. I didn't own a sewing machine. Three years of a child in store-bought costumes. Pathetic, but true!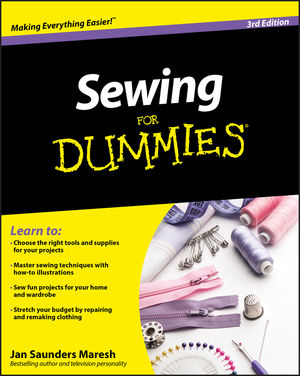 Sewing for Dummies Cover
Then when I was pregnant with Zac, I wanted red and teal sheets for his crib. We were doing a Tropical themed room and those colors appealed to me. It was 1993–we were still of the age where pink, blue, and yellow pastels were about the only thing available. Call it pregnancy hormones or just a really bad day, but I cried. They were tears of inspiration.
A $99 sewing machine, tropical fish fabric mixed with some solid teal and red, and a measuring tape later, I had sheets and a layette for my baby! Making ruffles by hand was a challenge, but I was stinkin' proud!
From there, I made Jake a cowboy shirt for his Moo-Mesa Birthday party. I remember that shirt and how proud he and I both were when it was done. One of the women at church who was a TRUE seamstress complimented me and then added, "most people who don't sew wouldn't have accepted the challenge of a shirt with a yoke!" The truth was I didn't really know I had limitations!

It was the beginning of my sewing fascination. I made felt ghost candy holders, more sheets, and a couple more shirts. Then I taught myself to do appliqué. It was all in fun.
Three years ago, my mom called. She had been sewing Halloween Costumes and, due to her new business, didn't have the time so she was passing it on to me. I explained I really didn't know how to sew. She didn't accept that as an adequate reason, so I became the costume maker.


Terror struck. I had no pattern, and while I consider myself crafty and creative, this was something far more than my ability. I cried. I cried more and in the end, I was glad I did it.

Now my Zac is loving the creativity of sewing. He has made drawstring bags, pillowcases, and altered clothing. It's awesome to watch; however, with no formal training, I'm not really a great resource. I was given the opportunity to review: Sewing for Dummies, and I looked through it and then turned it over to Zac.

The book is a detailed and informative guide to everything sewing. It gives the ability to create decor, and clothing and do everyday repairs like buttons and hems.
You can also learn:
Measuring

yourself to perfection

Estimating your favorite garments in yards

Cover

ing up your skill: pillow covers for beginners

Getting straight to the right point—needlepoint

, that is

Mixing and matching into a larger wardrobe

Stopping rookie mistakes and sewing like a pro
Sewing for Dummies pattern
It didn't take Zac any time to embrace
Sewing for Dummies
. In fact, he purchased a Sewing for Dummies pattern (available through Wal-Mart) and in no time, created this awesome apron!

Zac is like a sponge with this book, absorbing the practical advice, tips, and tricks to make his sewing successful. Here's one he has used several times and takes great pride in knowing where to measure for adjustments. Other tips can be viewed on the Dummies.com website.


Taking Accurate Body Measurements for Sewing Garments
When you want to sew clothing, you start with a pattern. Determining your pattern size can be a humbling experience because it requires you to measure your body, but it's an essential step in making sure the finished garment fits properly.
Here are some tips on taking accurate measurements, so your project ends up the right size:
Get someone else to take your measurements. It is impossible to take them yourself and get an accurate read, so find someone you trust, swear them to secrecy, and start measuring.

Dress in your underwear or a leotard, and tie a narrow ribbon or a piece of elastic around your waist, but not too tight. Move around a little bit until the elastic or ribbon finds your natural waistline. Note that this may not be where you wear the waistband of your favorite pair of slacks or jeans.

Measure by placing the measuring tape around the torso as parallel to the floor as possible.
Have your helper take the following six measurements:
High bust circumference at the crook of the underarms approximately 2 inches above the full bust: ____________

Full bust circumference at the widest part of the bust: ____________

Natural waist circumference (the narrowest part) at the ribbon or elastic: ____________

Hip circumference at the widest part and approximately 7 inches below the natural waistline: ____________

Back waist length measured from the bone at the base of the neck to the natural waistline: ____________
Sewing for Dummies has been a great resource, and I am enjoying learning the art of sewing through my son and this book. It generates some great moments of bonding and some wonderful creativity.

This book would be the perfect gift for a young woman (or young man) who is inspired to sew or an excellent starting point for anyone who has ever thought, "I wish I could sew, hem, repair, etc."
We appreciate your subscription to Mommy's Memorandum