It's Always Time for Comfort Food
When It's This Easy
Tuesday was a beautiful day at the magazine stand. Hearst released it's EASY & DELISH: COMFORT FOOD. This recipe bookazine is based on the website Delish.com. I'm in love with this topic. Comfort Food, and Hearst does an amazing job featuring over 120 Easy, Classic Family Recipes!
You heard me right, comfort food–123 easy recipes focusing on family favorites, cozy classics and quick meal ideas. Think hearty dishes, savory soups, decadent desserts, and tasty brunch ideas, including healthy, low-calorie options. It's difficult to know where to tempt the tastebuds first, Classic S'mores, Candy-Coated Caramel Apples, Pumpkin Pie with Maple Whipped Cream. I know! The saliva is drooling from my mouth. Not to worry, Hearst editors are amazing folks and divided the bookazine into categories: Roasting Favorites, Speedy Skillets and Casserole Classics, just to name a couple.
One of my favorite things about the bookazine is that it is a compilation of recipes that have been developed and tested by the editors of Country Living, Redbook, and Good Housekeeping–all among some of my favorite magazines I've been known to tear recipes from the pages!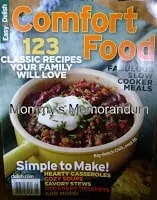 Easy & Delish: Comfort Food hit newsstands on Tuesday, October 12, and will be there until January 10. It has a cover price of $9.99.
Beyond recipes, Easy & Delish: Comfort Food includes how-to cooking tips, taste tests, and suggestions for sides that will put a new spin on your signature dishes. Plus, find out how to store any fresh food in the freezer. One of my favorite tip/lessons in the bookazine was a "vegetable roasting 101" lesson (pg. 83) One of our favorite meals is roasted veggie sandwiches and I learned how to roast green beans and asparagus, something I've not been successful in the past doing.
This bookazine doesn't stop once you've read it cover to cover, the journey continues once you visit Delish.com where you can create an online recipe book, use the recipe finder tool for 30-minute dinner ideas, and access hundreds of money-saving coupons.
Even my husband picked up this bookazine and declared it unsafe to have "laying around because now I'm starving!"
Want a preview of what Delish.com considers comfort food? Check out these 48 comfort food recipes on their website.
Delish, part of Hearst Magazines Digital Media, features thousands of quick and easy food and cocktail recipes from Hearst Magazines and other sources, as well as fan blogs on the most popular food television shows, and the latest on food events and festivals worldwide. With an authoritative point of view that is simultaneously fun and informative, the site's content will provide everyday chefs and busy individuals with the tools to expand their cooking and entertaining skills and knowledge of what is happening in and around the world of food.
I was sent the bookazine mentioned in this post by the sponsor in order to facilitate an honest review. No other compensation was received. The opinions are my own and were in no way influenced by the sponsor. Others experience may vary.
We appreciate your subscription to Mommy's Memorandum