Creating a comfortable living area in your home often is affected by temperature and airy feel. While fixing clutter, simplifying the room, and removing distracting items all will help make a space that leaves a welcoming vibe for your family and guests; out of all of these tactics, having a comfortable temperature and air feel is essential in creating comfort.
Some ways to effect this are:
Increasing the thermostat
Adding humidity during the winter and in dry climates
Removing humidity in high-humid climates
Adding air flow and ventilation in stale rooms
Reducing drafts from old windows
According to Delco Windows experts, a permanent way to increase the comfort of your air year-round is with the right kind of replacement windows. This not only improves the energy efficiency of your home but also stops drafts from old windows and reduces the wide climate swings from winter and summer, utilizing the latest technology in insulation, materials and films. Lastly, window replacement can add to your home's value and add a modern look to a dated style.
Certain glass packages for new windows have window films that block harmful UV rays and the glaring summer heat in the summer and bitter cold in the winter. They can reduce the energy transfer between the outside and inside. This is one way of making your living area more comfortable, no matter the time of the year.
Here are several types of windows that will help your home the greatest: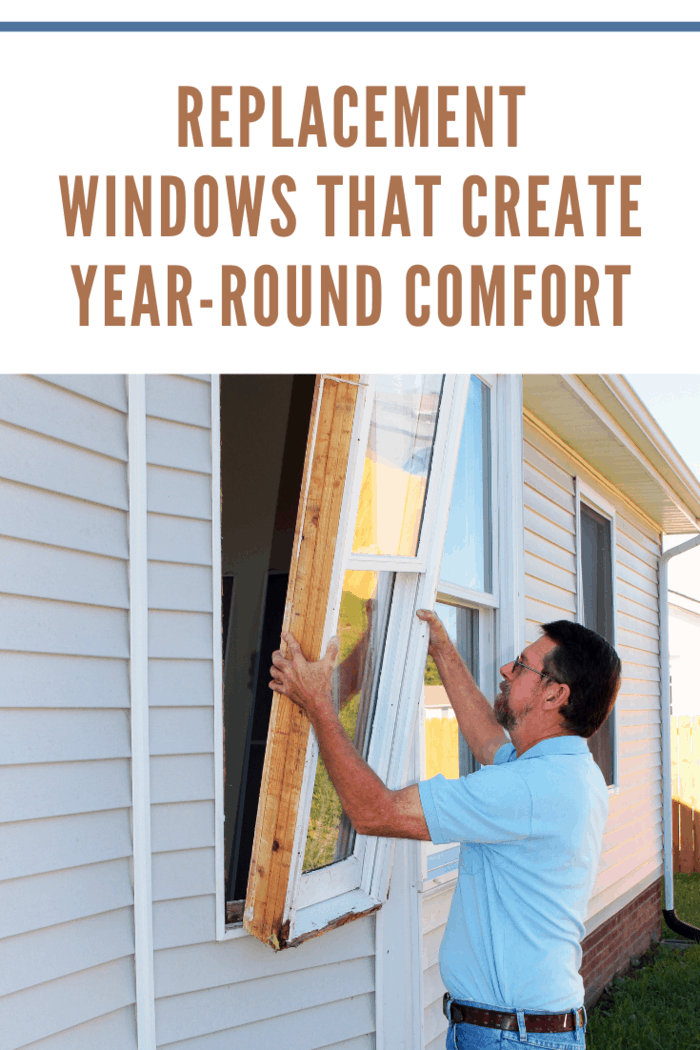 Casement Windows –
These first three windows all have opening capabilities for ventilation and airflow.
Casement windows are the most typical opening window with a hinge system in the middle of the window near the side and open up using a hand crank.
Traditionally, they are more vertical in size, with vertical ventilation, and fit well either together in tandem or in areas like stairwells, hallways, and corners.
They can come in any frame material, including vinyl, wood, and aluminum.
Casement windows bring value for the money and will provide long-lasting functionality to your window space.
If you currently have an outdated inoperable window, consider replacing it with a casement window that can open and close.
Awning Windows –
Awning windows are similar to operable casement windows, with a hand crank and ventilation function.
However, they are hinged at the window frame's top and open near the bottom.
This provides both lower and horizontal ventilation.
This functions well in high-humidity spaces near a kitchen or bathroom sink, allowing steam and spray to flow out.
Awning windows can be an inexpensive replacement for these areas in your house to help manage a more comfortable air temperature and feel.
Tilt-and-Turn Windows –
tilt-and-turn windows give the benefits of both awning and casement windows, with an added feature of being able to open horizontally or vertically.
This provides the benefit of easy cleaning and options for airflow.
This European design is becoming a popular yet more expensive option. It is one of the latest trends in new windows.
Picture Windows –
Picture windows are fixed, inoperable, and typically one large glass piece.
This provides the benefit of unobstructed views.
With their simplicity, they are affordable and an easy replacement for most rectangular windows.
Just imagine a picture hanging on the wall, a window about the same size.
Final Thoughts:
When thinking about all of the ways of making the climate in your home feel inviting, warm, cozy, and relaxing, think about ways to change the environment permanently. Replacement windows are an investment that could potentially last the lifetime of your home. They can give you the ability to have a major upgrade without major cost, and the ability to ventilate and control airflow. To top it all off, replacement windows will save you energy in the long run, as they are more insulated, using advanced materials and components, than the older windows you may currently have.
Consider replacement windows as an important part of your home comfort plan.