This cake is my entry in the Bahlsen North America 125th Anniversary "Let the Good Times Roll" Birthday Cake Recipe Contest. I received Bahlsen Waffelton Cookies and a cake plate as part of my entry.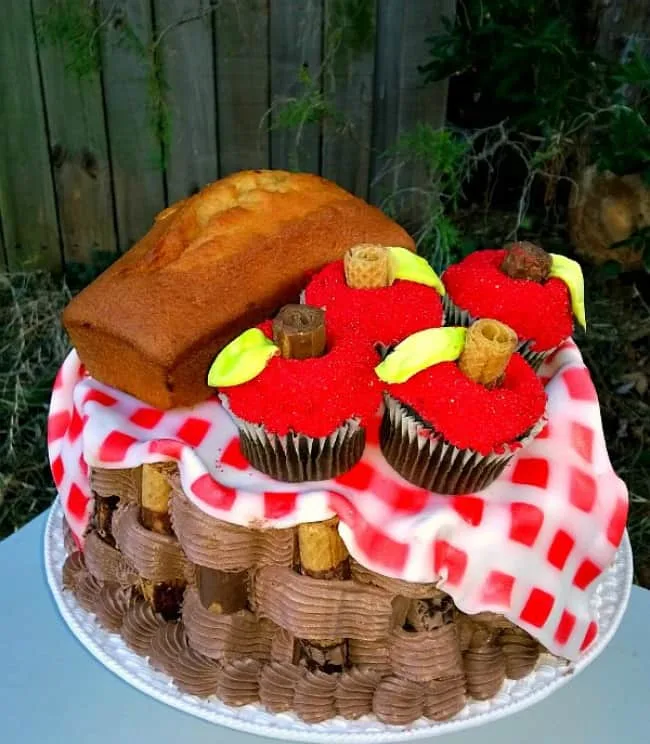 Lately, we're all about the Grimm's Fairy Tales, particularly Little Red Riding Hood. Bahlsen invited me to participate in a Let the Good Times Roll Birthday Cake contest and I wanted to honor the brand's German roots. After all, Brothers Grimm, also German, make the story of Little Red so much more for my kiddos! This cake is so easy. I detailed the steps to make one of your own. This cake utilizes Bahlsen Waffeletten cookies. Bahlsen is the leader for cakes and biscuits in Germany and one of the leading manufacturers of sweet biscuits in Europe. Bahlsen is available in the US.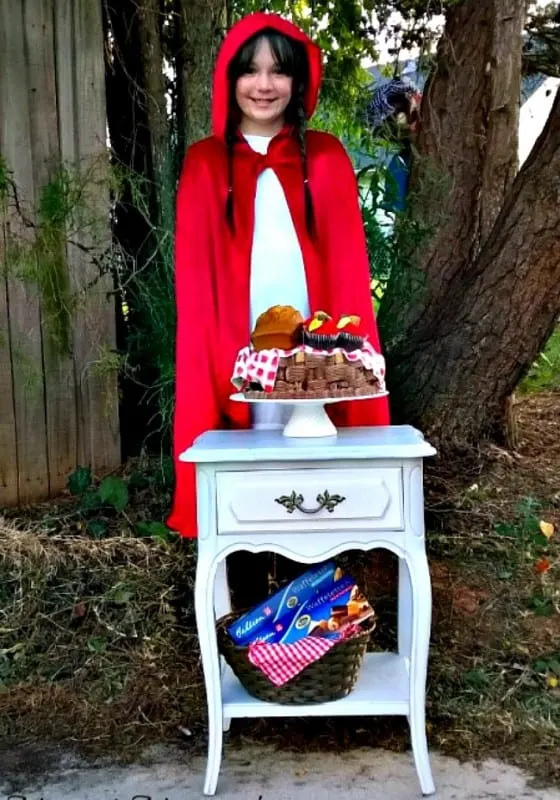 The challenge was to create an easy-to-make birthday cake using BahlsenWaffeletten cookies. I chose to continue the German roots theme with an easy to make version of Black Forest Cake.
Little Red's Black Forest Cake Recipe Ingredients:
Little Red's Black Forest Cake:
Favorite chocolate boxed cake mix
1 cup water
1/3 cup oil
3 large eggs
1 box Bahlsen Milk Chocolate Waffeltten Cookies
Little Red's Black Forest Cake Filling:
Can of Cream Cheese frosting or your favorite Cream Cheese Frosting Recipe
Can of Cherry Pie Filling
Remaining 4 Tbsp. Bahlsen Waffeletten Cookie Dust
Little Red's Black Forest Cake Decoration:
Apples:
4 cupcakes
Bottle of red sugar
4 Bahlsen Waffeletten cookies
Bread:
Gingham Napkin:
10 oz. fondant
Spray food coloring
gingham template
Basket:
Can of Chocolate Frosting or favorite chocolate buttercream recipe
Tape Measure
3 boxes of Bahlsen Waffeletten cookies
Basket Tip Pastry Bag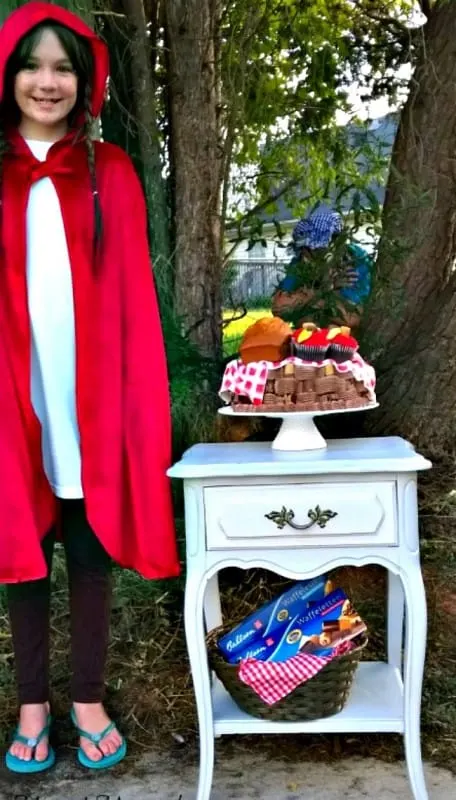 Little Red's Black Forest Cake Recipe Directions:
Preheat oven to 350 degrees. Prepare two 9-inch cake pans by spraying with baking spray or buttering and lightly flouring.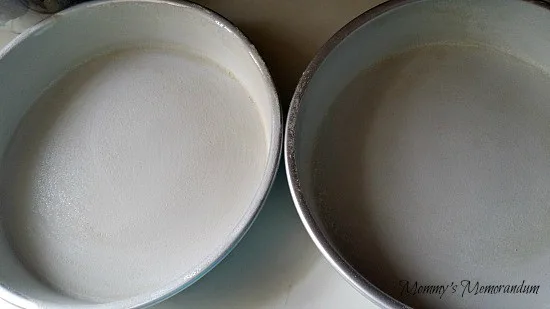 Place one box of Bahlsen Waffeleten Milk Chocolate Cookies in the food processor.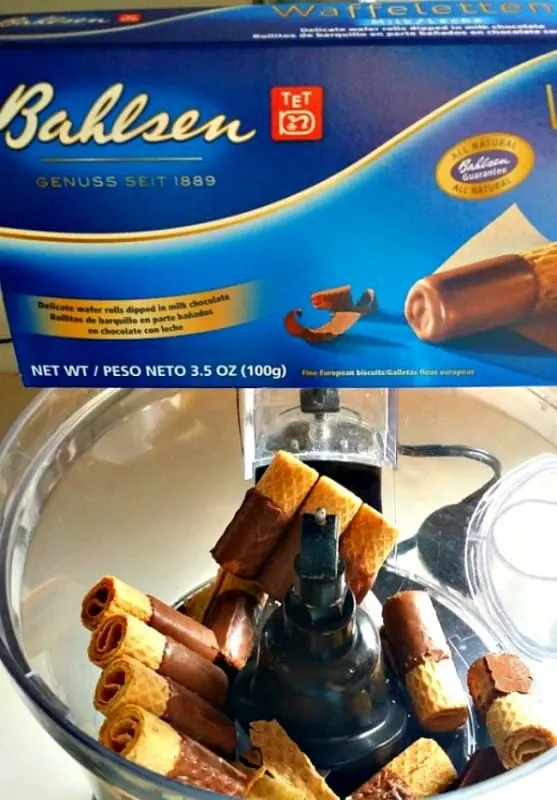 Process cookies until they are "cookie dust"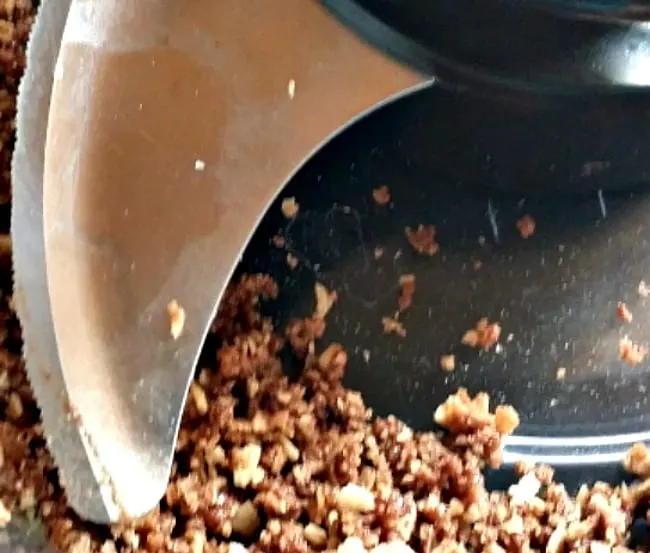 Reserve 4 Tablespoons of the "cookie dust".
Make your favorite chocolate cake boxed cake mix. (For me, this meant blending the cake mix, water, oil, and eggs into a large bowl at low speed until blended.)
Add all but 4 Tablespoons of the Bahlsen Waffelton "cookie dust" to the batter and mix well.
Beat on high for about one minute to add some air to the batter.
Pour the batter evenly between the two prepared cake pans.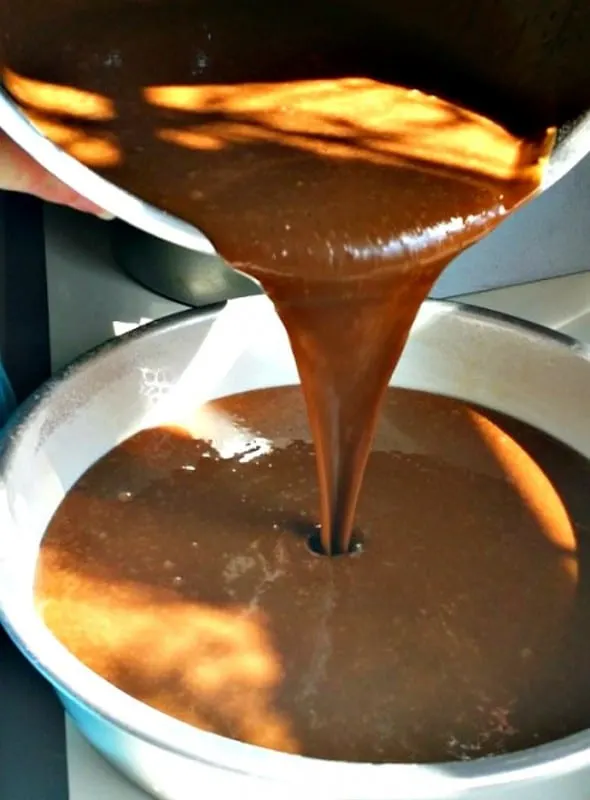 I like to gently tap my pans with batter on the counter to bring all the air bubbles up to the surface…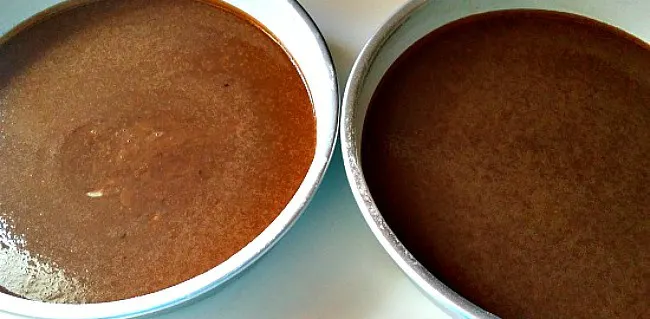 Bake according to box instructions until a knife or toothpick inserted into the center comes out clean.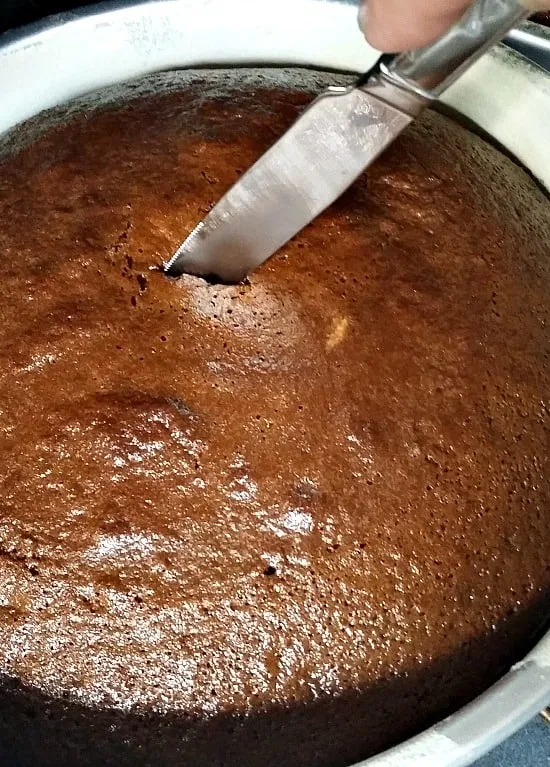 Remove from the oven and allow to cool for about ten minutes in pan.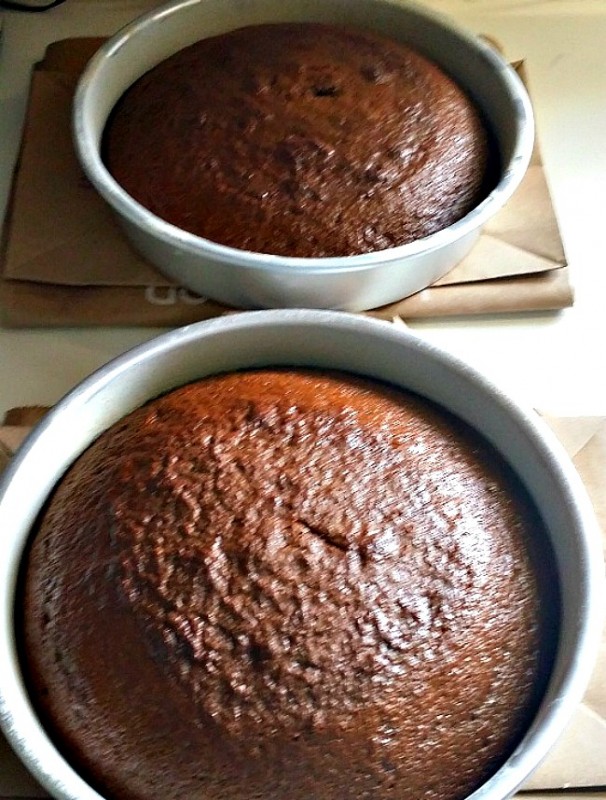 Remove from pan and cool completely.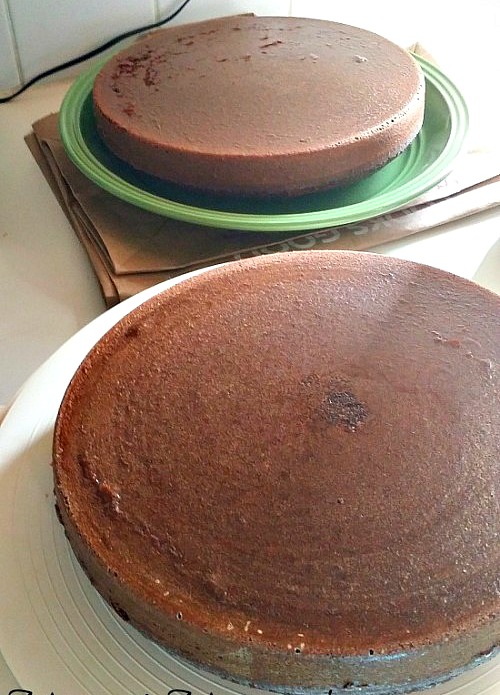 When cake is completely cool, transfer one layer to plate. Fill with cream cheese frosting.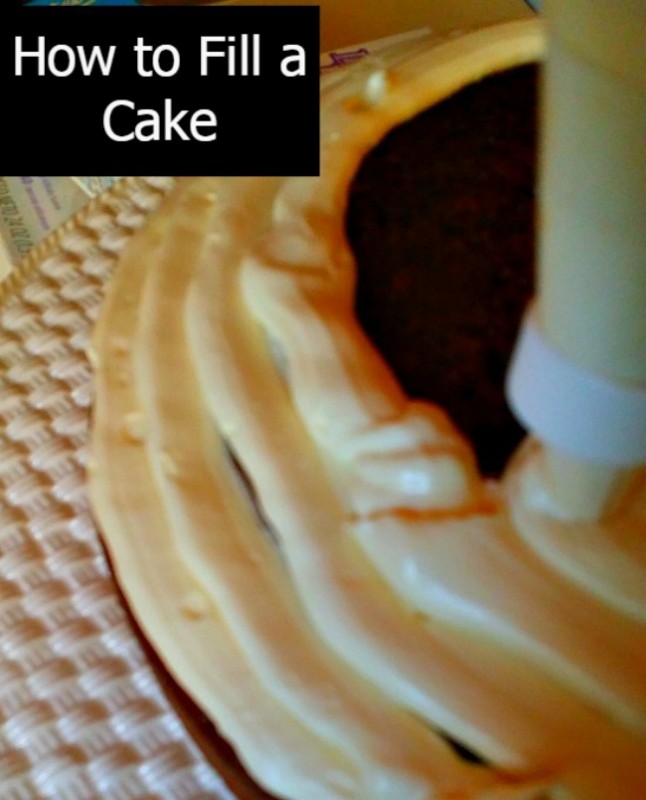 Open the can of cherry pie filling and, using a fork, place cherries on top of the cream cheese filling.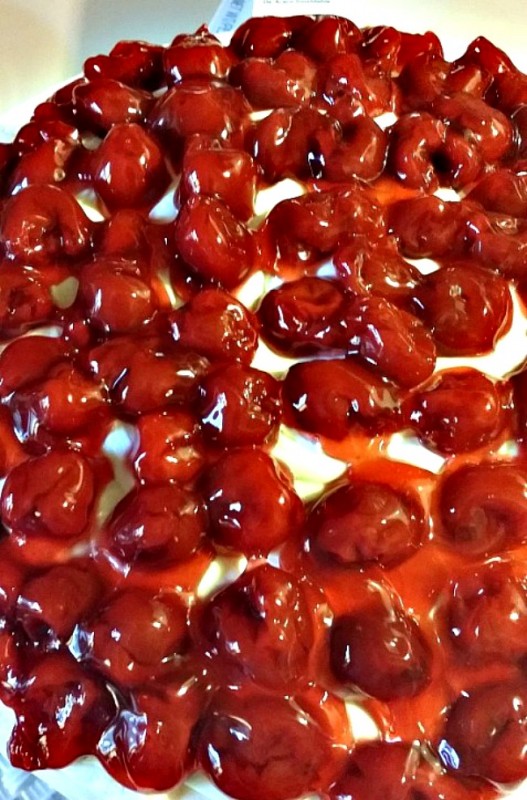 Sprinkle cherries with the remaining 4 Tbsp Bahlsen Waffelten Milk Chocolate "cookie dust".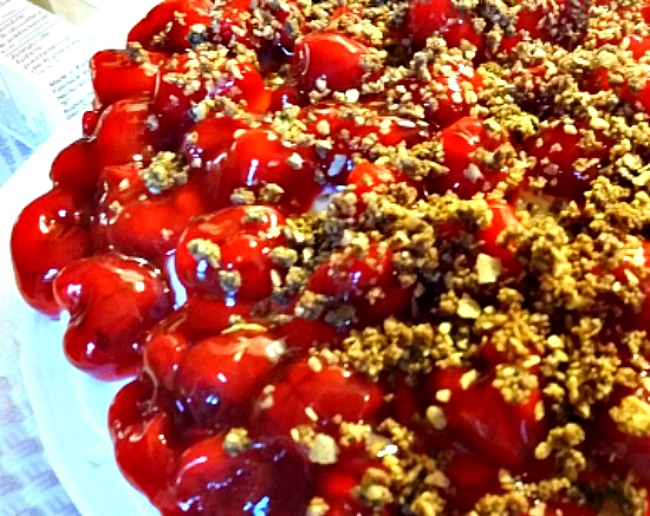 Place the second cake layer on top of the filling gently. Use the remaining cream cheese frosting to coat the cake lightly. Place cake in refrigerator. This will set any crumbs and prevent them from getting in the way.
Let's Decorate!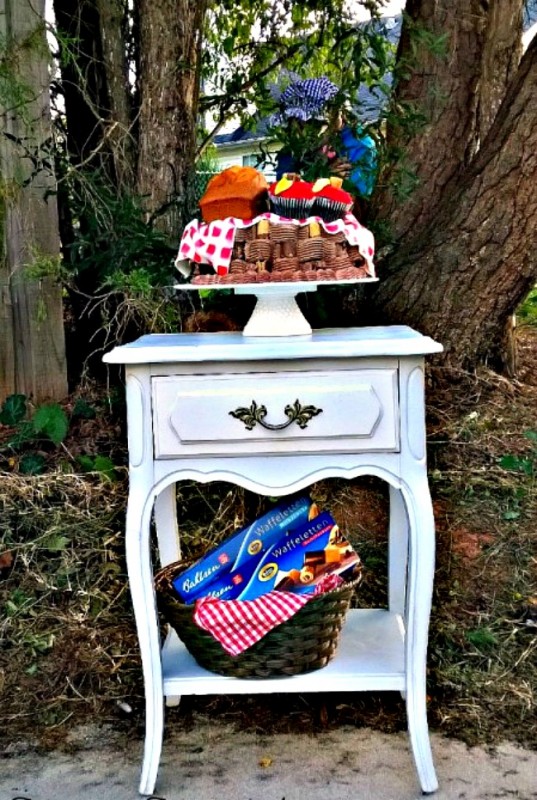 While the cake chills make cupcake apples.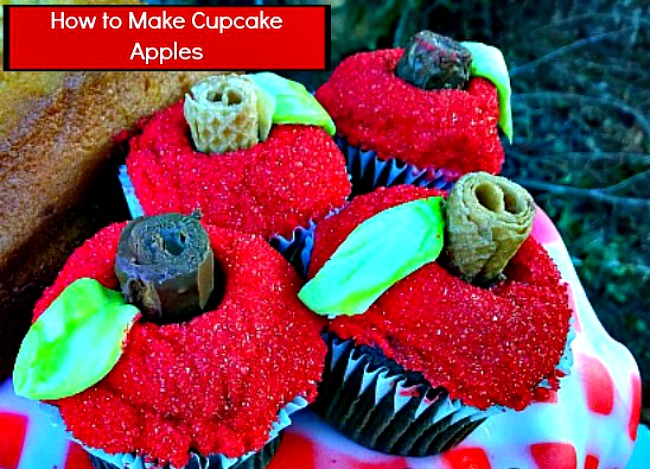 Make your own if you didn't buy a loaf of banana bread.
Remove cake from the refrigerator. The icing should be firm.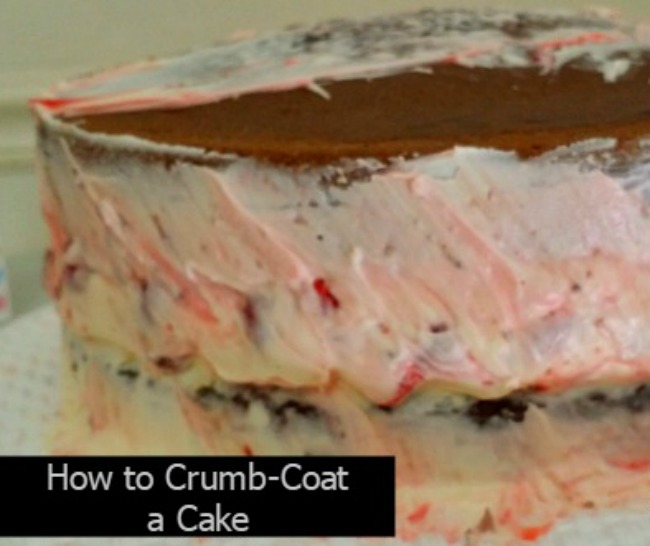 I used a can of dark fudge frosting so there would be some depth to the basket to cover the cream cheese.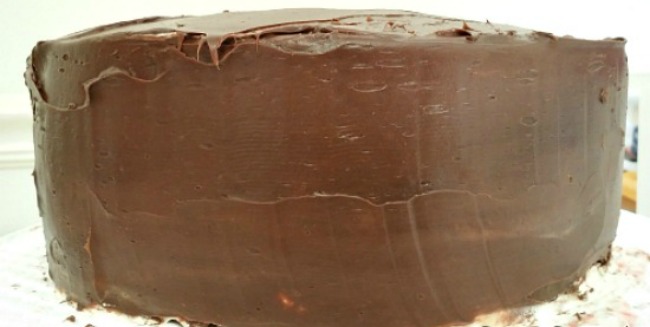 Wrap a tape measure around the base of the cake. This is going to be a guide for placement of the basket "sticks".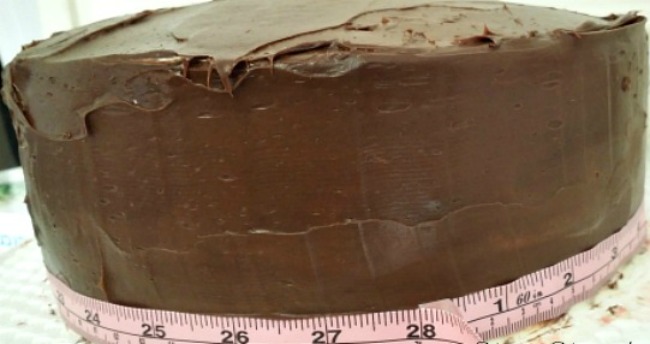 Using a knife, mark off 1″ increments all around the cake.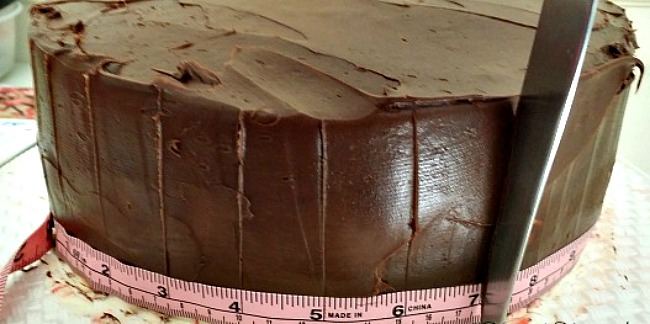 Remove Tape measure. Place Bahlsen Waffeletten Cookies on each line marked by the knife.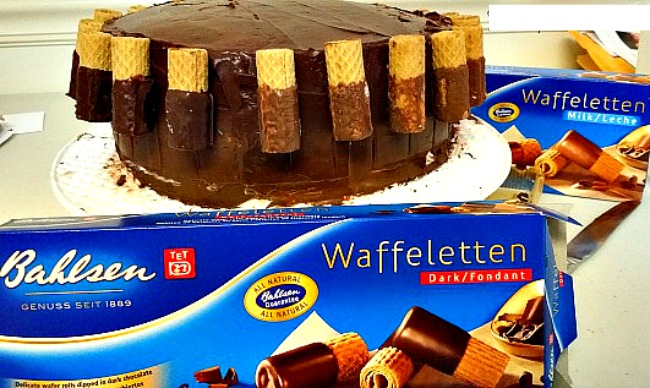 Depending on the height of your cake, you may need to cut the Bahlsen Waffeletten cookies in half an place beneath your initial row. Using a pastry bag filled with light to medium brown frosting, and a basket weave decorating tip, do a basket weave over the Bahlsen Waffeletten cookies: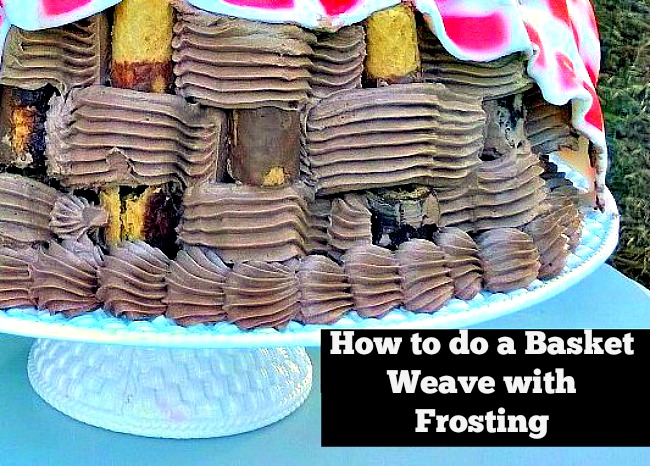 Now we need the gingham napkin for the inside of the basket.
It's so easy!
Roll out you fondant to about 1/4″ thickness.
Then, using a template and spray dye, add your gingham design.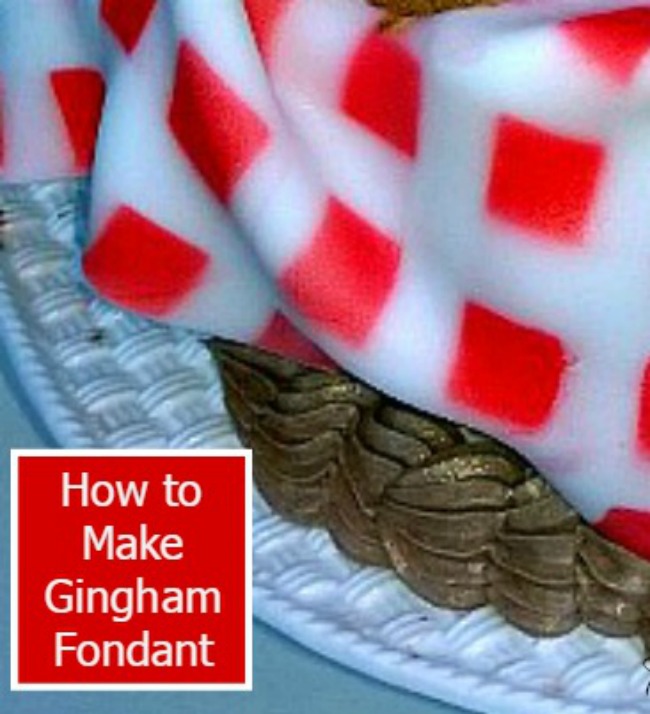 Carefully lift the fondant and place it on top of the cake, positioning it to drape over the edges.
Create any folds you like to make it look like fabric.
Next, add your loaf of banana bread to one side and position your four cupcake apples on the other side of the cake.
This is an easy cake with stunning results. The taste is decadent and carries off my theme of creating a basket for Little Red Riding Hood. It's so good; even the wolf needed to get closer!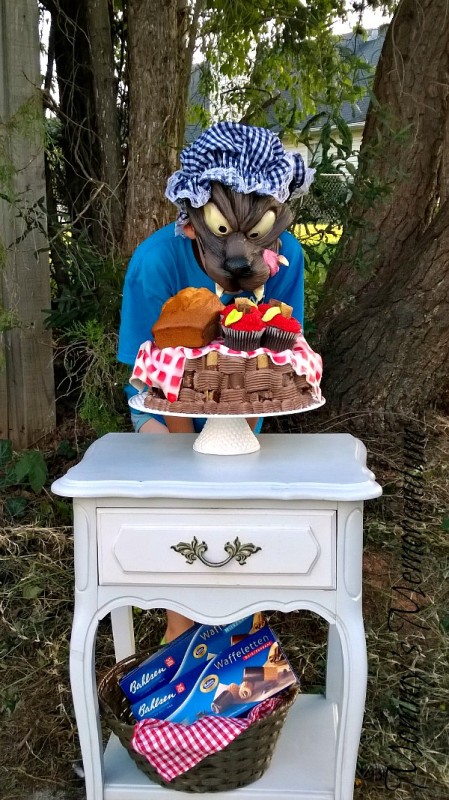 One more picture of it on the table: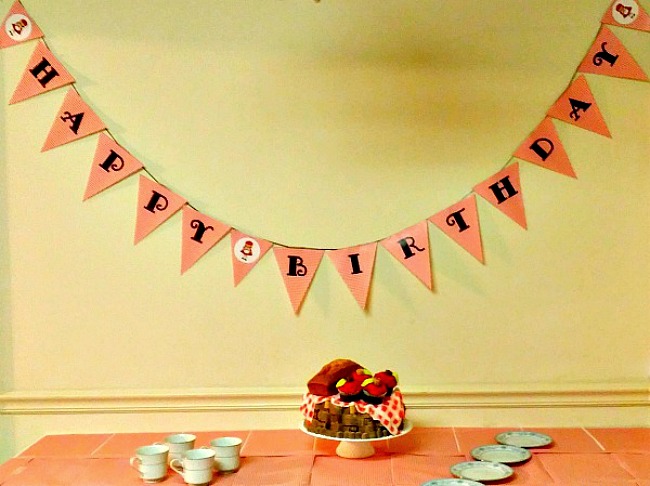 All that's left is to dig in to this moist, delicious cake made with Bahlsen Waffeletten Cookies!