Chef Tools Let's Get You Cooking
Quite possibly the thing most looked forward to when it comes to my children's birthdays is their cake. They love to bake and dream up an original pieces of edible art.
We were allowed to review an item from Chef Tools.
It was an endless selection of great items that I truly could put any of them to use.
MacKenzie reminded me that Abi's birthday was coming up and she just knew the three-tiered miniature cake would be the celebration starter.
When we received the Magic Line cake pans, MacKenzie set them up to visualize how the cake would look.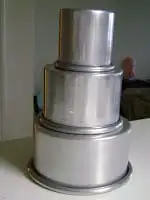 She thought it would be perfect after the party for their tea parties and told me Rice Krispie treats would be easy to make with these pans.
With little help, MacKenzie made a strawberry cake batter and then we filled the Chef Tools Magic Line Cake Pans.
This was not precise as there were no instructions, but filling them 2/3 full seemed logical.
We baked the cakes, which did overflow in the oven, and let them cool.
Then we released them from the pan and MacKenzie iced each layer from the bottom up with a cream cheese frosting.
She doused them with yellow, chocolate, and pink sprinkles and then we put a light-up Belle as the cake topper.
MacKenzie was so proud of her creation, and when Abi saw it they both concluded it was beautiful!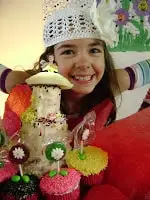 MacKenzie also selected the Lucks Dec Ons Lady Bug Cupcake Decorations from Chef Tools.
All of my children were fascinated by these.
They couldn't believe they were so cute, and I would let them eat them!
I thought MacKenzie would be putting the ladybugs on her cake, but she had other plans.
She used them on the Different Cupcakes in the grass.
She surprised Abi and let her do the placement of the bugs.
I think they were the perfect touch.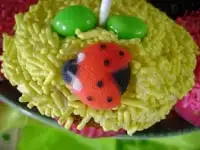 Chef Tools' quality is fantastic.
The cake pans are heavy duty and baked evenly, and then clean-up was a snap—even after the cake batter overflowed!
A huge selection of items makes anyone who enjoys the kitchen look like a pro!
Disclosure: I received no monetary compensation for this post. I received the item mentioned in this post from the sponsor. The opinions are my own and were in no way influenced by the sponsor. Others' experiences may vary.
We appreciate your subscription to Mommy's Memorandum