I received Emile Noel's Virgin Hazelnut Oil to facilitate an honest review. All opinions are my own.
Oh, how we love Nutella at our house. Molten Chocolate Nutella Pudding Cakes have a fun surprise when you cut into the moist cake–a ooey-gooey, rich Nutella river of yum!
Recently we hosted a Nutella party, and we made these delicious Chocolate Nutella Pudding cakes for our guests. They were easy and wowed everyone with their taste and texture.
Try these Molten Caramel Cakes for even more delicious dessert craving!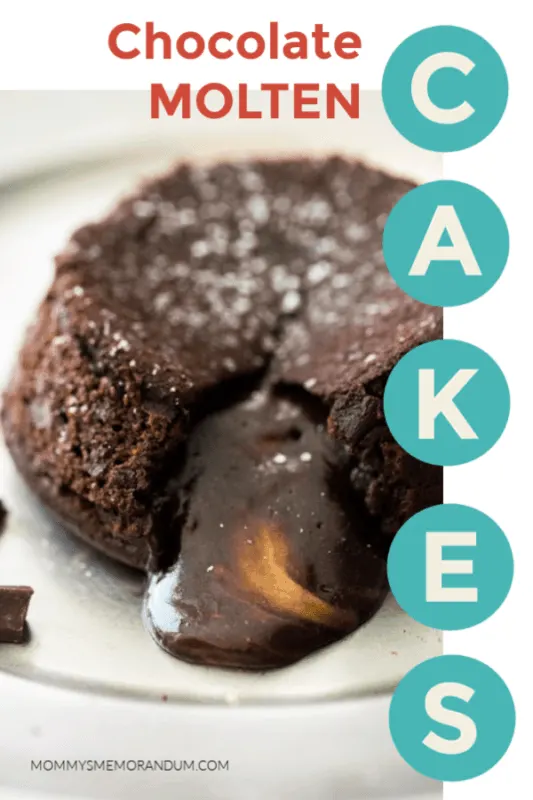 Molten Chocolate Nutella Pudding Cakes Ingredients
1/2 cup all-purpose flour
1/2 cup unsweetened cocoa
1/2 teaspoon baking powder
4 ounces semisweet chocolate, finely chopped
8 tablespoons (1 stick) unsalted butter, cut into pieces
4 large eggs
1 teaspoon vanilla extract
1 cup sugar
1/4 teaspoon salt
6 tablespoons Nutella
Hazelnut Oil (optional)
How to Make Molten Chocolate Nutella Pudding Cakes
1. Preheat oven to 350ºF. Mist 6 6-oz. Ramekins with cooking spray. Place a roasting pan in the oven; pour in 1/2 inch hot water. In a bowl, whisk flour, cocoa and baking powder.
2. Combine chocolate and butter in a microwave-safe bowl; cook on high, stirring once or twice, until almost melted, 1 to 2 minutes. Whisk until smooth.
3. In a medium-high speed bowl, with an electric mixer, beat eggs, vanilla, sugar and salt until pale yellow, about 5 minutes. Beat in the melted chocolate mixture. Stir in the flour mixture. Spoon half of the batter into ramekins. Drop 1 Tbsp. of Nutella into the center of each. Cover with remaining batter.
4. Transfer ramekins to a roasting pan. Bake until cakes have risen and are cracked on top, about 30 minutes. Let cool for 5 minutes.
5. Optional: Brush tops with Hazelnut Oil
Serve warm.
Review of Emile Noel's Virgin Hazelnut Oil
I used Emile Noel's Virgin Hazelnut Oil to brush the tops of the pudding cups, and it was a delicious addition to this recipe.
Most of the time I see Hazelnut oil as an ingredient in salad dressings. It's a tasty addition to many recipes. However, you should not cook with it.
Emile Noe's Hazelnut oil set from fair trade hazelnuts from Turkey. The hazelnuts are then ground and roasted. Finally, they are pressed in a hydraulic press to extract the delicate oil. One of the things that sets Emile Noel's apart is they use traditional presses that, unlike modern presses, allow the seeds to release their oil over low heat. This gives the seeds their own flavors.
Emile Noel is GMO-free and organic.
In addition to Virgin Hazelnut Oils, Emile Noel offers a variety of virgin oils, including sesame, toasted sesame, sunflower, pumpkin seed, walnut, macadamia nut, mild olive, and robust olive.
Find Emile Noel artisan oils in select Whole Foods Markets, Sprouts, and natural food stores nationwide and make a new recipe.
Nutritional Information
Calories:

560

Fat:

31g (sat 16g)

Protein:

9g

Carbohydrate:

68g

Fiber:

5g

Cholesterol:

183mg

Sodium:

178m