In Jessica Harlan's delightful cookbook, "Crazy for Breakfast Sandwiches," you'll find a creative twist on The King's favorite sandwiches, transforming them into a scrumptious breakfast delight. Let's embark on a journey to craft the iconic Elvis Breakfast Sandwich.
If you were asked Elvis Presley's favorite sandwich, the answer would be Peanut Butter and Banana; right? Sometimes, legend says, he added bacon. I mean, that seems a logical embellishment to pretty much everything. Protein, potassium, nutrients and whole grain bread. Sounds pretty amazing.n
Elvis' Breakfast Sandwich
The Elvis Breakfast Sandwich pays homage to the legendary Elvis Presley, who was famous for his love of peanut butter, bacon, and banana sandwiches. This recipe adds a morning twist to this classic, turning it into a delectable breakfast experience.
Prep Time: 15 minutes
Cooking Time: 25 minutes
Servings: Makes 1 mouthwatering sandwich
Ingredients:
2 slices of white bread, lightly toasted
2 tablespoons of peanut butter
4 slices of crispy bacon
1 banana, halved crosswise, and then sliced in half lengthwise
How to Make The Elvis Breakfast Sandwich:
Bacon Patty Weaving:
Preheat your oven to 400°F (200°C).
Line a baking sheet with aluminum foil and give it a gentle spray with cooking oil to prevent sticking.
Now, it's time for the bacon. Cut the bacon slices in half crosswise to create 8 shorter pieces.
Take two pieces of bacon and line them up on the baking sheet with their long edges touching.
Place two more bacon slices crosswise on top of the first two.
Begin weaving the slices into a simple lattice. Lift the end of one bottom piece of bacon to slide it under the end of the top piece, then repeat the same with the opposite ends of the other two pieces.
Repeat this process with the remaining four pieces of bacon to create a second bacon patty.
Baking the Bacon:
8. Bake these delicious bacon weaves for 20-25 minutes, or until they turn into crispy perfection.
Once done, line a plate with a paper towel and use a spatula to transfer the cooked bacon patties to the plate. Gently blot any excess oil with another paper towel.
Don't forget, you'll have one bacon patty left over; wrap it in aluminum foil and store it in the fridge for up to one day.
The Elvis Assembly:
11. Preheat your breakfast sandwich maker to get ready for the final steps.
Using a 4-inch cutter or a knife, cut the toasted bread into rounds that fit the sandwich maker.
Now, spread each round with a generous helping of creamy peanut butter.
Creating the Sandwich:
14. Place one bread round, peanut butter side up, in the bottom compartment of the heated sandwich maker.
Next, lay the bacon on top, allowing the savory aroma to waft through the air.
Lower the middle plate, preparing to unite these flavors.
Arrange the banana slices in the top compartment, creating a sweet contrast.
Finally, cover with the second bread round, peanut butter side down. Close the sandwich maker.
Cooking Time:
19. Cook your Elvis Breakfast Sandwich for 4 minutes, or until the banana is soft, and the peanut butter is delightfully gooey.
Carefully slide open the middle plate to assemble the sandwich and remove it from the sandwich maker.
Serve and Enjoy:
Your Elvis Breakfast Sandwich is now ready to be devoured. The perfect fusion of sweet and savory, it's a fitting tribute to the King of Rock 'n' Roll himself.
Expert Tips:
For extra decadence, drizzle a touch of honey over the banana slices before assembling your sandwich.
You can use whole wheat bread for a healthier twist without sacrificing the flavor.
Storage and Leftovers:
If you somehow end up with leftovers, refrigerate them in an airtight container. Reheat in a toaster oven for a warm and crispy experience.
FAQs for the Recipe:
Q1: Can I use crunchy peanut butter instead of creamy? A1: Absolutely, it'll add a delightful crunch to your sandwich.
Q2: Can I make the bacon weaves in advance? A2: While it's best to enjoy the bacon fresh, you can partially cook them and finish in the oven before assembling the sandwich.
Enjoy this recipe?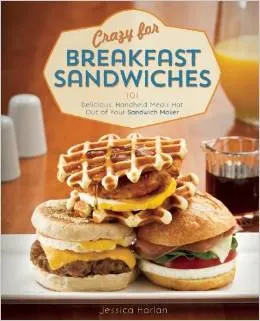 You'll love Crazy for Breakfast Sandwiches: 75 Delicious, Handheld Meals Hot Out of Your Sandwich Maker
by Jessica Harlan. This new cookbook offers handheld meals you make in minutes with a sandwich maker.
The book offers classic and healthy to creative and gourmet sandwiches for any meal of the day.
Recipes include:
Bacon, Egg and Cheese Bagel
Breakfast Pizza
Monte Cristo with Raspberry Sauce
Patty Melt
S'Mores Toast
Apple Pie Donut Sandwich
Chicken and Waffles
and more!
I love the book and the creativity of sandwiches is impressive. I do wish the book offered photos.
Alternate Names for the Recipe:
The King's Morning Feast
Elvis Presley's Breakfast Bliss
The Peanut Butter & Banana Tribute
This book would make a great offering to a college student, an addition in an office breakroom, limited kitchen areas and any home.