Today's Best Recipe is Pistachio Cranberry Sauce. It's easy to make and a great addition to the holiday season–Thanksgiving, I'm talking to you. This pistachio cranberry sauce is something you'll want all year, and it's gluten-free, vegan, and delicious.
November 23 is National Cranberry day.
To help celebrate such a delicious day, Heather Goldberg and Jenny Engel of
Spork Foods
share their delicious, easy Pistachio Cranberry sauce recipe.
Tart and sweet cranberries bursting into an incredible sauce with roasted pistachios for a tasty crunch.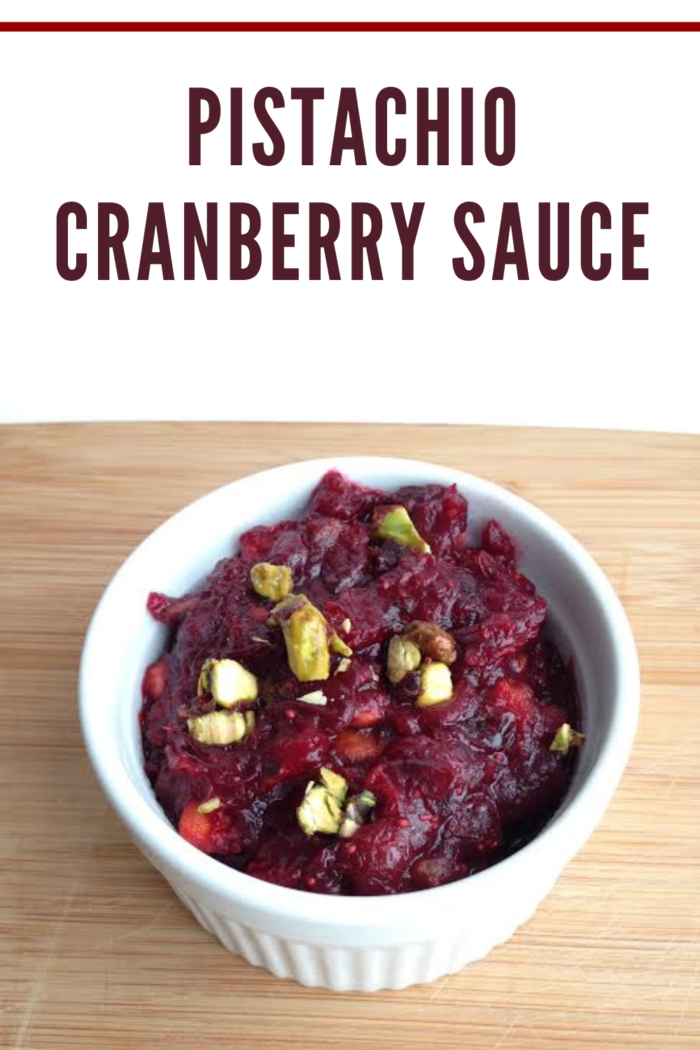 Ingredients
3/4 cups water
1/2 cup packed organic brown sugar*
1 large cinnamon stick
10 oz fresh or frozen organic cranberries (2 1/2 cups)
1 tablespoon fresh lemon juice and zest of 1/2 lemon
Dash sea salt
1/4 cup Setton Farms roasted, shelled Pistachio Kernels (roughly chopped)*
2 tablespoons dried cranberries*
How to Make Pistachio Cranberry Sauce
Heat a 2-quart sauce pot and add water and brown sugar. Bring to a simmer over medium heat and add cinnamon stick, fresh or frozen cranberries, lemon juice and zest, and sea salt. Stir to incorporate all ingredients.
Simmer covered until berries burst and sauce thickens, occasionally stirring, about 10 minutes. Remove the cinnamon stick and add in diced pistachios and dried cranberries. Cook for about 1-2 minutes uncovered and remove from heat.
Serve warm or allow to cool, then refrigerate sauce overnight.
Pistachio cranberry sauce can be made up to 3 days ahead.
Notes
*To make the dish faster, use 1/3 cup packed organic brown sugar and substitute pistachios and dried cranberries with four diced Setton Farms Pistachio Chewy Bites.
About the Chefs
L.A.-based sisters and celebrity chefs Heather Goldberg and Jenny Engel of Spork Foods are vegan chefs that own a Los Angeles-based gourmet cooking school. The culinary duo are also cookbook authors and work with some of Hollywood's elite, including Emily and Zooey Deschanel, Kristen Bell and Dax Shepard, Kristin Bauer van Straten, and Alicia Silverstone.