Carolyn Haeler, a dedicated celiac sufferer, embarked on a mission to create gluten-free cookies after facing disappointment with commercial options. Her determination led to the establishment of MIGHTYLICIOUS GF cookie company, offering a range of 7 delicious gluten-free varieties. In this recipe, we showcase the delectable Gluten-Free Pumpkin Pie with a Brown Butter Shortbread Crust using Mightylicious cookies.
Gluten-Free Pumpkin Pie with a Brown Butter Shortbread Crust
Prep Time: 30 minutes
Cooking Time: 40 minutes
Servings: 8
Ingredients:
Brown Butter Shortbread Cookie Pie Crust:
10 ounces (283.5 g) Mightylicious Brown Butter Shortbread Cookies
7 tablespoons unsalted butter, melted
¼ cup (50 g) granulated sugar
Pumpkin Pie Filling:
11 ounces (308 g) canned pure pumpkin puree
3 eggs at room temperature
10 fluid ounces (296.6 ml) evaporated milk or heavy whipping cream
3 tablespoons (42 g) unsalted butter (melted and cooled)
½ cup (100 g) packed light brown sugar
½ cup (100 g) granulated sugar
½ teaspoon kosher salt
2 teaspoons pumpkin pie spice
2 tablespoons (18 g) gluten-free flour blend
Equipment:
9″ pie plate
Stand or hand-mixer
Wooden spoon
Food processor or rolling pin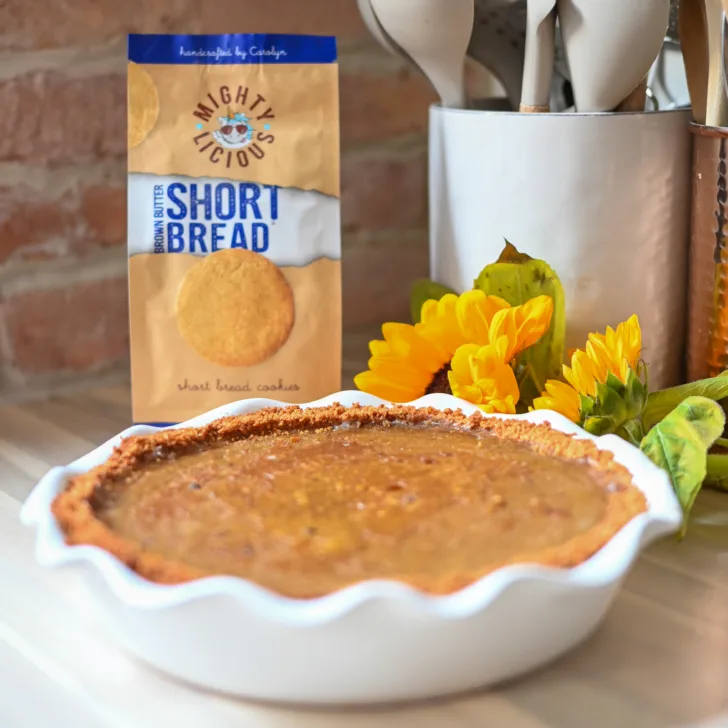 How to Make Gluten-Free Pumpkin Pie with a Brown Butter Shortbread Crust using Mightylicious cookies
Prepare the Pie Crust:
Preheat the oven to 350°F (175°C).
In a food processor, pulse Mightylicious cookies and sugar until a sandy texture is achieved. Alternatively, crush cookies in a zip-lock bag using a rolling pin.
In a large bowl, combine the cookie crumb mixture with melted butter, stirring until incorporated.
Press the mixture into a 9″ pie plate, creating an even layer on the bottom and sides.
Bake for 8 minutes at 350°F and allow to cool.
Prepare Pumpkin Pie:
Preheat the oven to 375°F (190°C).
In a large bowl, whisk together pumpkin puree, eggs, evaporated milk (or cream), and melted butter until smooth.
Add brown sugar, granulated sugar, salt, pumpkin pie spice, and flour to the bowl, whisking after each addition.
Pour the filling into the prepared pie crust and smooth into an even layer.
Bake for 15 minutes at 375°F, then reduce the oven heat to 350°F and bake for an additional 25 minutes.
The pie is done when the edges are set, and the center jiggles slightly. Adjust baking time if needed.
Remove from the oven and cool at room temperature.
Chill in the refrigerator for 1-2 hours to set the custard.
Prior to serving, let the pie reach room temperature for at least 30 minutes. Top with whipped cream and enjoy!
Expert Tips:
For a richer crust, add a pinch of cinnamon or nutmeg to the cookie mixture.
Experiment with Mightylicious cookie varieties for unique crust flavors.
Customize the pie by adjusting sugar and spice levels to taste.
FAQs:
Q: Can I use a different gluten-free flour blend? A: Yes, feel free to substitute with your preferred gluten-free flour blend.
Q: Can I make the pie in advance? A: Absolutely! Prepare the pie a day ahead and refrigerate until serving.
About Mightylicious Cookies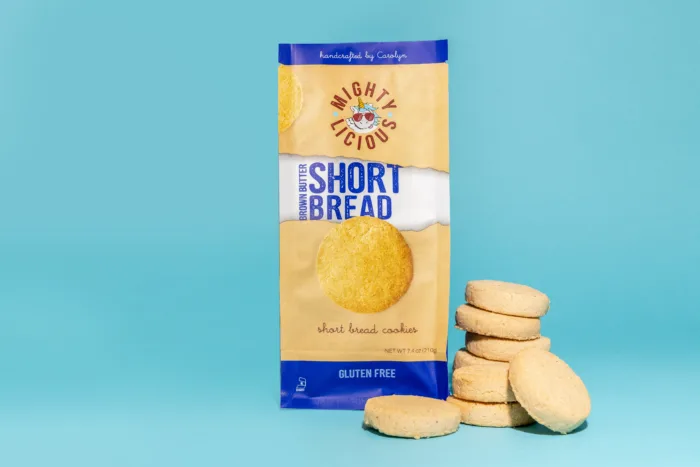 Do you believe that opting for gluten-free means sacrificing flavor? Think again. A sensational newcomer is making waves in the snack scene. Meet Mightylicious, the meticulously hand-crafted cookie that redefines expectations, boasting incredible flavor, impeccable texture, and wholesome ingredients—everything you crave in a cookie, minus the gluten.
These soft-baked delights are completely devoid of gluten, wheat, rye, barley, and RBST. Crafted from all-natural, non-GMO ingredients, the entire Mightylicious lineup is kosher-certified. Just in time for the festive season, Mightylicious generously shares its delightful Gluten-Free Pumpkin Pie recipe, featuring the Brown Butter Shortbread cookie as a spectacular GF crust. Rest assured, this creation is bound to delight your guests, whether or not they adhere to a gluten-free lifestyle.