The Ultimate Peanut Butter Cookies Recipe: Unleash Pure Delight in Every Bite!
Calling all cookie connoisseurs and peanut butter enthusiasts! Get ready to embark on a delectable journey of flavors that will redefine your cookie experience. Introducing the "Best Ever" Peanut Butter Cookies, a sensational recipe crafted to perfection, sure to leave your taste buds dancing with joy.
Whether you're a seasoned baker or a novice in the kitchen, this recipe promises to be your ticket to cookie paradise. Each golden, crumbly bite offers a symphony of nutty richness and a hint of sweetness, creating a harmonious blend that's hard to resist.
Our secret lies in the careful selection of premium ingredients, and the precise combination of them all. The velvety smoothness of creamy peanut butter, the subtle nutty crunch of chopped peanuts, the tantalizing aroma of vanilla extract, and the perfect balance of sugar – all expertly melded to create a cookie that's truly exceptional.
But that's not all; these cookies boast an irresistibly soft and chewy center, encased in a slightly crispy edge that adds a delightful contrast in texture. Whether you enjoy them with a glass of cold milk, as an afternoon pick-me-up, or as a sweet treat after dinner, these cookies will leave an indelible mark on your taste buds and become an instant favorite.
The "Best Ever" Peanut Butter Cookies recipe is not just a set of instructions; it's a promise of a heartwarming experience shared with family and friends. So, gather your baking essentials, preheat that oven, and let the aroma of warm peanut butter fill your home as you bake your way to cookie bliss.
Get ready to delight in each heavenly bite, as these Peanut Butter Cookies will undoubtedly elevate your cookie game to a whole new level. Don't wait any longer – let's embark on this mouthwatering adventure together!
These easy peanut butter cookies are one of my family's favorites. We think they are the best peanut butter cookies with a perfect texture and the flavor of these cookies is for all peanut butter lovers. We prefer the smooth texture of creamy peanut butter, but you can use crunchy peanut butter (any peanut butter) and still have perfect peanut butter cookies.
Natural peanut butter works too–make sure you whip it before adding.
You might also light this peanut butter chocolate chip cookie recipe. This Peanut Butter Cookie recipe is from my dear friend, Melissa. She is incredibly sweet and so creative. I am so fortunate to have a group of women I call friends.I have met two of these women face to face, and the other three, or four, remain in our Facebook Group as women to meet. We are close. It's a group of women who share many of the same opinions and passions–including baking.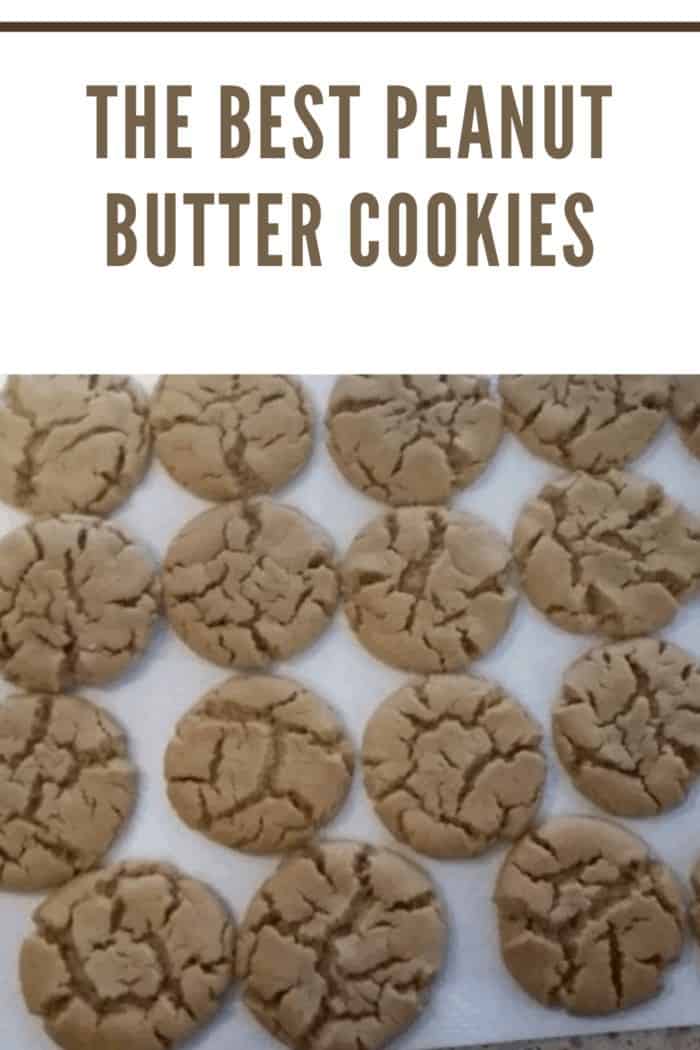 The Best Ever Peanut Butter Cookies
Servings: 24 cookies Prep Time: 15 minutes Baking Time: 9-11 minutes per batch Total Time: Approximately 30 minutes
Ingredients:
1-1/4 cups all-purpose flour
3/4 teaspoon baking soda
3/4 teaspoon salt
1/2 cup unsalted butter, at room temperature
1/2 cup creamy peanut butter*
1/2 cup granulated sugar
1/2 cup packed light brown sugar
1 egg, at room temperature
1/2 teaspoon vanilla extract
Directions:
Preheat your oven to 375 degrees F (190 degrees C). You can line your cookie sheet with parchment paper for easy cleanup, but it's not necessary.
In a medium bowl, combine the all-purpose flour, baking soda, and salt. Whisk together until you have a well-blended flour mixture.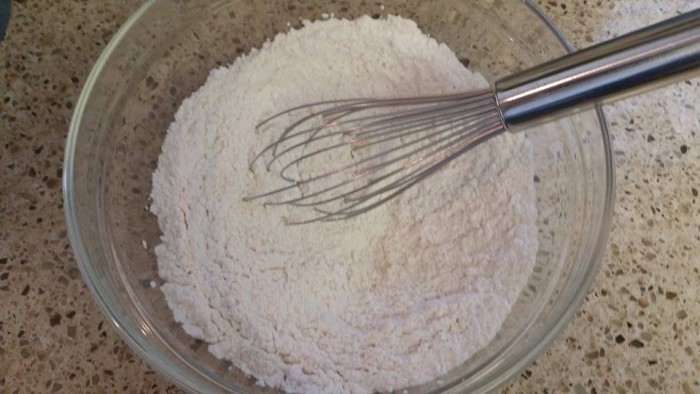 In a large mixing bowl, cream the butter for about 30 seconds using an electric mixer until it becomes smooth.
Add the creamy peanut butter, granulated sugar, and packed light brown sugar to the butter. Beat the mixture until it becomes fluffy and well combined.
Add the egg and vanilla extract to the wet ingredients and beat until everything is well incorporated.
Gradually add the dry ingredients to the wet mixture a few spoonfuls at a time. Beat until the flour mixture is fully integrated. Be sure to scrape the sides of the bowl after each addition to ensure even distribution.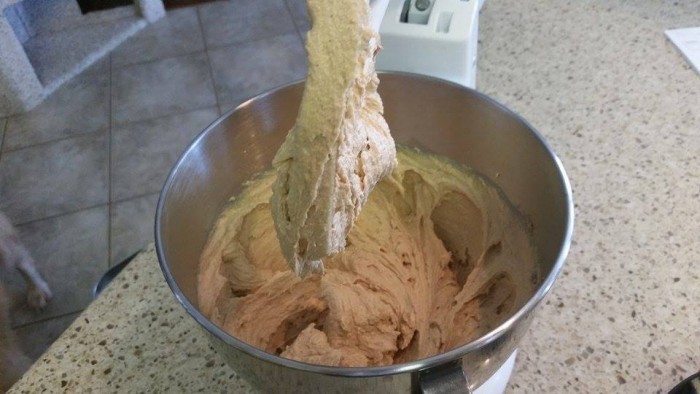 Shape the cookie dough into walnut-sized balls, approximately 1 inch in diameter, and place them on the prepared cookie sheet. You can use the back of a fork or your finger to gently press down on each ball, creating a criss-cross pattern.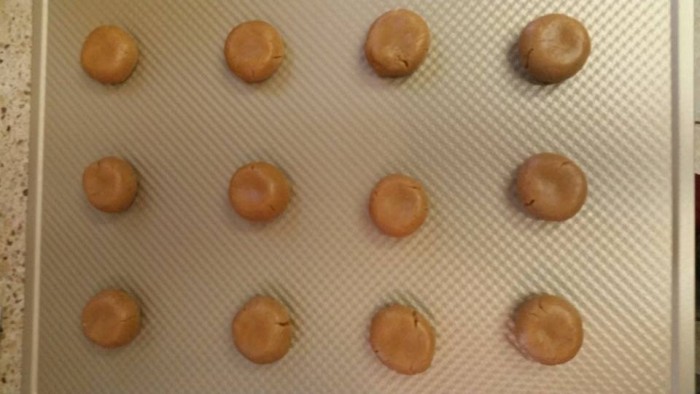 Bake the cookies at 375 degrees F for 9 to 11 minutes or until you see cracks appearing on the surface. Avoid overbaking as it can result in hard cookies rather than soft and chewy ones. Your first batch might need a few extra minutes, so keep an eye on them.
Allow the cookies to cool on the pan for a few minutes before transferring them to a wire rack or paper towel to cool completely.
Once completely cooled, store the cookies in an airtight container to preserve their freshness.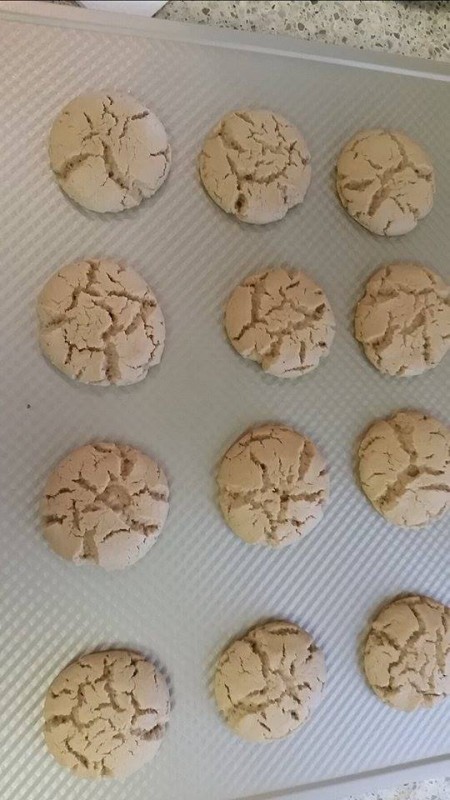 Tips:
These peanut butter cookies can be easily doubled to make more batches for larger gatherings or events.
If you want to prepare ahead of time, you can freeze the cookie dough. Roll the dough into the desired size (gently pressed) by the dozen, place it in freezer bags, and freeze. When ready to bake, simply place the frozen dough on a prepared cookie sheet and bake as directed.
Prepare yourself for a peanut buttery delight that will keep you coming back for more. Share these irresistible cookies with your loved ones, or indulge in them all by yourself. With their soft, chewy texture and nutty goodness, these Best Ever Peanut Butter Cookies are sure to become a favorite treat in your household. Enjoy!
*Since making the best peanut butter will enhance the taste and quality of your cookies, you should check out this article on how to make peanut butter (it's not as hard as you might think!) at ChewTheWorld.com
Frequently Asked Questions (FAQs) for the Best Ever Peanut Butter Cookies Recipe:
1. Can I use crunchy peanut butter instead of creamy? Absolutely! If you prefer a bit of crunch in your cookies, go ahead and use crunchy peanut butter. The recipe will work just as well with either creamy or crunchy peanut butter.
2. Can I use salted butter in this recipe? Yes, you can use salted butter instead of unsalted butter. Just keep in mind that using salted butter will add a little extra saltiness to the cookies. Adjust the salt in the recipe accordingly, reducing it slightly if you're using salted butter.
3. How should I store the baked cookies? To keep your cookies fresh and maintain their softness, store them in an airtight container at room temperature. They should stay delicious for up to a week. If you want to extend their shelf life, you can freeze them for up to three months in an airtight container or freezer bag.
4. Can I make the cookie dough ahead of time and refrigerate it? Yes, you can prepare the cookie dough ahead of time and refrigerate it. Wrap the dough tightly in plastic wrap or keep it in an airtight container, then refrigerate for up to 24-48 hours. This allows the flavors to meld, resulting in even more delicious cookies. Remember to let the dough come to room temperature before baking.
5. How do I achieve the perfect balance between a soft center and slightly crispy edges? The key to achieving the perfect texture is the baking time. For soft and chewy centers with slightly crispy edges, bake the cookies for 9 to 11 minutes at 375 degrees F (190 degrees C). Keep a close eye on them, as baking times can vary based on your oven and cookie size.
6. Can I add chocolate chips or other mix-ins to the dough? Absolutely! This recipe serves as a fantastic base for experimentation. You can add chocolate chips, chopped nuts, or even raisins to the dough for additional flavor and texture.
7. How can I ensure my cookies don't spread too much during baking? If you find that your cookies are spreading too much, try chilling the cookie dough for about 30 minutes to an hour before baking. Chilled dough tends to spread less during baking, resulting in thicker cookies.
8. Can I use natural peanut butter instead of regular peanut butter? Yes, you can use natural peanut butter in this recipe. However, keep in mind that natural peanut butter can have a different texture and consistency due to the absence of stabilizers. This may affect the final outcome of the cookies.
9. Can I substitute the all-purpose flour with gluten-free flour? Yes, you can try using a gluten-free flour blend as a substitute for all-purpose flour. However, be aware that different gluten-free flours have varying properties, and the texture and taste of the cookies may differ slightly from the original recipe.
10. Can I use a hand mixer instead of an electric mixer? Certainly! While an electric mixer makes the process faster and easier, a hand mixer will work just fine. Be sure to beat the ingredients thoroughly to achieve a fluffy peanut butter mixture.
Enjoy baking these Best Ever Peanut Butter Cookies, and feel free to experiment and make them your own!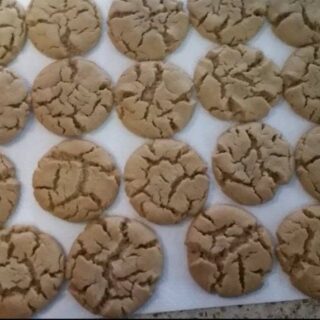 Peanut Butter Cookies (the best ever!) #Recipe
These Peanut Butter Cookies are the best ever. All the peanut butter flavor tucked in a chewy, soft peanut butter cookie. It's an easy recipe you'll add to your recipe rotation.
Ingredients
1- 1/4 c flour
3/4 tsp baking soda
3/4 tsp salt
1/2 c butter (room temperature)
1/2 c peanut butter
1/2 c sugar
1/2 c packed light brown sugar
1 egg (room temperature)
1/2 tsp vanilla
Instructions
Whisk together flour, baking soda & salt.
In mixing bowl beat butter for 30 seconds.
Add peanut butter and sugars, beat until fluffy.
Add egg & vanilla, beat well.
Add dry ingredients a few spoonful's at a time, beat till well combined.
Shape into walnut size balls and flatten a little bit with your finger. (disposable kitchen food safe gloves make this step much easier)
Bake 375 for 9-11 minutes, just a bit after you see the cracks appear.
Cook a few minutes on the pan before allowing them to cool completely on paper towels.
This recipe is easily doubled and freezes well.
Nutrition Information:
Yield:

24
Serving Size:

1
Amount Per Serving:
Calories:

104
Total Fat:

7g
Saturated Fat:

3g
Trans Fat:

0g
Unsaturated Fat:

3g
Cholesterol:

18mg
Sodium:

172mg
Carbohydrates:

10g
Fiber:

0g
Sugar:

8g
Protein:

2g
The Nutritional Information may not be accurate.