I keep this Peanut Butter Chocolate Chip cookies recipe close at all times. Out of the oven, warm–they are my guilty pleasure. More of a chocolate chip cookie texture than peanut butter cookies; these cookies are the best of both worlds.
Make a batch for yourself, I'm sure you'll agree.
All things in moderation. I make the full batch, bake a dozen and roll the rest of the dough into cookie balls and freeze so I can treat my family to warm cookies on a whim.
I am also telling you a secret because my mom didn't tell me, parchment paper. It's the secret to beautiful cookies!
You may also like these Chewy Delicious Cut-Out Sugar Cookies.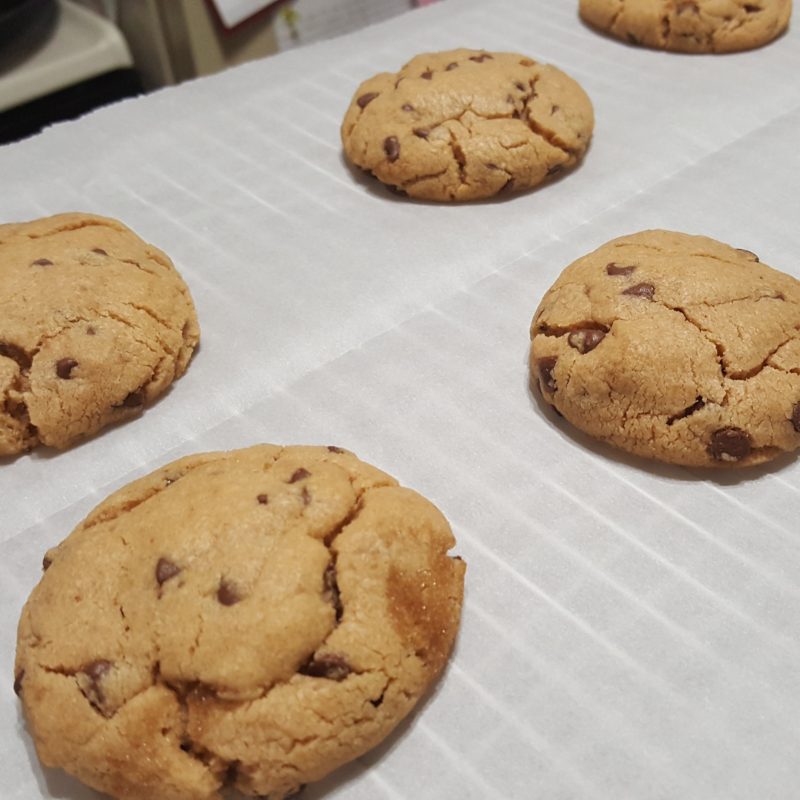 Peanut Butter Chocolate Chip Cookies Recipe Ingredients:
1 cup butter, at room temperature
1 cup creamy peanut butter (no skimping here with low-fat)
1/2 tsp vanilla
1 cup sugar
1 cup brown sugar, packed
2  eggs
2 cups all-purpose flour
1 tsp baking soda
2 cups semi-sweet chocolate chips
Peanut Butter Chocolate Chip Cookies Recipe Directions:
Preheat oven to 325 degrees F.
Line a cookie sheet with parchment paper. If you are making more than one dozen you can have a second cookie sheet lined for easy rotation.
Cream butter until smooth.
Add peanut butter and both sugars and beat until fluffy.
Add eggs one at a time and beat well after each egg is added.
Stir in flour (I do this in small measurements until all flour is added)
Add baking soda gradually until well combined.
Fold in chocolate chips by hand.
I weigh my cookie dough (38 grams per cookie), but if you aren't obsessive, a tablespoon works.
Place cookie dough 2-inches a part on parchment paper.
Bake for 15 minutes or until cookies are just firm around the edges, They are not going to look done, but it's okay! Remove them anyway.
Slide parchment sheet, with cookies, carefully off the cookie sheet and onto a cooling rack (or counter)
If you're baking multiple dozens, it's time to put the next dozen in.
If you bake more than 3 dozen, you can shake the crumbs off the used parchment paper and reuse for the next batch
We eat ours 'til they are gone, but they will keep a few days in an air-tight container.
*Makes approximately 36 cookies.
Peanut Butter Chocolate Chip Cookies #Recipe
Ingredients
1 cup butter, at room temperature
1 cup creamy peanut butter (no skimping here with low-fat)
½ tsp vanilla
1 cup sugar
1 cup brown sugar, packed
2  eggs
2 cups all-purpose flour
1 tsp baking soda
2 cups semi-sweet chocolate chips
Directions
Preheat oven to 325 degrees F.
Line a cookie sheet with parchment paper. If you are making more than one dozen you can have a second cookie sheet lined for easy rotation.
Cream butter until smooth.
Add peanut butter and both sugars and beat until fluffy.
Add eggs one at a time and beat well after each egg is added.
Stir in flour (I do this in small measurements until all flour is added)
Add baking soda gradually until well combined.
Fold in chocolate chips by hand.
I weigh my cookie dough (38 grams per cookie), but if you aren't obsessive, a tablespoon works.
Place cookie dough 2-inches a part on parchment paper.
Bake for 15 minutes or until cookies are just firm around the edges, They are not going to look done, but it's okay! Remove them anyway.
Slide parchment sheet, with cookies, carefully off cookie sheet and onto cooling rack (or counter)
If you're baking multiple dozens, it's time to put the next dozen in.
If you bake more than 3 dozen, you can shake the crumbs off the used parchment paper and reuse for the next batch
We eat ours 'til they are gone, but they will keep a few days in an air-tight container.
*Makes approximately 36 cookies