We received Naked Nutrition Naked Keto for this review. All opinions remain our own.
KETO is always trending, and Naked Keto is making eating cleaner much easier and tastier.
The KETO diet has so many positives; look on social media at the weight loss stories of those who committed to the lifestyle of eating a high protein, low carb diet, like KETO.
Naked Nutrition offers a delicious supplement for meal replacement or in-between to help keep you on track without sacrificing variety.
I love the company's name because it truly describes its always-naked ingredients.
You'll find two primary ingredients in this keto fat bomb supplement: powdered sunflower oil and powdered MCT oil.
These two ingredients are a powerhouse of fuel.
Sunflower Oil powder helps support and build lean muscle, preserve muscle mass, and reduce body fat. The fatty acid content in sunflower oil helps maintain a balance in your body. It does not contain any saturated fats, which help in controlling the cholesterol levels in your body. While saturated fats can make you feel lethargic, unsaturated fats energize you. The help the discharge of glycogen, a type of sugar that provides an extra boost of energy, into the bloodstream from the liver.
MCT Oil Powder helps aid the process of excess calorie burning, which results in weight loss. MCT Oil makes it easier to stay in ketosis because it provides a quick source of ketones (which can also help with avoiding the Keto flu!). MCTs appear to induce thermogenesis, or heat generation in the body, helping dieters burn fat and reduce weight.
Because naked ingredients matter to them, they only use premium ingredients for the best quality product, and it's made right here in the United States.
This meal replacement is so quick and convenient.
Naked KETO is a delicious supplement that can be mixed with water.
The serving suggestion is 2 rounded scoopfuls to 16-24 ounces of water or your favorite beverage.
I think it tastes great in my morning coffee—sort of like creamer—just a teaspoon or two will do you! I find it best to use my blend jet to mix a bit of coffee with the Naked Keto for a light, fluffy foam.
It is actually tasteless.
I also love making Keto Bombs with the powder.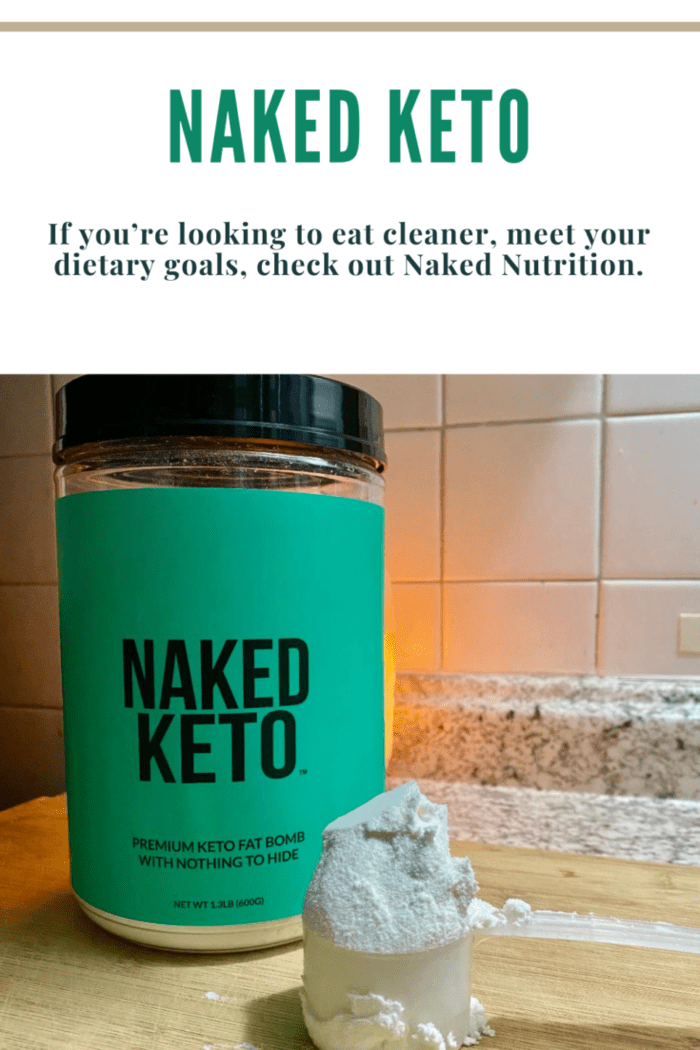 My favorite KETO Bomb recipe is:
• 2 tablespoons (50 g) peanut butter
• ¾ cup (60 g) Naked Keto
Mix it all together, and shape it into 8 equal size balls.
You can add your choice of sweetener or things like coconut, mini chocolate chips, oats, or whatever.
They are a great dessert or on-the-go snack.
They keep for up to five days in the refrigerator.
I put them in the freezer for a frozen peanut butter snack.
You can also use the powder in for Kodiak cakes protein balls.
Healthy fats are necessary for your body to use as energy.
Naked Keto ensures that only the best healthy fats are added.
One serving of this delicious Naked Keto offers 30 grams of healthy fat, 1 gram of net carbs, 0 grams of sugar, and just 260 calories.
Naked Keto is a convenient way to meet your diet goals and support a low-carb or Keto lifestyle, fuel your body with healthy fats.
It's a vegetarian supplement with no GMOs, soy, artificial sweeteners, flavors, or colors.
It fills me up, and I find new ways to utilize it beyond adding it to my favorite beverage.
If you're looking to eat cleaner, and meet your dietary goals, check out Naked Nutrition.
They offer a wide assortment of products and supplements.
Naked Keto Fat Bomb Supplement comes in three crave-worthy flavors (unflavored, vanilla, and chocolate) and can be purchased directly from Naked Nutrition at the following link: https://nkdnutrition.com/products/keto-fat-bomb-supplement.
The manufacturer's Suggested Retail for Nake Keto Fat Bomb Supplement is $39.99; however, a subscription opt-in will put some savings in your pocket.