We all love decorating our rooms and on top of that giving them a personal touch. Something that complements our personality and thought process. But putting up paints can be a hectic job and more so for someone who changes them frequently to suit their mood. That is where pick and peel wallpaper comes to the rescue, shares Love vs Design.
Wallpapers have done rounds when it comes to interior decoration for a long time. But they were almost considered taboo because they deviated completely from the traditional way of painting and decorating your room. Along with that they also deviated from the traditional combinations of colors that are typically seen in houses, with their wide array of designs and patterns.
Traditional Wallpapers.
Traditional wallpapers are the ones that don't come with inbuilt adhesive. One has to use an adhesive that needs to be soaked and applied to the walls where you are going to put up the wallpapers.
And in all honesty, traditional wallpapers are quite hard to put on and remove. I am saying this because more often than not when you remove these wallpapers, they leave a mark. As such they get damaged and their destination after removal is the garbage bin. This is because these wallpapers are manufactured to be put up in places with high traffic. So, they are basically for the ones who want to put up one single wallpaper and have it there for years on end. Though, from a more technical point of view, the traditional non-woven wallpapers were always sustainable and environment-friendly.
Non-woven means that the backing of the wallpapers was made by combining synthetic and natural fibers. This reduces the risk of molds and prevents the product from contracting or expanding in response to different conditions. The design also makes it possible to use damp cloths to clean the wallpapers.
But because of the difficulty in removing them, people have never been a fan of the traditional wallpapers.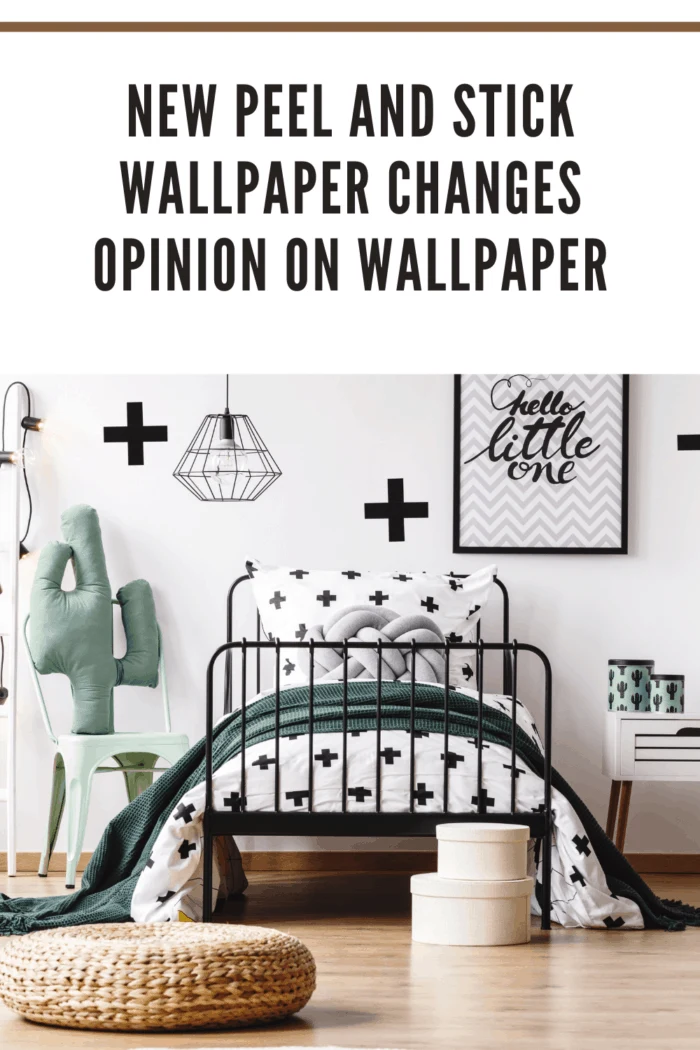 What about Peel and Stick wallpapers?
Without a doubt, removable peel and stick wallpapers are made for people who are finicky about their home interiors (like me). More so for the ones that want their rooms to go along with either the phase they are going through or the seasons (most likely the latter). This is because of the ease of putting them up and pulling them down. Generally, because of their ease of use.
Peel and stick wallpapers come with a sticky back. That is, they come with adhesive. So, all you need to do for installation is get your measurements right, cut the wallpaper up accordingly, and paste it to the wall. That's it, your job is done. And if you think you made a mistake or it got wrinkled while being put up, you can easily peel it off and put it on correctly again. Installing these wallpapers takes less time too as is apparent. This makes it a popular choice of decoration among college peeps too, as they get to decorate their dorm walls without doing anything permanent to the property.
These wallpapers are also very easy to clean. But remember never to use a damp cloth on them as water can damage them by permeating through and damaging the adhesive. This is one con of peel and stick wallpapers though negligible and does not make much of a difference.
You can use any of the following methods to clean them:
vacuum cleaners and wipes.
broom and dry clothes.
Using wallpaper dough. Wallpaper dough can be found at many outlets that sell paints and home decor items. Knead it and put it on the wallpaper. The dough will collect the dust particles off the surface of the wallpaper.
Another DIY option for the same is to use a fresh piece of white bread and cornstarch and press it on the wallpaper.
Conclusion.
If you have stayed with me up till now you can already guess why I love these pick and peel wallpapers. They are way easier to install than traditional ones and also these wallpapers come with the added benefit of having numerous designs to suit any kind of theme. They can be shaped and fitted to any kind of wall or place with very little effort.