Magnesium and Calcium seem to be fundamental nutrients that help our bodies function in good health. From headaches to constipation; someone, somewhere is tooting magnesium and calcium as the cure-all. I've recently started taking Natural Calm. I'm creeping into my mid-forties and my stress level is elevating to proportions that are wearing me down.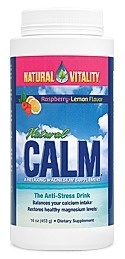 Natural Calm reduces stress naturally. Without the balance between calcium and magnesium our inability to quickly recover from stress can be added stress. In the past ten years I have watch two family members fall victim to calcium deficiency. Of course the reaction is to increase calcium intake, however, too much calcium can be a bad thing. The National Institutes of Health, Office of Dietary Supplements, recommends 1,000 mg for adults 19-50 years of age. An 8oz. container of low-fat yogurt with fruit contains approximately 345 mg of calcium. One cup of non-fat milk contains 306 mgs. Too much calcium can end up in the soft tissues of the body where it deposits and calcifies or in the urine where it may become painful kidney stones.
Magnesium is a nutrient most of us fall short on. Whether this is because the required amount the body requires is greater than we believe or because of stresses on the body like emotional stress, diuretics or too much calcium.
With Natural Calm, the solution is to restore a healthy magnesium level and balance the calcium intake creating Natural Stress relief It features a proprietary formula which provides a highly absorbable, water-soluble magnesium element to easily bond with water so it's ready to go to work right away.
Natural Calm is available in a variety of flavors and can be mixed in both warm and cold drinks. Three heaping teaspoons each night 30-60 minutes before bed. Raspberry Lemon Flavor tastes great.
Purchase Natural Calm on Amazon or most retailers of natural products.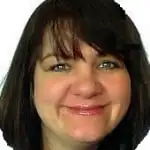 Julee is a quirky, dorky, North Carolina Transplant with an appetite to taste the world, meets its desserts and blog about them. When she's not behind the computer you can find her playing with her family, reading a good book, being a Bon Jovi fangirl and celebrating the little things.
Disclosure of Material Connection: I received one or more of the products or services mentioned above for free in the hope that I would mention it on my blog. Regardless, I only recommend products or services I use personally and believe will be good for my readers. I am disclosing this in accordance with the Federal Trade Commission's 16 CFR, Part 255: "Guides Concerning the Use of Endorsements and Testimonials in Advertising.".Julee Morrison