Are you looking for a unique way to celebrate your motherhood and your children? Trending among celebrities these days are name necklaces with their kids' names on them. Whether you are a mom-to-be celebrating your first child or a beaming momma of many, nameplates and a personalized necklace with kids names are the perfect token of your love.
In one interview that actress Blake Lively gave, she was photographed wearing a simple yet elegant necklace sporting her baby James' name. And Blake is not alone in doing so. Other famous stars such as Gwyneth Paltrow, who wears a handcrafted necklace with her two children's names on it, and Katie Holmes, who sports her daughter Suri's initials on her pendant, Beyonce, Kim Kardashian all have joined the trend.
Personalized jewelry is timeless and simply gorgeous.
Luckily, these personalized jewelry pieces are easy to find.
What are the advantages of getting name necklaces for your kids?
Name necklaces make for beautiful and meaningful jewelry.
As a woman, you most likely own quite a few pieces of jewelry. You have beautiful earrings and rings to wear for a variety of occasions. There are more possibilities with necklaces, however. In addition to the classic pearl strands or precious gems as pendants, adding name necklaces in different designs to your collection would be meaningful and unique to you alone.
Name necklaces come in a variety of designs, such as:
A classic gold necklace with your baby's name written in script.
A multilayered necklace with each strand featuring every child's name.
A double-layered name necklace that features your child's birthstone as a pendant of one strand.
Your child's name is inscribed in another language such as Japanese, Chinese, or even Hebrew.
Your name necklace will not only be a beautiful accent to your attire; it can be a good conversation piece, too.
Style icon Kim Kardashian wears a tiny gold nameplate necklace with her daughter Nori's name engraved on the nameplate.
Kim sported this classy and straightforward necklace at a Paris Fashion Week event she attended.
It's a basic neckpiece that gives a statement.
Your motherhood is honored by these personalized name necklaces.
Becoming a mother is a rite of passage.
It's not easy to be one.
Wearing a personalized necklace with your child's name on it is your badge of honor.
You've earned the distinction of being a mom.
You deserve a beautiful name necklace as a testimony.
Feel free to reward yourself with a name necklace for each of your children.
You may vary the designs or change the gems you want to accent your necklace.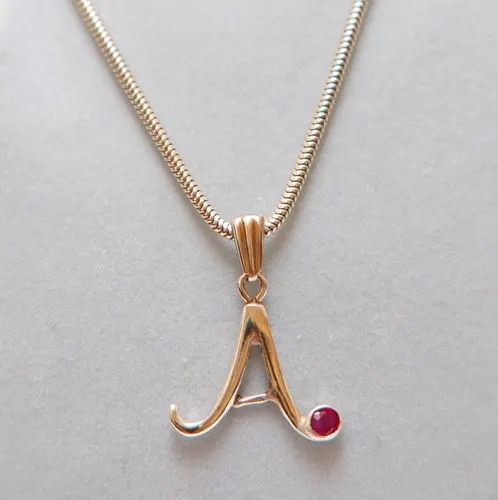 The name necklace makes your child feel special and loved.
Even if you're wearing the name necklace, you also honor your child when you wear his name on your jewelry.
Without having to say so, you're telling your child, "I value you."
What a very empowering and beautiful message!
Charlize Theron, an adoptive mother, wears the letter J as a dainty pendant, which stands for her adopted son's name, Jackson.
Name necklaces make for a beautiful gift not only for yourself but for other mothers as well.
Did your best friend give birth, and do you want to congratulate her?
A beautiful name necklace would be a precious gift.
Or you may provide it as a "push gift" to a sister or friend who's about to give birth.
Giving a name necklace can do wonders to encourage a new mom or to honor her.
According to Vanity Fair, When Princess Kate Middleton gave birth to her firstborn, Prince George, her sister Pippa gave Kate a gold name necklace with three charms on it–a tiny gold heart with the letter W on it to stand for Prince William, a gold disc in the middle with baby George's full name in cursive, and a charm in the shape of a small boy – whimsical and pretty!
In the future, your name necklace may be given to your grown child as a lovely sendoff or milestone gift.
When your daughter goes off to university or gets married, you may give her the name necklace with her name on it as an heirloom gift.
Think of it as a symbol of protecting your child with your motherhood and love.
Name necklaces hold multiple layers of meaning, especially the ones that have the names of your babies.
The most convenient way to get started on your collection is to shop on the web.
You will be surprised at the many jewelry designs you can choose from to accessorize and personalize your outfits.
And who says you can only have one name necklace?
Celebrity Kourtney Kardashian owns several name necklaces that feature the initials or names of her babies, which she then mixes and matches with her outfit or the occasion.
Go ahead and celebrate your motherhood!