You'll discover more than wax melts and warmers with Scentsy. We love the new Scentsy Soak in Shimmer, Blue Grotto, and Pineapple Coconut Vanilla.
They're formulated with pink Himalayan and Epsom salts, premium moisturizers, and exclusive fragrances.
It's 2 pounds of incredible relaxation!
Scentsy Soaks: the Perfect Aaaah at the end of your day!
Scentsy Soaks are more than just bath salts for the tub.
Yeah, there's the Pink Himalayan and Epsom salts, but there's also premium moisturizers–a luxurious blend of aloe and sunflower oil.
It all comes together with the Scentsy exclusive fragrances.
Each Scentsy Soak is an incredible 2-pound bag of relaxation–good for multiple uses (3-5 uses when adding 1-2 cups to water per bath. It's a value at only $12 per bag.
Benefits of Scentsy Soaks
Scentsy Soak is designed to soothe tired muscles.
It's perfect for moisturizing your skin; we all know winter takes its toll on the skin says the dailyhearald.com.
It's a relaxing soak with authentic Scentsy fragrances.
The water-soluble color offers a beautiful visual experience in addition to the other great benefits!
This relaxation is made with love in Idaho.
It's available for a limited time, while supplies last.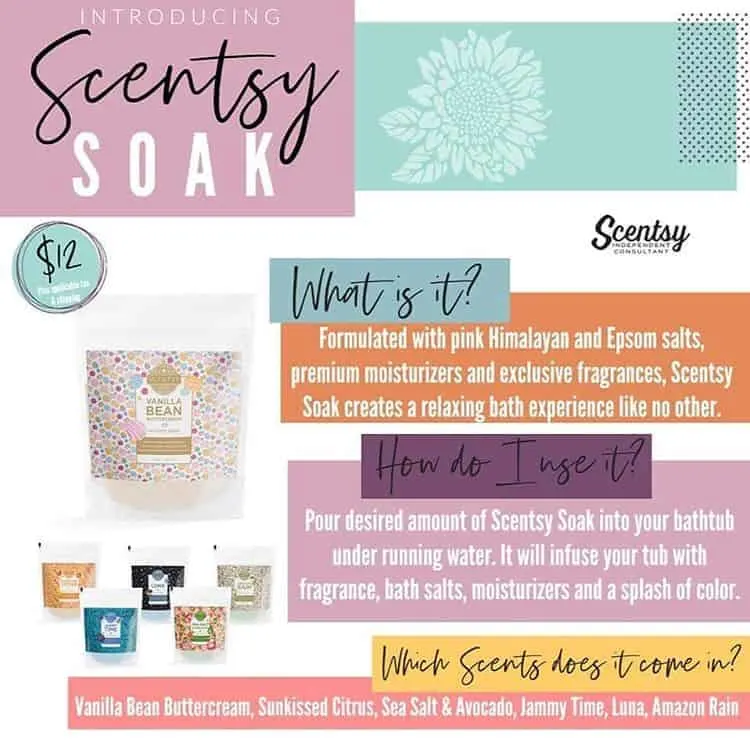 Scentsy Soak Fragrances:
Scentsy Soak features authentic Scentsy fragrances in three of the most popular fragrances:
Blue Grotto:
Runaway with fresh tropical notes, sweet citrus, and lush botanicals.
Pineapple Coconut Vanilla:
Ride the wind alongside coconut, pineapple blush, and blue fig. Inspired by the Skin fragrance, No. 9.
Shimmer:
Get your girly-girl on!
Sweet cherries, velvety apricots, and sensual white musk crowned with a tiara of shimmering spun sugar.
Scentsy Soak is paraben-free.
Get your holiday relaxation ready with Scentsy Soak.
Check out the new Holiday 2018 Limited Edition Tannenbaum Express warmer.
It is a music box with a moving train AND warmer.
All promotions are available only while designated inventory lasts, and products may sell out quickly.