Garden railways provide lots of fun for model railroader enthusiasts as they can customize the look and feel of the track while enjoying the outdoor sun and scenery of their garden.
G scale trains are the ideal model trains to use for this setup as not only are they more extensive, but the size means more detail can be placed on the train to provide authenticity.
G scale trains are also more robust and can withstand the outdoor sun, snow, and rain exposure. If you are thinking of making an outdoor garden railway, here are some tips to consider.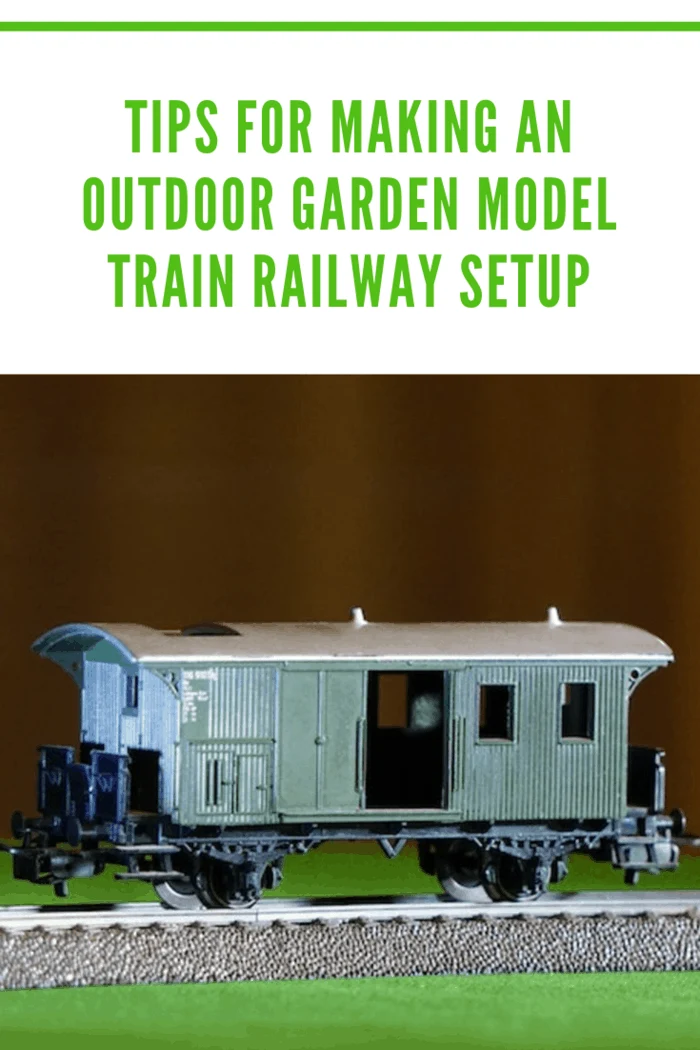 Tips for Making an Outdoor Garden Model Train Railway Setup
It's all in the Planning
Good planning goes a long way in setting up your g scale trains for your garden railway setup. You will need to set aside enough space where the track can be laid out, scenery grown and tended to, and lastly, model features like buildings and bridges could be added as you like.
Look for a place in your yard that is pleasing visually and relatively easy to access.
Do consider elevating the display if possible, as it will make it easier to care for after. Something along the height of a young child is ideal.
Do make sure to keep in mind the regular use of the garden and how that can impact your garden railway setup.
Also, you might want to consider the possible issues you might encounter, such as pets and wild animals getting access to the model train track. Do plan ahead to guard against potential damage.
Make it a Family Affair.
Your garden railway hobby can be much more fun if you include the rest of the family. Find out who wants to get involved in the project because it is always more fun if you have more hands eager to help out.
Kids are typically thrilled at the idea, and their involvement will depend on their level of interest and ability to contribute.
Train Track and Layout Planning
The design of your track will depend a lot on your aesthetic preferences, budget, and availability of space. If you intend to build the track over stages, do consider these.
A Simple round or oval track with nothing fancy is a good start for beginners. This will let you shape the plants and props around it to provide more interest, and it will be easy to add a bridge and tunnel should you so desire.
If you are looking for a more sophisticated design, consider that the design can be achieved with the regular track on the floor.
Always consider the size of your g scale trains, as this will determine the size of your track and have a considerable impact on the entire design.
Plan a Budget
Going over budget with a garden railway setup can be easy if you are not careful. Therefore, it is vital to set a budget for the project from the very beginning.
Do include the cost of prepping the garden space, including soil, retaining or elevating elements, gravel, pebbles, and others, the cost of the plants, cost of your g scale trains, accessories, tracks, power supply, and lighting.
Please keep it simple at the beginning to add more later and keep it in budget.
Suitable Train Tracks & Carriages
The track and carriages for your outdoor garden setup should be capable of withstanding direct exposure to the elements in all weather conditions. Be sure to select items of high quality to ensure you do not spend too much time replacing or repairing things. LGB tends to be the favorite model train set for outdoor garden projects because of the quality and reasonable prices.
When building your garden railway, allot time anywhere from a few days to a few weeks or even months, depending on the scale of the project and your availability to do it.
If you can allot time only on weekends, your project will naturally take longer than usual. However, part of the fun is doing the setup and seeing it finally come to fruition when you see your g scale trains come to life.