Building your house if you don't know the basics and have no clue what to expect is intimidating and not something most home hunters would even consider. It makes more sense to go with a skilled developer building new affordable housing instead.
This is the route most people take, and they often begin their search for good housing options on websites. But if you're still contemplating the idea of building your house and it does have so many attractions, it may help to keep the following points in mind.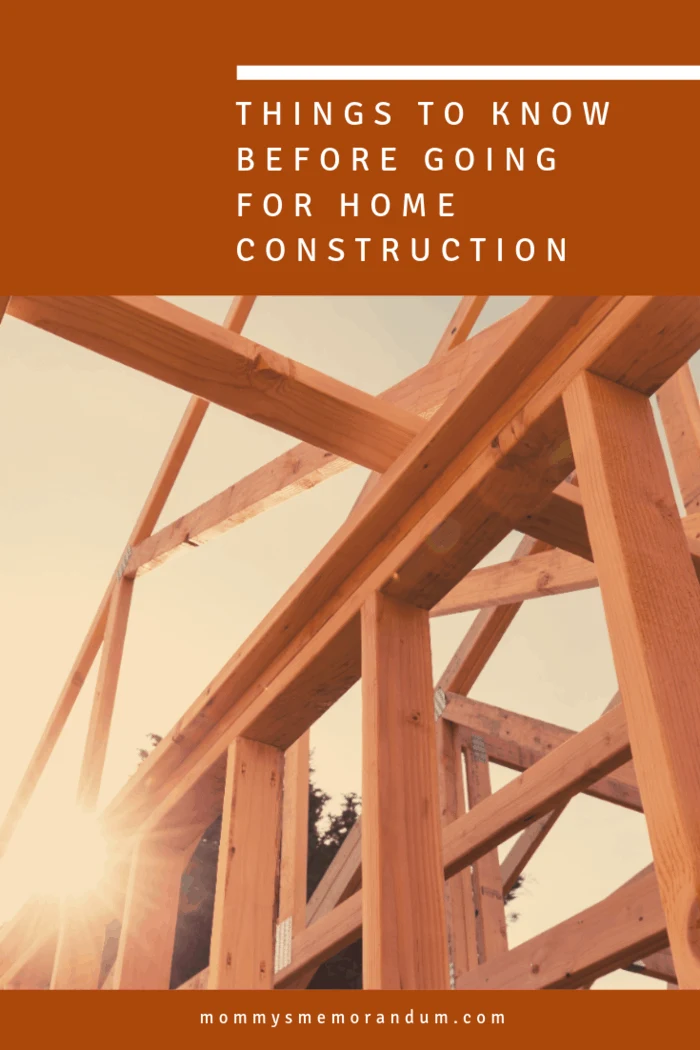 Things to Know Before Going for Home Construction
Understand What You're Getting Into
Home construction is never easy, and it could be one of the most stressful and time-consuming projects you'd ever undertake – Not to mention securing and maintaining steady cash flow and managing a small workforce of contractors.
You spend a lot of your time connecting with the right professionals, sourcing materials and equipment, and overseeing everything on-site. Adrenaline may help you prepare yourself mentally for this enormous challenge in the short term. Still, after a few weeks, you will feel mentally and emotionally exhausted even if you don't jump in to provide additional free labor.
The majority of self-builders will be the first to admit that building their dream home was worthwhile, but they wouldn't go through it again.
Pay Attention to Your Finances
Unless you keep your finances in perfect order, you're going to face many issues.
Unless you have an infinite budget, this will be your main source of stress.
You need to have your cash ready to part with constantly.
No matter what you think, the total amount you'll be spending, you will always pay more.
The experts at In Eight say hiring a company that has construction scheduling software and can establish a daily plan for teams in the field will help minimize your cost and keep the work on schedule.
Having to find as much as another 25% is almost usual.
In other words, however carefully you cost out materials, labor, and equipment hire, still make contingencies to be sure to have extra cash ready on standby if you need it.
If you get lucky and it doesn't all get swallowed up by the construction, it will still come in useful for fittings and furniture.
Do A Construction Risk Assessment
While keeping track of your finances is crucial, there's another step you can take to ensure your project goes smoothly.
Think about doing a construction risk assessment.
You can use construction scheduling software to track every step of the process and understand any risks that might come up during the construction project.
Throughout the process, the software will help you better understand the risk related to your project and eventually bring it to successful completion.
With the software of this type in use, you're essentially increasing the probability of quality execution of the project by at least 75% and reducing issues by at least 40%.
That's a win-win situation for both you and the contractor, and by letting the software handle the majority of the heavy lifting, neither you nor the vendor needs to fret over the financials much at all.
Get the Best People for the Project
After raising the cash, finding the right people for the right job is the first big task. Making a mistake here could easily translate into losing hard-earned money and years of financial stress and heartbreak.
Contractors will help you out by providing architects and engineers, but it sometimes makes more sense to do your own research and hire professionals individually.
This is the best option if you have draftsmanship skills and a clear image of your new home in mind. It could even save money. But when it comes time to submit plans for planning approval and permission to build, hiring an expert will always be the best option.
Be Ready to Deal with Mistakes
Even when you think you've planned everything meticulously and have the blueprints to prove it, things can go wrong. How you deal with these bumps in the road matters a lot. There could be several.
This is where having a good relationship with a builder you trust really matters. The sooner small problems are brought into the light, the better. It could save massive rebuilding costs.