Introducing the Moby Wrap: Experience Unparalleled Comfort and Bonding with Your Baby!
Are you a parent who wants to create a strong and intimate connection with your little one? Look no further! The Moby Wrap is here to revolutionize the way you carry and nurture your baby, providing you both with the ultimate comfort and bonding experience.
Designed with love and expertise, the Moby Wrap offers a secure and cozy environment for your baby, allowing you to go about your daily activities while keeping your little bundle of joy close. Crafted from soft, breathable fabric, this wrap gently hugs your baby, providing a soothing sensation that mimics the warmth and security of the womb.
But what sets the Moby Wrap apart from the rest?
Unmatched Versatility: With its innovative design, the Moby Wrap adapts to your baby's growing needs. Whether you have a newborn or a curious toddler, this wrap provides the perfect fit and support, ensuring their safety and your peace of mind.
Ergonomic Comfort: Say goodbye to back and shoulder pain! The Moby Wrap's ergonomic construction evenly distributes your baby's weight, alleviating pressure on your body. It allows you to maintain a natural posture, so you can enjoy extended periods of carrying without discomfort.
Bonding and Connection: Strengthen the bond with your baby like never before. The Moby Wrap promotes skin-to-skin contact, allowing you to feel their every breath and heartbeat. You'll witness their joy as they experience the world from the safety of your embrace, fostering trust and a deep emotional connection.
Fashion-Forward Design: They believe that functionality should never compromise style. The Moby Wrap offers an array of vibrant colors and patterns, allowing you to express your personality while caring for your baby. Stand out from the crowd and make a fashion statement wherever you go!
Ease of Use: Worried about complicated wrapping techniques? Fear not! The Moby Wrap has a detailed instruction manual and online tutorials, ensuring you can quickly and confidently secure your baby. Once you get the hang of it, you'll become a wrapping pro in no time!
Join the countless parents who have discovered the magic of the Moby Wrap. Experience the joy of bonding, the freedom of movement, and the unparalleled comfort it provides for you and your baby. Embrace the beauty of parenthood with the Moby Wrap—your perfect companion for this incredible journey.
Visit the Moby Wrap website or your nearest retailer to get your hands on the Moby Wrap today. Start creating cherished memories and building a lifelong connection with your little one. Together, let's embark on a journey of love, comfort, and togetherness.
Our Moby Wrap Review
I LOVE MY MOBY! "Moby?!" you ask. Moby is a lifestyle. It's designed for Mom and Baby to bond without tying Mom to a chair while she holds her baby. I first saw a Moby Wrap at a baby shower for one of my friends. All she requested for her fifth child was a Moby Wrap. One of the games was to race to see which of two teams could wrap a Mommy with a Moby Wrap and everyone could only use ONE HAND. It seemed impossible at the time, but I was intrigued by this contraption made of fabric.
Skip ahead two months. Clara Rebecca arrives on the scene at our house. I have three other kids who need breakfast, lunch, and dinner AND who also need to finish school AND I have to unpack about a zillion boxes since I was so intelligent to move nine days after giving birth. I take the plunge and open up the Moby sack.
There was fabric… and more fabric… and, well, even more fabric. Tween and I read the detailed instructions that come with the Moby Wrap, and we practiced. It wasn't difficult. I put Clara in the way the book shows; again, not difficult. I placed the fabric to secure her head. She slept for four hours the first day I wore it. I was able to unpack twenty boxes that day with her sleeping contentedly on my chest. Let me tell you how awesome the Moby Wrap is.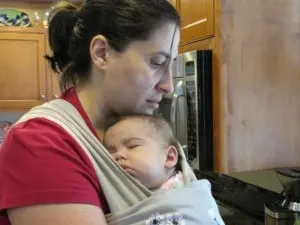 The design of the Moby Wrap uses your entire back, as well as your shoulders, to carry the weight of your baby. Unlike other carriers, which have narrow straps or go across one shoulder, the Moby Wrap is a wide piece of durable fabric that is wrapped over both shoulders. It is amazingly comfortable and easy to wear. There are no buckles, snaps or other fasteners (that may break or bend). It is easy to adjust the fit of your Moby Wrap by varying how tightly you wrap yourself and your baby. Moby Wraps are one size, meaning all caregivers can easily and comfortably share one wrap. Unlike my other carrier that I used with the other three children, the Moby Wrap evenly distributes the bulk of the baby's weight across my back so that by the end of the day, my lower back is not screaming in pain. Because it is a wrap, I can adjust it for my size and my husband adjusts it to fit him without fiddling with buckles. I did not like the carriers that have the buckles because I am a very large busted woman… I hate it, but it is the truth. Without its size limitations, the Moby fits me perfectly in the chest AND at the waist. I don't cry when I put it on because I am unable to fit it around my chest.
In a Moby Wrap, the baby is secured by three fabric sections for triple wrapped security. A Moby Wrap's one-way stretch cotton and wide width ensure your baby is tightly held. When sleeping, the back of your baby's head can also be secured under the cotton fabric for added safety. You can finally have both hands free and know your baby is safe and secure. I can not say enough good things about the security of the Moby Wrap for baby. I know that she isn't going anywhere. Her legs are hugged by the cross of the fabric in front and I can easily pull the shoulder fabric around her head making her feel extra secure. When Clara is having an especially fussy time, I don my Moby Wrap and stick her in. She continues to fight me until I pull the bottom fold up over her back and put the fabric over the back of her head. Almost immediately she calms and usually within five minutes, she is snoozing peacefully. With other carriers, after eight to ten weeks, my babies were so fidgety in the carriers that it took both hands just to make them feel secure. They were too big to swaddle at that time so I couldn't do that either. The Moby Wrap is like a wonderful swaddle that Mom can wear!
I have to tell you that I wear my Moby Wrap everywhere. My two favorite places to wear my wrap are the grocery store and church. Shopping for a family of five is a huge production and it fills the cart pretty quickly. I don't need to fiddle with a car seat. Besides, the grocery store is usually pretty chilly and I don't want Clara getting extra cold. The other thing about grocery shopping is that it usually takes about an hour to do. In a car seat, Clara would be crying after fifteen or twenty minutes and I would end up holding her anyway and trying to navigate the store with a two foot impediment in the grocery cart. Now, we head to the grocery store around a nap time. I put the Moby on at home and pop Clara in when we get to the store. She will sleep the entire shopping trip, and even if she doesn't sleep, she is very content to look around and check out her surroundings because Mommy is carrying her.
I also love to wear my Moby Wrap at church. Catholics don't just sit in church. We are sitting, standing, kneeling, standing some more, kneeling again, and so on. In our historic church, there isn't room for a car seat in the pew and the baby gets squirmy if I try to hold her through Mass. With the Moby Wrap, she takes her nap while I pray. It is perfect. Oh, and can I add that the Moby Wrap is a nice deterrent for all of those people who love to touch babies and you don't know where their hands have been? Someone mentioned to me last week that in a Bible Study class all of the moms were talking about my Moby Baby!
I wear my Moby Wrap just about everywhere. It's so much easier than carrying a car seat and easier than the stroller where Clara is bound to cry. I even wear it to social gatherings and here is my reasoning: Yes, people love to hold babies and there are plenty of people willing to hold Clara, BUT once she falls asleep and the person is ready to move on, where am I? Stuck in a chair holding a hot baby. With the Moby Wrap, I can eat (with BOTH hands), walk around and be a normal person. Clara still gets her Mommy time and her nap time. When she awakens, I gladly pull her out for people to hold… I'm not THAT stingy!
There is a Moby Wrap for every Mom and Dad too. Their Original line comes in ten vibrant colors (I love my Moss Moby Wrap), but there are so many other types too. Moms can choose from the Moby Wrap Designs (I have the Almond Blossom) or the Moby Wrap Prints (you have to check out the Lace print – isn't it PRETTY?). I love that Moby Wrap has also begun making an organic line and a special UV Line that keeps Baby's delicate skin from being damaged by the sun. For all of you parents who are huge baseball fans and you want to support your team and still keep Baby snug, Moby even has a special MLB Line that features all of your favorites. Yes, you read correctly. I own TWO Moby Wraps because I use it so often. I like to keep one in the car and one in the house. Clara is also kind of a spitty-uppy baby, and when I throw one in the wash (because they are so amazingly simple to wash and dry!), I have the second to wear. Almond Blossom is a little more neutral for my church clothing too.
Moby Wraps do not put a lot of extra material or bulky padding between you and your baby. Your baby can hear your heartbeat and find comfort in the warmth of your body within the cuddly confines of a Moby Wrap. In the stifling SC summers, anything and everybody is hot, but Moby Wrap doesn't make it more so. The biggest challenge we have had is that my tees come down enough that Clara's cheek lays on my chest, and in the summer that makes both of us miserable. I place a small burp cloth on my chest and it keeps her from getting so sweaty. I know that I will continue using the Moby Wrap well into toddler hood. There are all sorts of different ways to wrap Baby. Each Moby Wrap comes with an easy to follow full-color instructional booklet containing wrapping instructions and safety information.
Moby also carries a host of other baby products. The Moby website also offers suggestions for Moby Wrap baby massages and even ways to exercise while wearing your Moby Wrap.
If you buy only ONE extra product for baby (aside from the necessary car seat, crib, and diapers), I would recommend the Moby Wrap. I TRULY love it!
Lauralee Saad loves homeschooling her three kiddos: Ballerina, age 8, Big Boy, age 6, and MESS, age 3. She enjoys sewing when she can find a spare corner to set up her machine and dig out fabrics, cooking and baking – especially if the kiddos are helping, and enjoying a good book after the kiddos have gone to bed. She is thrilled to have welcomed a baby girl into the family on March 23, 2012.
Disclosure of Material Connection: I received one or more of the products or services mentioned above for free in the hope that I would mention it on my blog. Regardless, I only recommend products or services I use personally and believe will be good for my readers. I am disclosing this in accordance with the Federal Trade Commission's 16 CFR, Part 255: "Guides Concerning the Use of Endorsements and Testimonials in Advertising."