We received a Lucky Tackle Box in exchange for this post. All opinions and our love for fishing remain our own.
Lucky Tackle Box is a monthly subscription service focused on catching fish. More fish. Every four weeks, subscription members receive a new box filled with baits, lures, and other finds that are too tempting for fish to resist.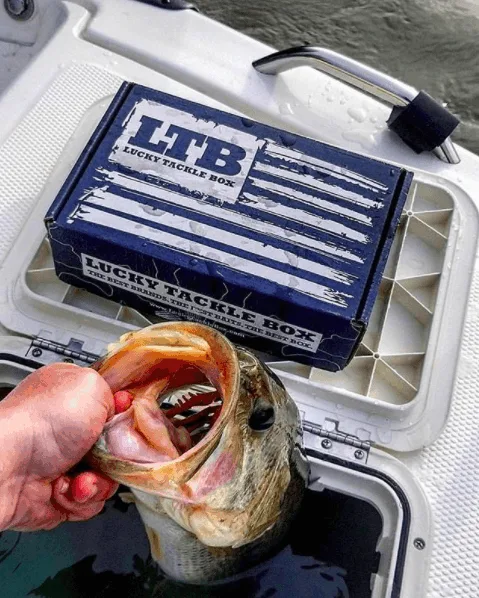 LUCKY TACKLE BOX OPTIONS
Lucky Tackle Box understands each fisherman has his own preference. Just like fishing, Lucky Tackle Box has options. Every type of box to help you lure in our favorite fish.
No more tall tales of fishing. Lucky Tackle Box is focused on catching fish, despite its name. The monthly service isn't a mystery bag of tackle and gear, but instead, a subscription focused on baits, lures, and other items that ready to entice a trout to gulp your hook.
Lucky Tackle Box uses name-known, quality brands, and pro fisherman consultants. Like you, Lucky Tackle Box takes the art of baiting a hook seriously.
Sure, you can request a catch-all multi-species box, but what really makes Lucky Tackle Box stand out is that they offer options broken into specific categories such as trout, bass, fly fishing, catfish, inshore saltwater, and more.
Each box offers variety, but the specialization narrows down, getting just filler.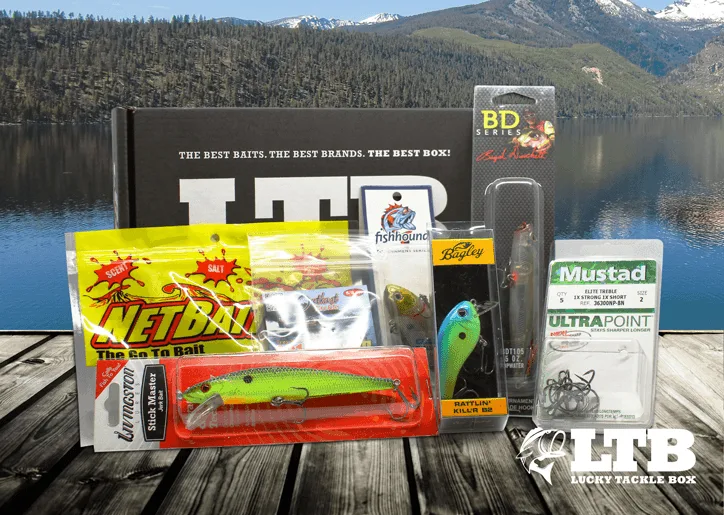 Each Lucky Box Comes Loaded With…
• Approx $45 worth of Baits
• 7+ Items from the Best Brands
• Fishhound Magazine
• Lucky Tackle Box Sticker
• $5 Tackle Warehouse Coupon
• Free Samples and more…
Let's talk options:
The service offers nine customized boxes and four subscription tiers, ranging from one month to a full year.
Suited for fisherman looking to experiment with different baits
Monthly boxes contain five to eight items a month at a total projected value of $25-$40
Boxes are sent out on the 10th of every month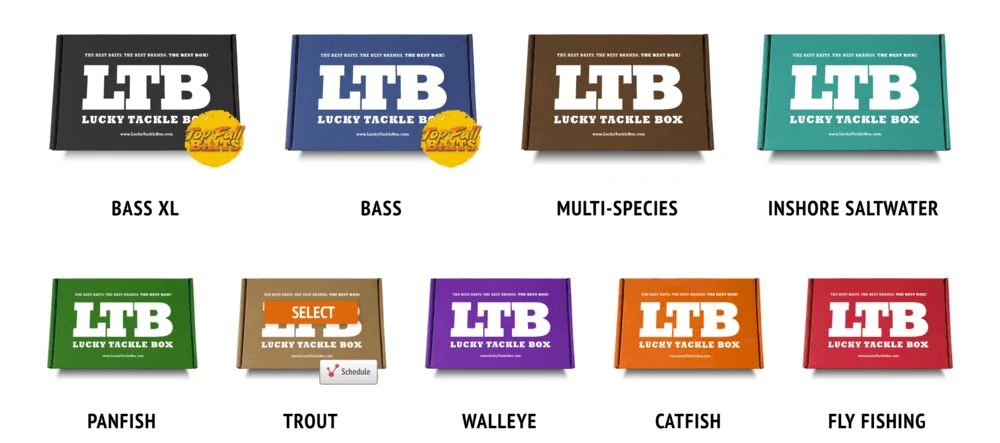 We received Lucky Tackle Box's most popular box, the Bass Box XL. At $24.99 a month with free shipping to addresses in the United States, this is a steal, AND it is delivered right to your door each month!
Each box contains approximately $40 worth of baits. It's like doubling your money and taking it to the lake!
Lift the lid on Lucky Tackle Box's monthly box, and you're greeted with white tissue paper printed with the LTB logo and sealed with an oval "LTB" sticker. It's a presentation that makes a great first impression.
Break the seal, and you'll find a note from the company's founder and a monthly magazine that offers tips, information on what's inside, coupons and promotional materials.
Enough with the fluff; there are baits inside.
While varied, the 7+ total items nestled inside are explicitly designed to catch bass.
Here's what is included in our Lucky Tackle Box:
Bass Attacker 5″ Attacker Stix Worm – $4.75
This lure is INFUSED with the Bass Attcker Bass Fuel Scent. Rigging this Stix Worm in Texas Style or Wacky rigging gives you the versatility and effectiveness you need to catch the big bass for sure!
ABT Hybrid Shad – $11.99
One of ABT's "Next Generation" Series lures, this 3 1/2-inch, two-section jointed hard bait dives five to seven feet and effectively mimics a real forage fish's look and swimming motion.
Bagley Pro Sunny B (LTB Exclusive) – $12.99
They are designed to put a larger "pro-sized" fast-action balsa wood bait into the hands of anglers to find the big mamas. The new balsa wood Bagley Pro Sunny B is a precision weighted lure that casts easily and gets to a consistent 5-6′ running depth every time.
ZMAN Finesse TDR *Green Pumpkin* – $3.99
Made using an even softer version of Z Man's ElaZtech plastic, the Z-Man Finesse T.R.D. (The Real Deal) provides a realistic feel, longer holds, and increased hook-up ratios. Expertly crafted to trick the most finicky fish into biting, the Z man Finesse T.R.D. features a subtle action that works wonders on wacky-rigs and the increasingly popular Ned-rig. Offered in a host of classic bass colors, the Z Man Finesse T.R.D. is a must-have for beginners and tournament veterans alike.
6th Sense Cloud 9 C20 Deep Diver Shad Sense – $9.99
The 6th Sense Cloud 9 Series Deep Diver Crankbaits were designed to be the ultimate line of deep diving crankbaits. The Cloud 9 Series features a large bill that helps them dive quickly and produce a much wider wobbling action than most crankbaits. They are also engineered to sustain a true running depth and maintain their action for the majority of the retrieve. The Cloud 9 Series of crankbaits are also fitted with super sharp black nickel hooks, 3D eyes, 3D gill plates, top-of-the-line paint schemes, loud internal rattles, and textured scale pattern finishes.
DUO Pencil 110 *Bone* – $13.99
Delivering topwater action second to none, the Duo Realis Pencil 110 features an advanced, Japanese-engineered design. A protruding sphere under the face of the Pencil 110 allows any angler, regardless of skill level, to easily produce the classic "walk the dog" retrieve along the water's surface. By twitching the rod harder than usual when the lure reaches the highest point in the "walk the dog" retrieve, the Pencil 110 will also splash water forward and dive just below the surface for a more advanced presentation.
Castaic BD Series J115 Jerkbait – $6.49
The Castaic Boyd Duckett BD series jerk baits were custom designed with Bassmaster Classic Champion Boyd Ducket. They feature a precise weighting system, an erratic lunging presentation that imitates the actions of a dying shad, and sport three sticky-sharp Kitana trebles! This awesome lure will provide anglers with a competition-caliber performance every time.
VMC Weedless Neko Hook (2 pack) – $3.99
Built to the specifications of Bassmaster Elite Series angler Michael "Ike" Iaconelli, the VMC Ike Approved Weedless Neko Hook delivers everything anglers need to fish a neko-rig around a snaggy cover. Built with a long shank and a wide gap, the VMC Ike Approved Weedless Neko Hook features a double fluorocarbon weed guard that keeps the razor-sharp offset hook point free of snags. Complete with a resin-sealed eye for increased strength, the VMC Ike Approved Weedless Neko Hook delivers increased performance around snag-inducing cover.
It's a great box filled with variety. The only thing missing was the spinner. We now have fishing fever.
Lucky Tackle Box is the only monthly subscription box you'll ever want if you're looking to fish with the products that professional anglers use to catch fish.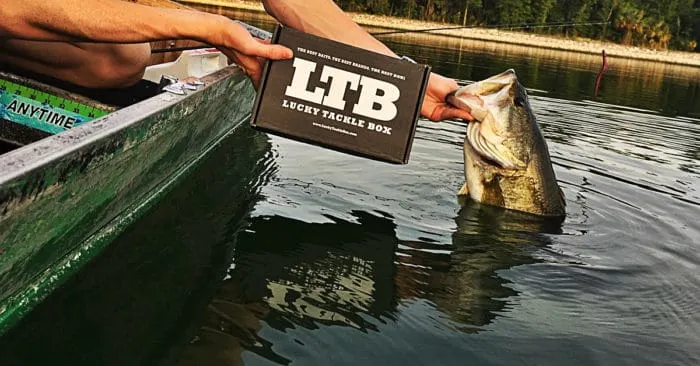 But Lucky Tackle Box goes beyond the subscription with a website that shares your passion for fishing. Videos and blogs offer instructions and tips on how to use the month's items. Check out their social media and interact with the company and the fishing community. It makes it an experience and a great way to learn about your new fishing gear.
Lucky Tackle Box Cost
Lucky Tackle Box charges $14.99 or $24.99 for its nine monthly subscription options. You'll also save a little for lengthier commitments, like three, six, 12 months. Previous boxes are also available for purchase on their website. Shipping is free. Here's the breakdown of subscription options:
BASS XL (6-8 items): $24.99/month
BASS (6-8 items): $14.99/month
MULTI-SPECIES XL (6-8 items): $24.99/month
INSHORE SALTWATER XL (6-8 items): $24.99/month
PANFISH (6-8 items): $14.99/month
TROUT (6-8 items): $14.99/month
WALLEYE XL (6-8 items): $24.99/month
CATFISH (6-8 items): $14.99/month
FLY FISHING XL (6-8 items): $24.99/month