Roses are Red,
Violets are Blue,
This Craft is Made Using Scotch Blue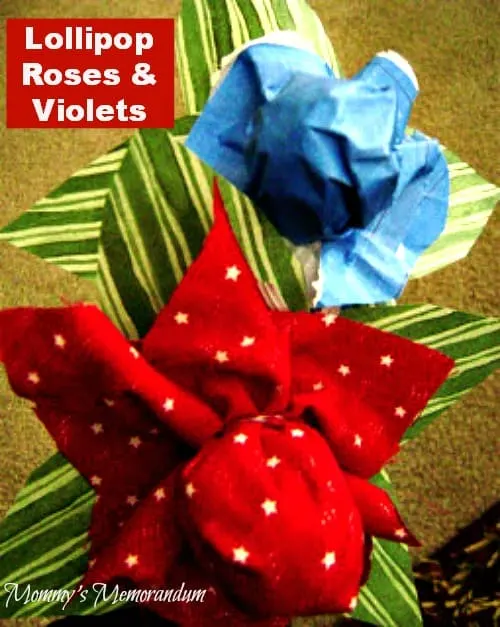 Li'l Man and I did some crafting today. He was so excited to give his dad his special Valentine, made partially with
Scotch Blue
Painter's Tape
.
You can omit the Scotch blue, as Li'l Man did for one of the flowers, but truly, we think it adds "JUST FOR DAD" to the project.
Red Roses

and

Violets Blue
What You Need:
One lollipop for each flower (we used "Blow Pops")
Three 5" squares of tissue paper in red
Three 5″ sheets of Scotch Blue (see below)
Green paper
Scissors
Ruler
Pencil
Directions:
Start by covering a piece of paper with Scotch Blue Painter's Tape. Li'l Man thought this was great fun and was attentive to ensuring the paper was covered.
2.) Measure a 5″x5″ square (you'll need three). I made a template for Li'l Man to trace onto the Scotch Blue Painter's Tape covered paper.
3.) Once you have the 5″x5″ squares drawn, cut them out.
4.) Place them one on top of the other, and rotate each to ensure that the corners don't match up. You want a layered look!
5.) Using the Scotch Blue Painter's Tape, we taped down the wrapper step to make an even top on the sucker.
6.) P
lace the top of the sucker into the center of the three paper squares, and pull the papers down over the sucker.
7.) Fasten the papers with a small rubber band or twist-tie (Li'l Man used one of his sister's hair bands); the sucker will make a ball in the center, and the paper will flair out around it.
8.) Draw 4 leaves for each sucker on the backside of green paper. Each leaf should be about 3″ long and about 2″ wide.
9.) Cut out the leaves using scissors
10.) Now drive the end of the sucker stick through the end of each leaf, and run the leaves up the "stem" so that they support the papers.
11.) Using a small piece of Scotch Blue Painter's tape, wrap around the sucker's stick to hold the leaves in place.
12.) For Red Roses, repeat the above steps starting with Step 2 above using red tissue paper.
Expect a delightful bouquet of Roses and Violets worthy of any Valentine!
I received Scotch Blue painter's tape to facilitate an honest review. No monetary compensation was received. The opinions expressed were my own and were in no way influenced by the sponsor. Others' experience may vary.