For this review, I received a Swiffer Bissell SteamBoost Steam Mop, and steam mopping cloths from P&G. All opinions expressed are my own.
The Swiffer BISSELL® SteamBoost™ kept my home clean through the holidays and maintained the clean in 2014. This steam mop profoundly penetrates dirt and helps remove grime and everyday messes other mops leave behind. I was skeptical. I had found a mop that was a dream. It came with a hefty price tag and, within six months, went ka-poot. While I loved that mop, I refused to break the bank for something so short-lived…but I missed the incredible clean.
I've been a fan of Swiffer products, so I was willing to try the Swiffer BISSELL® SteamBoost™ mop. It assembled quickly out of the box. From there, simply fill it with water, attach a Steam Pad and plug it into your outlet. There is no need for other cleaning solutions–do NOT add them to the water container.
Swiffer BISSELL® SteamBoost™ In Action
The Swiffer BISSELL® SteamBoost™ Mop offers some great features.
It is a lightweight and petite mop.
It takes up very little room in my pantry, making it easy to store and retrieve when needed.
Easy to use. It holds 10 ounces of water, enough to clean my large kitchen, two bathrooms, and still have water left.
It heats up quickly–about 50 seconds. The mop pads offer a Febreeze scent, making a room smell amazing almost as soon as the pad storage tub is opened to retrieve the cleaning pad!
I am impressed by how well this mop cleans.
The cleaning pad grabs dirt, leaves a clean floor, has a fresh scent, and dries quickly.
No streaks left behind when I use The Swiffer BISSELL® SteamBoost™mop.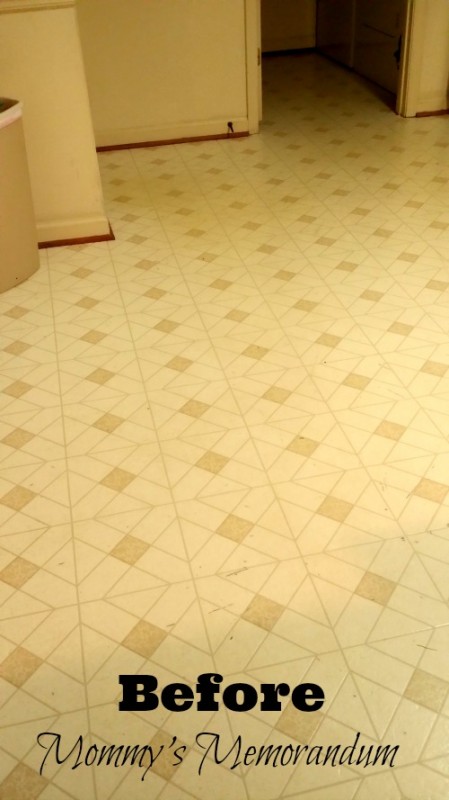 This is my kitchen floor prior to mopping.
It's dirty, but I don't think the picture shows it too well.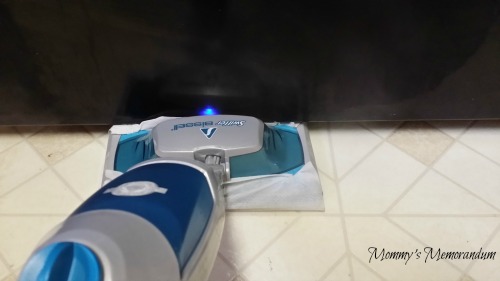 If you look closely against the black, you can see the steam.
You can also see the light that indicates the mop is ready to use.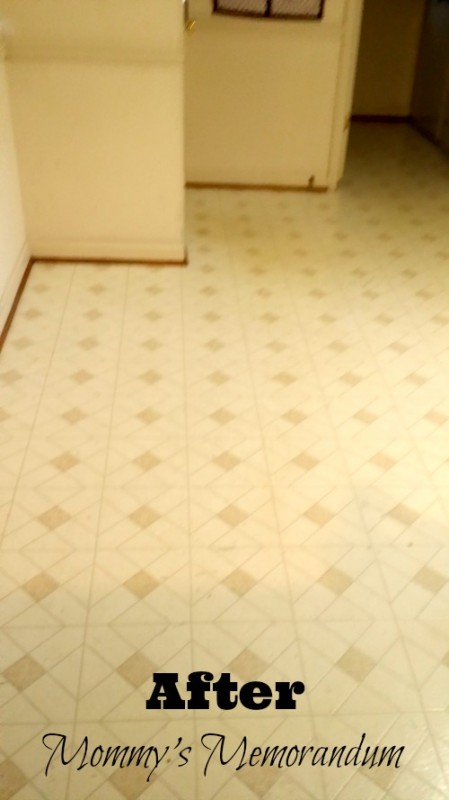 This is the same floor after I used The Swiffer BISSELL® SteamBoost™ Mop. It looks a lot like the "before" picture, I know. Hold on to your britches because the following image will prove that the "Before" and "After" pictures are really different.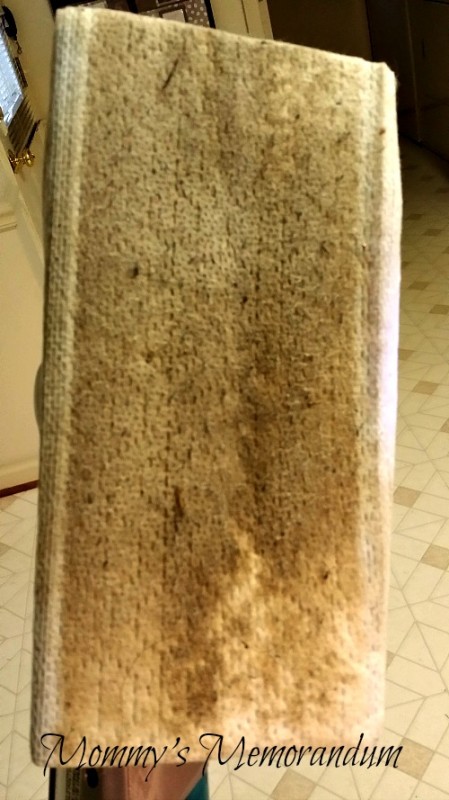 This is a picture of the disgustingness The Swiffer BISSELL® SteamBoost™ Mop removed from my kitchen floor. YUCK!
I recommend this mop. It's changed my mind.
I think it works just as well as the expensive, bulky mop I bought that tinkered out after just a few months.
The Swiffer BISSELL® SteamBoost™ Mop grabs the dirt and leaves the floor clean, and the room is smelling fresh!
The Swiffer BISSELL® #SteamBoost™ Mop is Powered by BISSELL
While I love this mop for many reasons, something that stands out is this mop is powered by BISSELL steam and innovative cleaning technology.
It deeply penetrates removes soils other mops just can't take on.
The steam's heat activates the dirt and then dissolves it thanks to the ingenious dissolving solution on the cleaning pad.
It's a mop that finds the dirt, breaks it down, traps it, and takes it off the floor.
Want Your Own
The Swiffer BISSELL® SteamBoost™ Mop?
The Swiffer Bissell SteamBoost is available in-store and online at drug, mass, and food retailers.
It's priced around $50. Buy a Swiffer BISSELL STEAM BOOST.
For more steam cleaning tips and tricks, visit swiffer.com.
You can also learn more about the Swiffer family of products by visiting Swiffer on Facebook.