In 2017 alone, 2,236,496 couples got married.
While the first year of marriage is often happy and full of new and exciting adventures, it's normal for that excitement to fade over time.
While it's common, you don't have to settle for that dwindling excitement.
There's always something you can do to keep things interesting and ensure that you and your spouse have a marriage that's filled with fun, love, and happiness.
If you're wondering how to keep a marriage exciting, don't panic.
Here are a few simple things you can do to keep the spark alive for years to come.
How to Keep a Marriage Exciting: 9 Tips for Keeping the Romance Alive
Try New Things Together
If you've been together for several years, you've likely established quite a few habits that you rely on every day.
These habits can be anything from doing the same things on the weekends throughout the year to going to the same restaurant every time you don't feel like cooking.
Habits aren't bad, but they can stifle your marriage if you stick to them every day without fail.
Instead, take the time to try new things together.
Find things that push you just outside your comfort zone and experience it with your spouse.
Even if you don't enjoy the experience a lot, you'll have something to talk about and can start forming new memories of all those experiences.
If you can, consider taking romantic getaways every year.
This gives you something to look forward to and gives you the perfect opportunity to try new things together.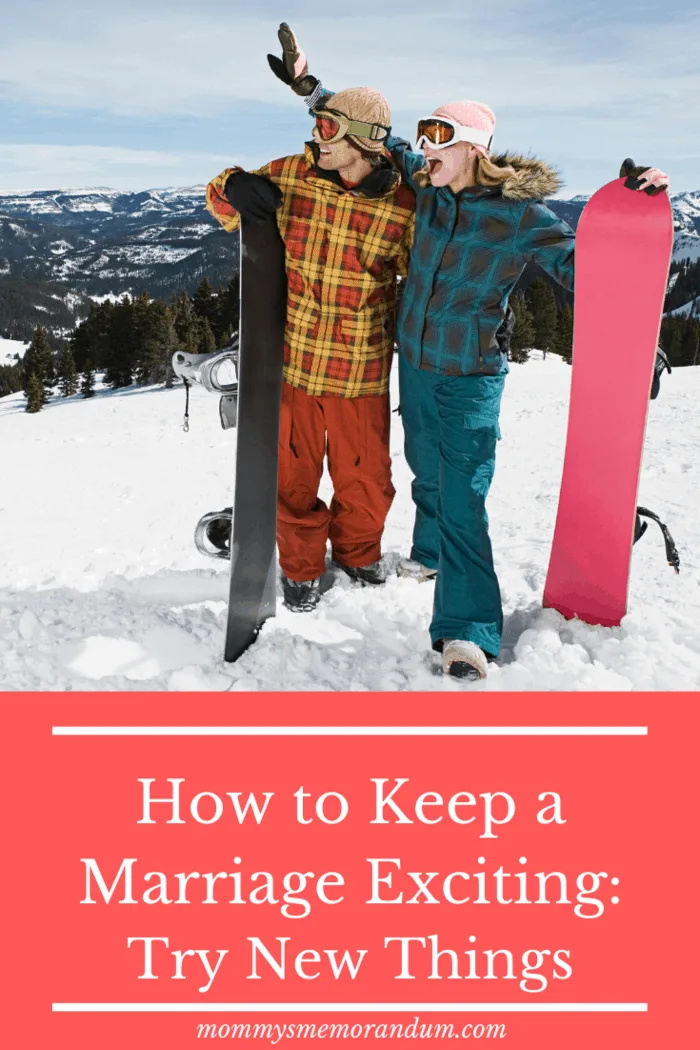 Make Time for Date Nights
Speaking of doing things together, it's incredibly important to schedule date nights with your spouse.
We're not just talking about that regular weekly dinner out.
Make things special.
Get dressed up, buy them flowers, and do something special.
This will help you reconnect with the way you felt about them before you got married and can make your relationship feel rejuvenated.
date nights with your spouse." src="https://mommysmemorandum.com/wp-content/uploads/2020/01/keep-marriage-exciting-1.png" alt="Speaking of doing things together, it's incredibly important to schedule date nights with your spouse." width="735″ height="1102″/>
Tell Your Partner You Appreciate Them
It's easy to get caught up in daily life, chores, work, and social obligations.
When you do, you don't always have time to express how much you love your partner.
Take time every day to let them know how much you appreciate and love them.
It doesn't have to be a grand gesture.
Just let them know when the mood strikes you.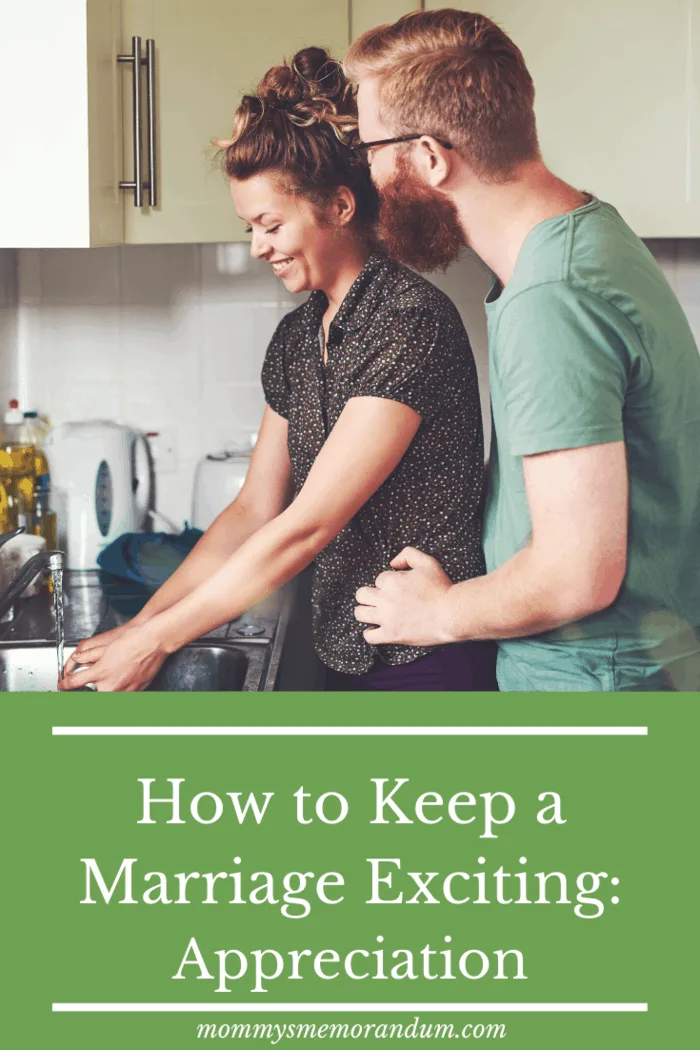 Do One Nice Thing for Each Other Daily
Telling your spouse, you appreciate them, and everything they do for you is just one side of the coin.
You can also show them how much they mean to you.
Take the time to do at least one nice thing for each other every day.
For example, if they make coffee for you every morning, switch things up and give them that extra five minutes in bed.
These small gestures can mean the world to your spouse, even if they seem insignificant to you.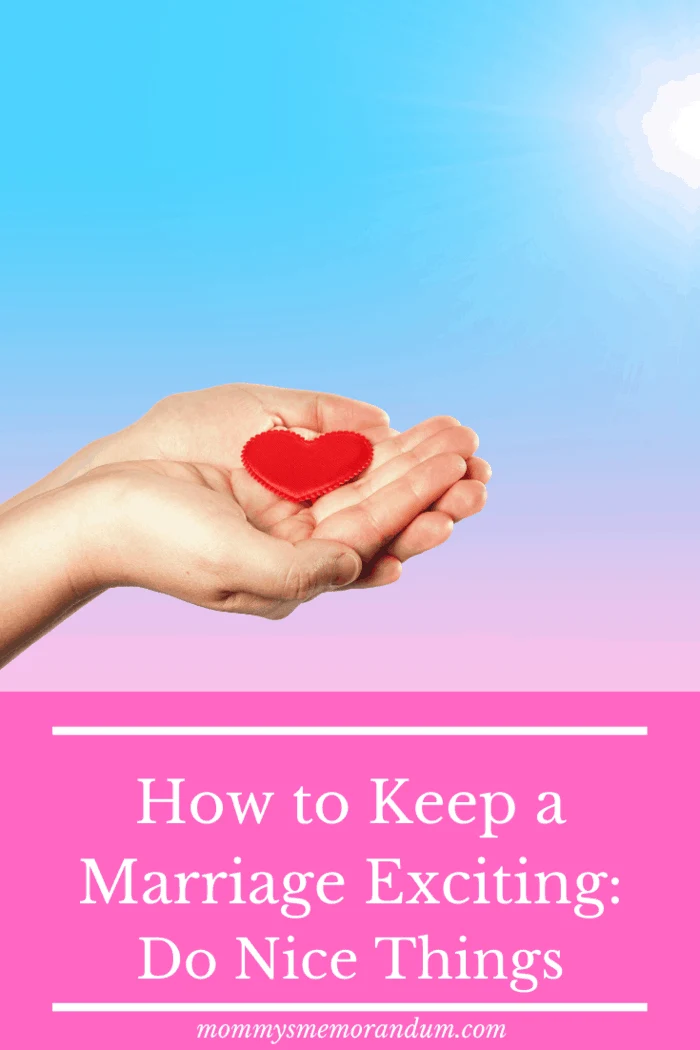 Just Talk to Each Other
How often do you sit down and talk to your spouse about something other than your chores or responsibilities?
Get back in that habit.
.Set time aside each day to just talk to each other.
The conversation doesn't have to follow a specific topic; just go off of whatever comes to mind.
Ask them how their day was.
Let them use you as a sounding board for new ideas and thoughts.
Discuss plans and dreams for your future together.
Conversations may be hard at first, especially if you've gotten out of the habit, but it will get easier the more you do it.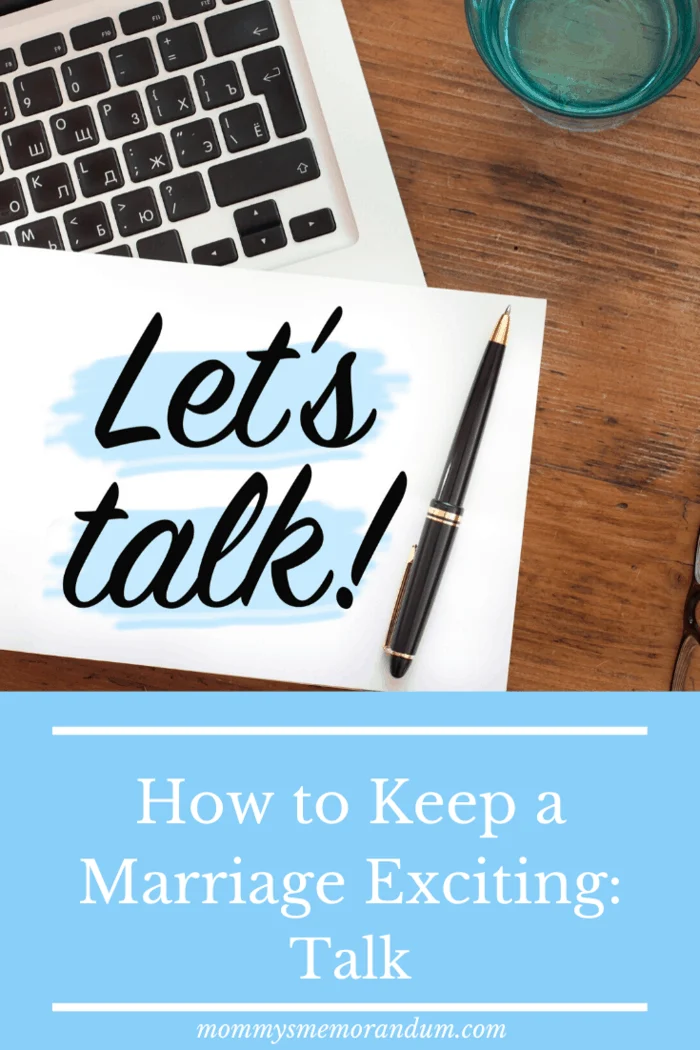 Don't Go to Bed Mad
Holding grudges is easy, especially after having an intense argument.
Unfortunately, those grudges can last and impact your marriage and your relationship.
The best thing you can do is to let that grudge go before you call it a night.
You don't have to agree or come to understand their side of things.
You just shouldn't hold on to that argument overnight.
You'll sleep better and will be better able to enjoy your spouse's company if you can let things go.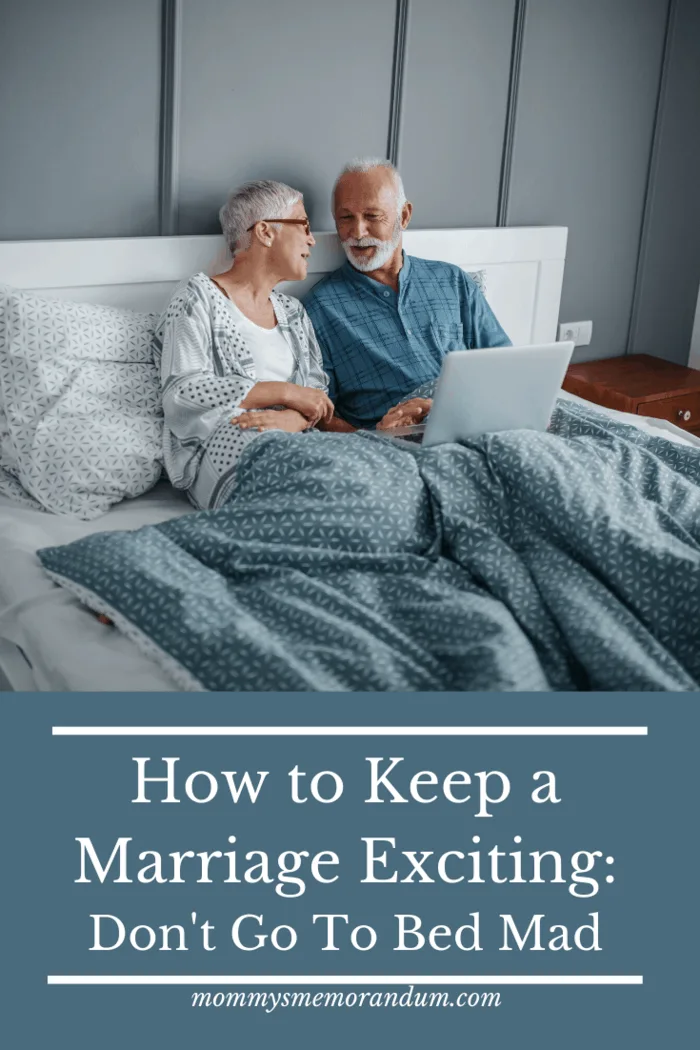 Embrace Intimacy
When you first got married, you probably found it easy to be intimate with your spouse.
Things were still interesting, everything felt new, and it was the perfect way to show how much you loved each other.
For some married couples, intimacy fades after a few years, but it doesn't have to.
You need to make time for one another.
Just remember that being intimate isn't always about sex.
It's about physical contact.
Hold hands, kiss, and hug each other throughout the day.
Cuddle on the couch while you watch TV and if you're feeling up to it, set aside some time in the bedroom.
When you make intimacy a priority in your relationship, you'll find it easier to connect with your spouse and keep the spark alive.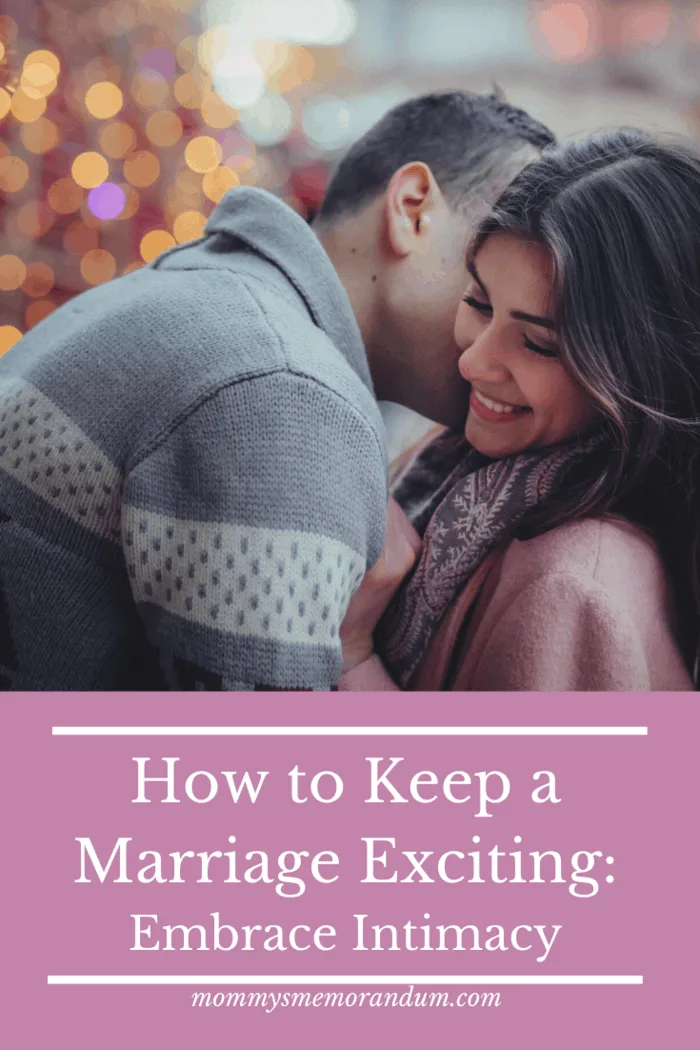 Stay In More Often
When you go out on dates and do things with friends, you're splitting your attention between your spouse and the world around you.
This is healthy and can be a lot of fun, but you still need to spend time alone with each other.
The best way to do it is to stay at home.
You can take care of chores, but try to do them together, splitting the duties and making things more fun.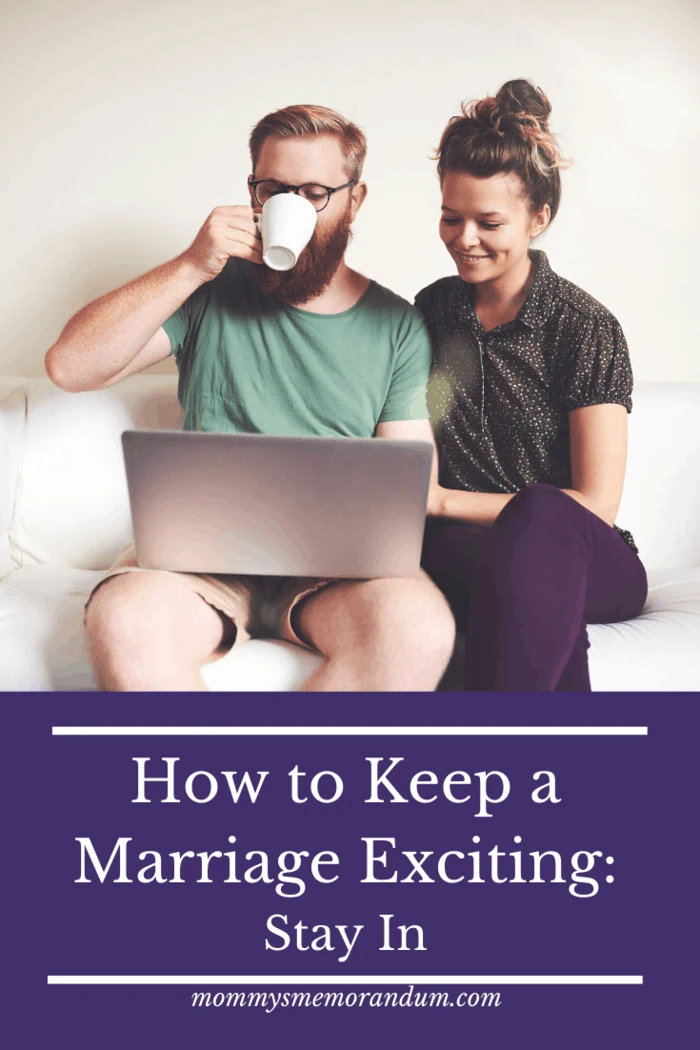 Enjoy Your Individuality
Healthy relationships involve plenty of togetherness, but that doesn't mean you should become dependent on one another to feel comfortable and happy.
Make time for yourself, too.
Do things that make you happy, meet up with friends, and spend time away from your spouse in between doing things together.
Understanding How to Keep a Marriage Exciting Is Simple
The key to how to keep a marriage exciting is easier than you might think.
It all comes down to spending time with each other and making sure the lines of communication are open.
Just remember that your marriage isn't the defining part of your life.
You need to take the time to be happy on your own, too.
For more helpful tips on improving your relationship, check out our recent posts.