I received a Ju-Ju-Be Be Right Back Diaper Bag backpack in order to facilitate an honest review. The opinions where expressed are my own and were in no way influenced by the sponsor.
ntroducing the JU-JU-BE Be Right Back Diaper Bag: The Ultimate Companion for On-the-Go Parents!
Are you a parent who loves convenience without sacrificing style? Look no further than the JU-JU-BE Be Right Back Diaper Bag! Designed with your busy lifestyle in mind, this incredible bag will revolutionize the way you tackle parenting duties.
Our Ju-Ju-Be Be Right Back Diaper Bag Review
A diaper bag is a must-have for any new mom. Backpacks rule my world. Where was the brilliance of a backpack diaper bag when I was raising infants and toddlers? Everything contained, easily accessible all in a classic backpack. That's the beauty of Ju-Ju-Be–beautiful fashion bags with details and practicality that will make the bag your favorite.
A backpack manages our life on the go. When my Li'l Man was small, Dad was the stay-at-home parent and wouldn't have been caught in sight with a regular diaper bag. He transformed his backpack to get the job done. I was amazed at how much more he could carry and organize. The changes and feedings and bundling were all so seamless. These days, moms can rejoice with Ju-Ju-Be Be Right Back backpack diaper bag. It's a pinch of sass, a dash of technology, and a huge splatter of awesome!
Beyond the practicality, Ju-Ju-Be offers diaper bags that are functional and "hip" for any parent.
My kiddos are older, but we still need stuff.
A Diaper Bag that Grows with Your Parenting:
By all accounts, the Ju-Ju-Be Be Right Back diaper bag looks anything but a diaper bag!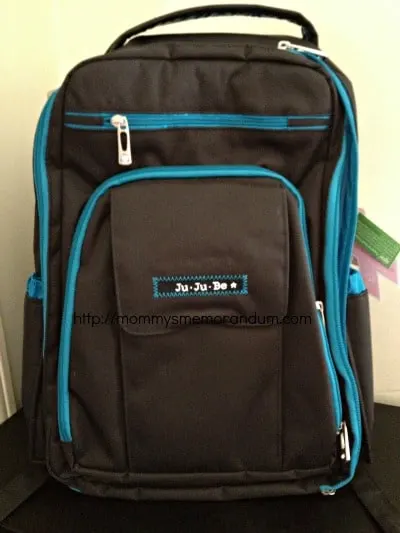 It looks like a backpack. In fact, that's how we have been using ours.
As any parent knows, kids are rough on things. Even babies..they spit up, and stain things. As they grow into toddlers, there's the juice that stains. Ju-Ju-Be has it covered with the Be Right Back diaper bag. It offers TEFLON Fabric Protector so stains don't stick!
In addition to the fabric protector, this backpack is made of AgION Antimicrobial Linings–it is designed to kill germs, mold, mildew, fungus, bacteria, and other bad stuff.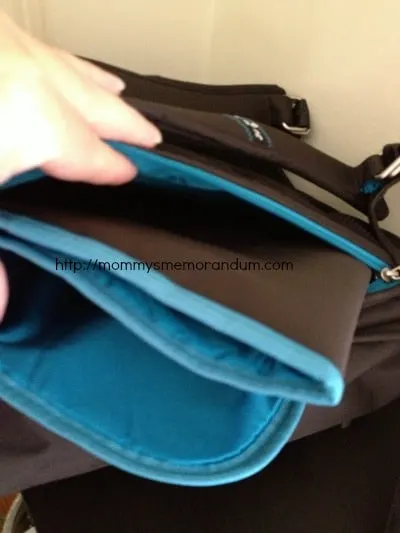 I love that everything has a spot in this diaper bag.
One of my favorite features is the discreet Memory foam changing pad.
It's nice and comfy, super cushy.
Baby will feel like their floating on this changing pad.
We're using it as a seat cushion at the park or when we are out and about and the kiddos need a place to sit.
I love that it rests nicely inside a zipper pocket in the back of the backpack.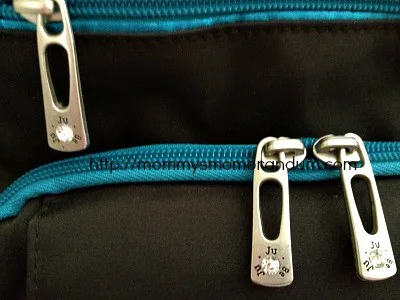 I love that Ju-Ju-Be insists on the same quality as I do.
They use metal hardware.
They don't trust the cheap plastic stuff and neither do I.
My girls love the details of the stamped logo and the bling of the "jewels".
It's classy!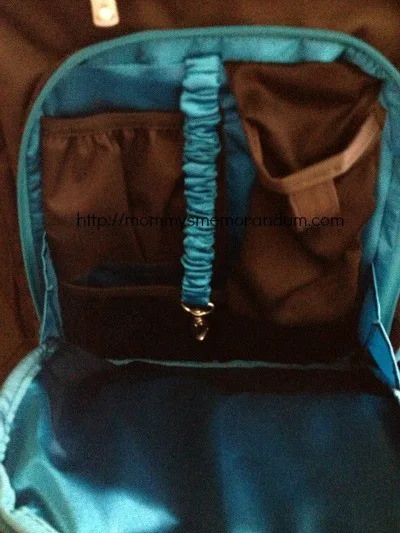 Let's call this front pocket "Mom's domain".
You can attach your keys (house, car, or entire ring) to the stylish, attached FOB.
There's a pocket for a cellular phone, pens, playdate cards, snacks, sunglasses, and more.
And look at the light-colored lining.
You can actually see what's inside.
It's not a big black abyss that seems to swallow up everything!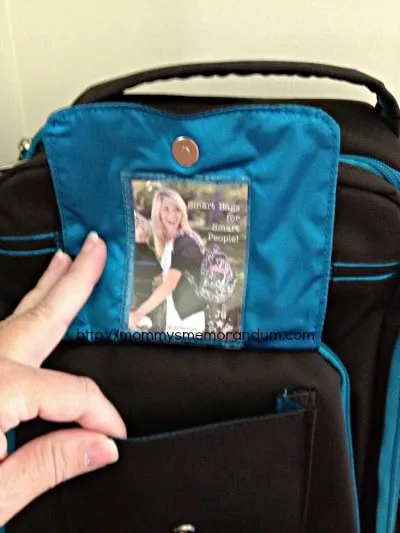 On the front of "Mom's Domain" is a smaller pocket.
Lift the flap and there's a place for ID or the cutest picture of your little one or family.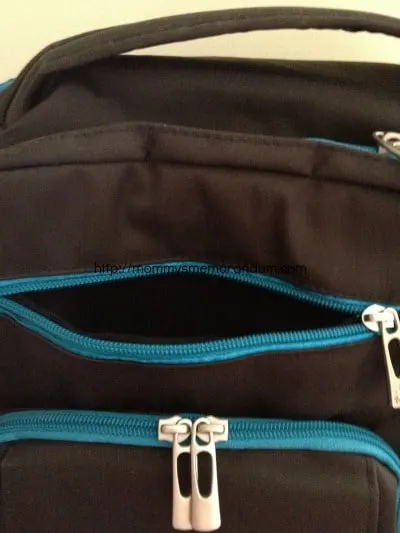 Another pocket is above the "Mommy's Domain" with the picture pocket.
It runs the length of the backpack and is about 5.5″ deep.
It's easy to access.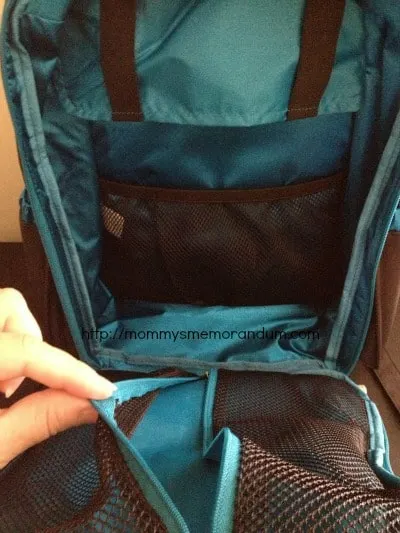 The Ju-Ju-Be Be Right Back opens up to reveal a great-sized pocket–it's large enough for my laptop, and the padding gives me peace of mind that it is secure.
There's a mesh zipper pouch on the front that would be perfect for extra changes of clothing or diapers.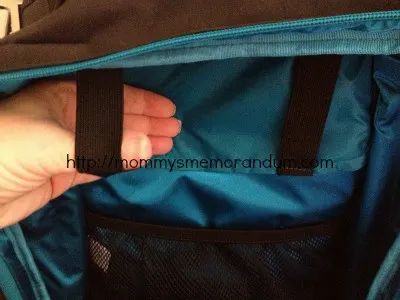 The top of that pocket has two elastic containers ideal for a rolled blanket.
We use it for wind jacket storage.
It's contained and out of the way.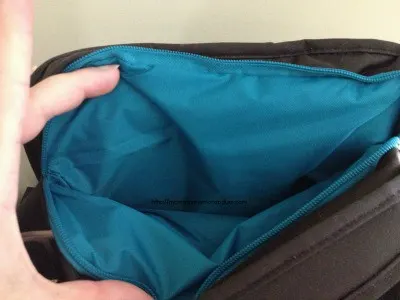 Another pocket at the top is just the right size for a container of wipes.
Making access easy while the baby is resting on the changing pad.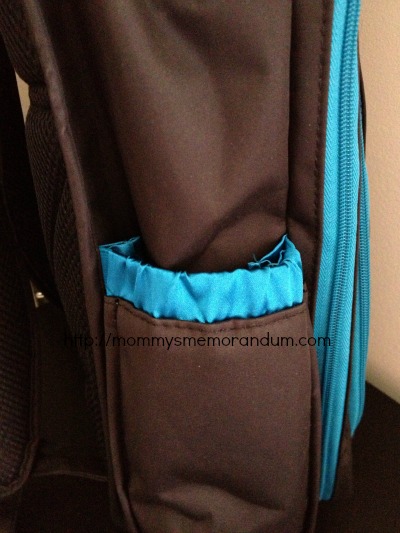 The sides each have a bottle pocket, made with Thinsulate by 3M. These pockets are designed to keep it warm or keep it cold.
It's up to you!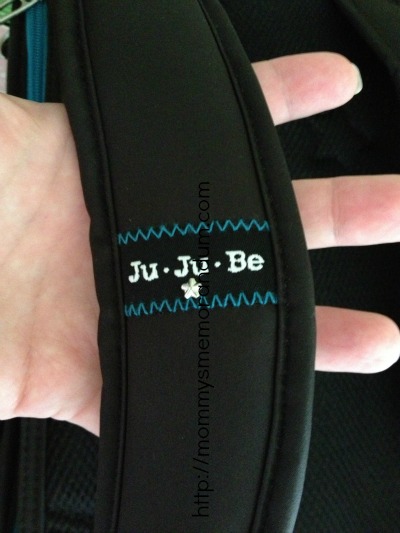 I love the padded shoulder straps.
They don't cut in.
They are thin yet sturdy.
The Ju-Ju-Be Be Right Back diaper bag is also machine washable..just air dry.
This Diaper Bag Offers Choices:
There's a print and color that will fit your taste. Just look at the fun designs and colors this backpack diaper bag has available:

This diaper bag is so perfect that it transitions easily.
I'm using it with my seven and nine-year-old and feeling trendy and stylish at the same time while being functional and prepared for almost anything.
Want something a little more traditional?
Ju-Ju-Be has a large selection of bags that will fit the age of your children.
From tote bags to messenger bags, traditional diaper bags to backpacks.
Why You'll Love Ju-Ju-Be Be Right Back Diaper Bag:
Here's why the Be Right Back Diaper Bag is a must-have:
Unmatched Versatility: With its spacious compartments and multiple pockets, this bag provides ample storage for all your baby essentials. Everything has its designated place, from diapers and wipes to bottles and extra clothes. Stay organized and ready for any situation!
Comfortable and Ergonomic: Ju-Ju-Be understands that parenting can be physically demanding, which is why the Be Right Back Diaper Bag is built for comfort. The adjustable padded shoulder straps and breathable back panel ensure a comfortable fit, even during extended wear. Say goodbye to sore shoulders and hello to pain-free adventures!
Fashion-Forward Design: Who says a diaper bag can't be stylish? The Be Right Back Diaper Bag combines functionality with fashion effortlessly. With a range of trendy prints and colors to choose from, you'll be the most fashionable parent on the block. Stand out from the crowd with JU-JU-BE!
Durability that Lasts: This company knows parenting can be messy, so they've engineered this bag to withstand whatever your little one throws at it (literally!). The Be Right Back Diaper Bag is made from high-quality materials that are easy to clean and maintain, ensuring it will last through countless adventures.
Convenient Features: The Be Right Back Diaper Bag is loaded with thoughtful features that make your life easier. The quick-access mommy pocket is perfect for storing your essentials, while the insulated bottle pockets keep drinks at the perfect temperature. Plus, the included changing pad guarantees a hygienic diaper-changing experience anywhere, anytime.
Don't settle for an ordinary diaper bag when you can have the extraordinary JU-JU-BE Be Right Back Diaper Bag! Experience the perfect blend of style, comfort, and functionality. Order yours today and make parenting a breeze!
Explore the JU-JU-BE Be Right Back Diaper Bag collection. Trust us; you won't want to leave home without it!
About Ju-Ju-Be:
Ju-Ju-Be is a popular American company that specializes in designing and manufacturing stylish, functional, and innovative bags and accessories for parents. Founded in 2005 by Joe Croft and Kristin Hunziker, Ju-Ju-Be has become a trusted name in the parenting industry, known for its high-quality products and attention to detail.
The company's mission is to create bags that are not only practical for parents but also fashionable and versatile. They understand that parents have busy lifestyles and want products that can keep up with their daily routines while reflecting their personal style. Ju-Ju-Be's products cater to the needs of both moms and dads, providing them with reliable and stylish solutions for carrying baby essentials.
Ju-Ju-Be offers a wide range of products, including diaper bags, backpacks, totes, purses, wallets, and accessories. Each product is carefully designed with features that enhance convenience and organization. Their bags are known for their smart storage compartments, easy-to-clean materials, and thoughtful details like insulated bottle pockets, changing pads, and quick-access pockets for parents' personal items.
One of the standout features of Ju-Ju-Be products is their eye-catching prints and patterns. They collaborate with various artists and designers to create unique and trendy designs that cater to different tastes and preferences. Whether you prefer vibrant and bold patterns or understated and elegant designs, Ju-Ju-Be offers a diverse selection to suit your style.
Ju-Ju-Be is also committed to using eco-friendly materials whenever possible. They strive to minimize waste and use fabrics that are safe for both people and the environment. Many of their products are made with Teflon™ fabric protector, which repels stains and provides water resistance, making them durable and easy to maintain.
Over the years, Ju-Ju-Be has garnered a loyal following of parents who appreciate the brand's commitment to quality, functionality, and style. Their products are available through various retailers and their official website, where customers can explore the latest collections, limited editions, and exclusive collaborations.
In summary, Ju-Ju-Be is a leading company in the parenting industry, offering fashionable and practical bags and accessories for parents on the go. With their commitment to quality, innovation, and style, Ju-Ju-Be has established itself as a trusted brand, making parenting a little easier and a lot more stylish.
Check out Ju-Ju-Be Bags online or search to check a store location near you and experience them in person.
These diaper bags are amazing!