I've been changing A LOT of diapers lately. Baby Girl goes through at least twenty diapers a day, which means we are also using a zillion baby wipes too. All of these items add up, and every penny matters as a mom to four. I'm a diaper snob (I realize that the more I write for this blog, I am a snob about many things!).
Anywho, I'm a diaper snob because of diaper rash and smells and all of the things that go along with icky disposable diapers. I'm willing to pay for the Huggies. I also prefer Huggies wipes as well. The smell of the "other brand" is just not to my liking.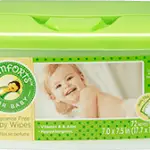 That's why I was surprised when beginning my diaper duty just four weeks ago; I opened up my Comforts Baby Wipes and was pleasantly surprised by the quality. These aren't store-brand baby wipes; they are almost to a tee like the Huggies. When they say "Compare to Huggies," they mean it! How impressive! There wasn't a scent, and they were soft. They also held up well; one wipe wiped a bum clean. Not to mention that the wipes box was excellent. The closure was large enough to pull the wipe out without being so snug that three of four came out before the first one pulled free (does that make sense, and do any of you get excited about the plastic tub in which the wipes are packaged?!). Trust me, I don't buy store brands for the babe of the house, but I will purchase these wipes again! I might even (GASP!) try their diapers!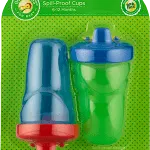 The Comforts sippy cups seem to be equal to any other cup that I have used with my children before. They are BPA and meet consumer product safety testing requirements, so I wonder why anyone would pay "extra" full-price for the name-brand product.
Comforts for Baby brand also carries a line of diapers, food, and other baby essentials at your local Kroger brand grocery store.
We all know that babies and toddlers need lots of stuff to get them – and you – through your busy days. But caring for your baby doesn't have to cost a lot. Comforts make it simple, with all the right products for every baby stage, from diapers and formula to bibs, lotions, cups, and snacks, all reasonably priced and conveniently located together for easy one-stop shopping. We know value is significant, so we've designed our products according to the highest standards so you can get excellent quality and save money, too.
Healthy nutrition
We care about quality, so pediatricians and dermatologists test our products to ensure they perform just right for you and your baby. Our wide selection of high-quality formulas has all the nutrients your baby needs for a healthy first year. For older children, our delicious and nutritious meals and snacks are convenient for you and just suitable for introducing toddlers to new tastes and feeding themselves.
Diapers that deliver
Our comfortable and absorbent diapers and training pants keep your baby dry and protected no matter where your day takes you, including our new Touch of Nature diapers, which use natural and renewable materials that are good for both your baby and the environment. And Comforts strong and gentle wipes help keep your babies and toddlers clean and fresh without irritating that sensitive skin.
Clean and comfortable
Comforts also include a full line of health and hygiene items, including mild soaps, shampoos, and lotions, as well as gentle powders and ointments, all created to help keep your baby happy and healthy. Our other products include everything from easy-grip nail clippers to nasal aspirators and thermometers to help you care for your little ones when they're not feeling their best.
Helpful accessories
Whether you're at home or on the go, Comforts has all of the accessories you need to help take care of your baby, from specially shaped sippy cups and spoons to pacifiers and teethers, all of which are BPA-free and meet consumer the highest safety standards.
You have enough things to worry about when it comes to taking care of your family, but you'll find that choosing Comforts isn't one of them. It's a decision you can feel great about as you get on with the rest of your life.
Lauralee Saad loves homeschooling her three kiddos: Ballerina, age 8, Big Boy, age 6, and MESS, age 3. She enjoys sewing when she can find a spare corner to set up her machine and dig out fabrics, cooking and baking – especially if the kiddos are helping, and enjoying a good book after the kiddos have gone to bed. She is thrilled to have welcomed a baby girl into the family on March 23, 2012.
Disclosure of Material Connection: I received one or more of the products or services mentioned above for free in the hope of mentioning them on my blog. Regardless, I only recommend products or services I use personally and believe will be good for my readers. I am disclosing this per the Federal Trade Commission's 16 CFR, Part 255: "Guides Concerning the Use of Endorsements and Testimonials in Advertising."